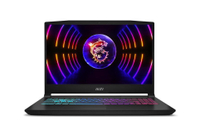 MSI Katana 15 | RTX 4070 | Intel Core i7 12650H | 15.6-inch | 144Hz | 1080p | 16GB DDR5 | 1TB SSD | $1,499 $1,159 Newegg (save $340)
Proof that Nvidia's new RTX 40-series graphics tech doesn't always come at an unreasonable price. This RTX 4070 laptop is relatively affordable and comes ready to roll with 16GB of RAM and a 1TB SSD. The 15.6-inch screen rocks IPS tech and 144Hz, too. OK, it runs last-gen Intel CPU tech, but with six Performance-cores, it has all the processing power you need for gaming.
Price check: Amazon $1,508 | Best Buy: $1,299.99
Show me an RTX 4060 powered gaming laptop for cheaper than this RTX 4070 one, and I'll eat my hat. Or I would if I hadn't sold my hat to pay for a nice gaming laptop. Like this one, in fact: the MSI Katana 15 coming in at the frankly silly cheap price of $1,159.
Not only is that cheaper than most gaming laptops touting Nvidia's less-impressive mobile RTX 4060, it's also $340 off it's original pricing of $1,159.
For that price, you get an RTX 4070 / Intel Core i7 12650H combo under the hood, so it shouldn't have any trouble handling today's games and even push them to make the most of that 144Hz IPS panel at the laptop's native 1080p resolution.
It may not have a current generation CPU backing it up, but Intel's 12th Generation can still cut through productivity tasks impeccably.
Usually, when dropping just over a thousand dollars on a gaming laptop there are some features you have to compromise on, but it seems that isn't the case with the Katana.
With 16GB of DDR5 RAM keeping you going, and a full terabyte of storage space, the MSI Katana 15 has a fine supporting spec behind that core combo, too. Sure 1TB is moving into the realms of insufficiency today, but it's more than enough for a laptop of this price.