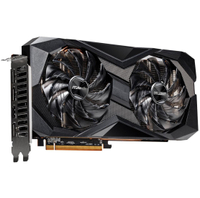 AMD Radeon RX 6700 XT | 2,560 shaders | 2,581MHz boost | 12GB | 230W TDP | $329.99 $299.99 at Newegg (save $30)
If you're looking for the perfect graphics card that doesn't cost the earth and runs really well at 1080p, then the Radeon RX 6700 XT should be at the top of your list. There are faster cards, ones with more features, and others that will handle ray tracing better, but none match the balance of this one. It's good enough for gaming at 1440p and with FSR 3, it'll still be good for many more years to come.
RX 6700 XT price check: $309.99 Best Buy | $309.99 Amazon
When the RDNA 2-powered Radeon RX 6700 XT launched back in March 2021, it immediately showed itself to be a really potent 1080p and 1440p gaming graphics card. Even if it was rather overpriced back then. Where some GPUs use lots of cache as an excuse to cut down on the width of the memory bus and the amount of VRAM, AMD chose not to do so here.
There's an enormous 96MB of L3 Infinity Cache, all tied to a 192-bit memory bus and 12GB of GDDR6, running at 16Gbps. What was slightly overkill two years ago is now very handy to have, as there are plenty of games that will eat up all the memory and bandwidth you can throw at them.
RDNA 2 was AMD's first architecture to support ray tracing so it's definitely not the best when it comes to crunching through that kind of workload, but with a sprinkle of FSR upscaling magic, you can enjoy the better graphics in games such as Marvel's Spider-Man Remastered.
The RX 6700 XT's launch price of $479 wasn't especially competitive, but now that you're looking at a saving of nearly $179, it's a far better deal. In fact, I'd go as far as to say that for the features and performance, it's the best value GPU you can get right now.
Just remember that if you're upgrading from a much older card, the 230W peak power consumption may come as a bit of a shock. This ASRock model uses two 8-pin PCIe power connectors and although you can use a one-into-two splitter adapter, you ideally need two separate cables.
It's not an especially small card either, despite only using two cooling fans. At just under 11 inches (269 mm) in length, it might be a bit of a squeeze in some cases. But if you have the space, cables, and cash, this RX 6700 XT is a great upgrade.