Sports and racing
-----------------------------------------------------------------------------------
Super Mega Baseball 2
Release date: Mid 2017
Developer: Metalhead Software
Link:
We had one wish for the otherwise , and that was online play. Happily, Super Mega Baseball 2 will support four-player online co-op and head-to-head modes, and more robust stats and player customization systems.
Old Time Hockey
Release date: March 28, 2017 (Out now)
Developer: V7 Entertainment
Link:
The moment editor-in-chief Evan Lahti published the words "," the trailer for Old Time Hockey, set in the rinky-dink 1970s minor leagues, reached up and punched him full in the face. Sure, we were hoping for an official NHL game, but we'll take it where we can get it.
We were excited about this one, and not just because Evan keeps threatening to drop his gloves and throw down. Old Time Hockey looks like it's got the speed and physicality of classics like NHL '94, but that's not all. It's got fashion like small-town Michigan, speed like small-town Wisconsin, and mustaches like small-town British Columbia. In the end, we found it to be a bit of a letdown.
Pixel Soccer
Release date: June 1, 2017
Developer: Super Rock Games Limited
Link:
As far as soccer games go, this one wins the award for Most Adorable Athletes. There's something charming about seeing the world's most popular sport played by little pixel sprites, but we're more excited about the possibility for local multiplayer.
BeamNG.drive
Release date: 2017? (Out now in Early Access)
Developer: BeamNG
Link:
Currently in Early Access—which it will leave at some undetermined date—BeamNG.drive is a simulation focused driving game. It's a sandbox more than strictly a racing game, providing soft body simulation to drive realistic handling and crashes, whether you're steering a truck or a race car.
Project Cars 2
Release date: 2017?
Developer: Slightly Mad Studios
Link:
The crowdfunded follow-up to Project Cars was announced back in 2015, and development has been quietly going on behind private forums. It promises over 200 cars and over 200 tracks, and a continuation of the Project Cars dedication to high-fidelity graphics and simulation.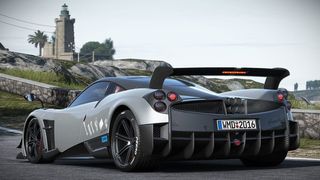 Road Rage
Release date: December 29, 2017
Developer: Team 6
Link:
It's not exactly a racing game, but there are no other motorcycles in this section—so here's some motorcycles! And also pipes, swords, and axes that you can bash and slice and hack at people with.

Drift Stage
Release date: 2017?
Developer: Super Systems Softworks
Link:
A crowdfunded throwback to arcade racers with a colorful vector illustration style that'll make your pupils contract. It's the '80s, baby. And good news if that sounds awesome: there's a free public alpha version you can play.