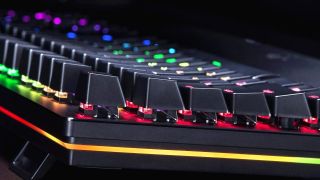 Sure, there may be some holdouts that still prefer an ancient membrane style keyboard for whatever reason, but for those of us that prize the best mechanical keyboard, we know the truth: they're philistines clinging to a bygone era. The present and future belong to proper mechanical decks, beautiful luxury items built around complex, increasingly impressive switches that are becoming more and more affordable as the market becomes more and more crowded. Unfortunately, all that competition means that it can be intimidating trying to pick out the be keyboard to suit your needs, but worry not, dear reader, we've tested dozens of decks and curated a list of the best mechanical options available in 2019. If you are interested in a more comprehensive look at your options, however, bop on over to our best gaming keyboard roundup.
Extreme gaming PC build guide
Extreme gaming PC build guide
If you're looking to build an absolutely ridiculous PC to plug your new keyboard into, check out our comprehensive guide to craft one of the mightiest machines possible.
With all of these new options in the best mechanical keyboard range come a dazzling array of switches, so your first task when picking out a new deck will be figuring out which switch best suits you. If you're in a crowded office environment and don't want to annoy your neighbors, maybe a silent, linear switch like Cherry's MX Red or Razer's Yellow is best, but for gaming at home I personally love a clicky, tactile option like a Cherry Blue or Razer Green. If you're looking for a mid-range hybrid, on the other hand, consider a Cherry Brown or Razer Orange, something that will give you a tactile bump but won't approach the volume of the clickier switches.
A gaming keyboard is useless without an awesome rig to plug it into, however, so check out our best gaming PC roundup. And find it an appropriate life partner, take a look at our best gaming mouse guide.
Best gaming keyboard | Best gaming mouse | Best gaming chair
Best VR headset | Best wireless gaming mouse | Best wireless gaming keyboard
The best mechanical keyboard comes with Razer's excellent opto-mechanical switches
Switch: Razer Opto-mechanical | Size: Full size | Backlights: 16.8 million color RGB | Passthroughs: No | Media Controls: Dedicated | Wristrest: Detachable magnetic
The opto-mechanical switches are some of the best on the market
Designed with an eye to detail and aesthetics
No USB passthrough
Razer's proprietary opto-mechanical switches, which are currently only available on their Huntsman and Huntsman Elite boards, are an interesting and well executed blend of technologies, an artful mix of traditional mechanical switch design and the optical sensor not unlike the one probably lurking inside your mouse. Instead of using the contact of metal leaves inside the switch to register a keypress, the opto-mechanical switch actuates when a beam of light passes through the stem as it descends. This means there's virtually no actuation delay whatsoever, making the opto-mechanical one of the most responsive switches on the market.
The rest of the board shares the thoughtful design of its switches, allowing users to change the backlighting under each key individually and sporting dedicated media keys and onboard storage, all in an attractive aluminum plate design. Other than its lack of an option for USB passthrough, an unfortunate oversight, it has all the features you want out of a mechanical keyboard while taking full advantage of one of the best switches ever developed.
One of the most feature-packed keyboards available
Switch: Cherry MX Red, Brown, or Blue | Size: Full size | Backlights: Full RGB | Passthroughs: Yes | Media Controls: Dedicated | Wristrest: Detachable
Tons of handy features
Range of Cherry MX switches
Slightly clumsy software
Another board that's packed with features and aesthetically delightful, HyperX's Alloy Elite RGB is a premium option for less thank you'd expect. It's got a full suite of dedicated media keys including a large scrolling volume wheel, a detachable wrist rest, and a unique set of additional quick access keys that allow you set things like brightness or toggle on Game Mode with a single key press. Available in a range of the top Cherry switches, from loud, clicky Blues to whisper quiet Reds, the HyperX can be configured to suit almost anyone's typing/gaming style. It's loaded with the seeminglyi requisite full RGB package, but still possesses a certain elegance that I find appealing with its matte black design and the option to replace the WASD and first four number keys with silvery keycaps.
The Alloy Elite RGB is also a rugged, durable board, with a solid steel frame built to withstand your worst mid-match tantrums or mischievous pet's antics. It's a comfortable full-sized board that's designed for convenience and to meet all your needs without packing in unnecessary extras that would artificially inflate its price.
A great keyboard to suit both typists and gamers
Switch: Cherry MX Brown | Size: Full size | Backlights: Full RGB | Passthroughs: No | Media Controls: Dedicated | Wristrest: Sold separately
Excellent deployment of Cherry MX Brown switches
Slick, matte silvered design
Relatively inexpensive
Wrist rest must be purchased separately
Alienware has something of a mixed reputation when it comes to manufacturing PCs, but its peripherals have largely been a success, mixing smart design choices with high build quality. Their Pro Gaming Keyboard is no exception, a modestly priced deck that makes excellent use of Cherry MX Brown switches to find a happy middle ground between spamming keys in frenetic gameplay and a satisfying typing experience.
The other highlight of the AW768 is its crisp matte silver finish, a welcome break from the flat pallette of unrelieved black that seem to dominate the gaming keyboard landscape. And Alienware hasn't skimped on its typical predilection for a rainbow of spectacular color lighting: the AW768 comes with a robust suite of RGB options that can be activated or deactivated with a single press of the Alienware-logo-shaped button at the upper right of the board. In this price range, this is an excellent option for those who spend as much time typing as they do gaming and who don't want to burn their entire budget on peripherals.
A large, premium keyboard at a premium price
Switch: Cherry MX Speed, Brown | Size: Full size | Backlights: RGB | Passthroughs: USB | Media Controls: Dedicated | Wristrest: Detachable
Sturdy aluminum alloy construction
Excellent suite of design and functionality features
Large form factor
At the higher end of the mechanical keyboard price pool sits the Corsair K95 RGB Platinum, an excellent, durable keyboard that's loaded with features on both the design and functionality side of the equation. The standouts are six dedicated macro keys on the left side of the rugged aluminum alloy frame, full individually programmable key backlighting as well as a 19 zone top edge lighting bar, and gold contact Cherry MX Red switches with a very high 1.2mm actuation point. These keys are ideal for spamming multiple times in fast paced, frenetic games and the entire board (which has a large, impressive footprint) is built to withstand the most furious play.
It's also loaded with a number of other features, like dedicated media keys and a very comfy reversible wrist rest, but perhaps my favorite is the smart cable management system built into the underside of the deck. A USB cable for passthrough can tuck smartly into a dedicated channel underneath the keyboard so it stays smartly tucked away and doesn't add to the cable nightmare that inevitably develops around all of my PC setups.
Brilliant design with thoughtful extras uncommon among the competition
Switch: Razer Green, Orange, or Yellow | Size: Full size | Backlights: RGB | Passthroughs: Yes | Media Controls: Dedicated | Wristrest: Yes
Razer's excellent, clicky Green switches
USB and 3.5 passthrough, cord management, and other handy extras
Cord is massive and cumbersome if you're not interested in passthrough
Another excellent gaming keyboard offering from Razer, the BlackWidow Elite is a big, bold deck running Razer's clicky, tactile Green switches. It's one of my favorite boards for typing, but it's no slouch in gaming performance either. Naturally, being a Razer product, it comes with the requisite 16.8 million color RGB backlighting, for which each key is individually programmable, and Razer's distinctive three-headed snake logo is also brightly lit at the base of the deck. Even the media controls are lit, and include play/pause, fast forward, and rewind buttons as well as an excellent volume wheel that juts just slightly over the right edge of the keyboard, making it easy to adjust on the fly.
My favorite pieces of the BlackWidow's architecture, however, are the subtle additional touches Razer has packed into it, stuff like a 3.5mm passthrough alongside the more ubiquitous USB passthrough so you can plug headphones directly into the keyboard. There's also a channel underneath the board that the braided cable fits snugly into so it's guided off to the right and out of the way, which is convenient because it's a massive cord. Even the indicator lights are brightly lit in white and placed under the upper navigation keys, which is good because the raised keycaps would make them difficult to see otherwise.
An excellent Romer-G powered keyboard at a budget price
Switch: Logitech Romer-G | Size: Full size | Backlights: No | Passthroughs: No | Media Controls: Function key integrated | Wristrest: No
Quietly elegant design
Excellent proprietary Romer-G switches
Light on features
Previously only available in high-end, much more expensive keyboards, Logitech's K840 delivers the company's excellent Romer-G switches for a significantly lower outlay. Designed in conjunction with Japanese electronics manufacturer Omron, the Romer-G is a lightly tactile switch with a short 1.5mm actuation point and a landing pad to soften each keypress. They're comfortable for typing and responsive for gaming, achieving a middle ground equivalent to something in the Cherry MX Brown range.
While this board isn't festooned with RGB lighting, the simple, sandblasted design is a refreshing change from the oscillating rainbow of colors that seems to come standard on most gaming decks these days. The K840 is a bit short on extras like passthroughs or dedicated macro keys, as you might expect at this price, but it's an excellent board that delivers a strong set of core features at a very appealing price, and with a fantastic switch.
Some online stores give us a small cut if you buy something through one of our links. Read our affiliate policy for more info.