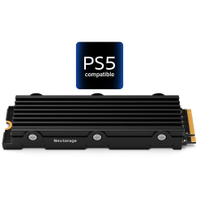 (opens in new tab)
Nextorage Japan | 1TB | NVMe | PCIe 4.0 | 7,300MB/s read | 6000MB/s write | $149.99 $87.99 at Newegg (save $62) (opens in new tab)
This is a high-end PCIe 4.0 drive for a little over the price of the far more mainstream WD Black SN770. The difference in read/write speeds for only $18 more cash is rather phenomenal: the Nextorage can reach the upper echelons of PCIe 4.0 bandwidth at 7,300MB/s read and 6,000MB/s write, while the SN770 hits just 5,150MB/s read and 4,900MB/s. If you can spare the cash, I'd make the leap to the Nextorage.
Never heard of Nextorage? Its short history is rather convoliuted, but this is no obscure startup. In fact Nextorage was born in 2019 and founded by Sony as a direct subsidiary of Sony Storage Media Solutions Corporation.
The idea was to produce SSDs for the PlayStation series of consoles. Things changed tack in 2022 when Phison, most famous for SSD controller chips, snagged a controlling stake in Nextorage. And so here we are hawking the Nextorage NEM-PA 1TB, yours for a mere $87.99 from Newegg (opens in new tab).
We haven't had a crack at this 1TB model. But the 2TB version landed recently in the PC Gamer labs. Unsurprisingly, these Nextorage drives run Phison E18 controllers and proper 3D TLC NAND over a quad-lane PCIe 4.0 interface.
You get the usual Phison E18 niceties, including 1M IOPS in both directions. And this 1TB model knocks out 7,300MB/s reads and 6,000MB/s write. We also found the 2TB had excellent sustained performance and a particularly large SLC cache. The same should apply to this 1TB drive.
It also ran remarkably cool, which perhaps reflects those Sony PlayStation origins. One of the key design targets for a console SSD is cool running, given the tight confines and margin thermal properties of the latest games consoles.
What you're looking at here, then, is premium TLC NAND PCIe 4.0 performance for a price barely higher than value-orientated drives like the WD Black SN770. The SK Hynix P41 1TB, one of the best PCIe 4.0 drives, is barely any faster but getting on for twice the price.
To see exactly where the Nextorage NEM-PA 1TB fits into the SSD value hierarchy, check out all our SSD deals (opens in new tab).