A good gaming monitor is necessary to get the most out of a good gaming PC. High refresh rates and deep colors let you see the work your graphics card is putting in, and right now you can get both with one of Gigabyte's gaming monitors, which is on sale for a reasonable $332.99 on Newegg. Best of all, its variable refresh rate works with both AMD and Nvidia graphics cards.
The Gigabyte G32QC is a 32-inch curved 1440p gaming monitor with a maximum refresh rate of 165Hz. It's certified for AMD FreeSync Premium Pro, which means it's tear-free with minimum flicker when paired with an AMD graphics card. The monitor is also approved by Nvidia as G-Sync Compatible, so it also works well with a GeForce graphics card. The compatibility is absolutely great to have, especially with new cards from both Nvidia and AMD on the horizon—you won't be tied to one brand just because of your monitor.
The display uses a Vertically Aligned (VA) panel, which is an upgrade from the cheaper Twisted Nematic (TN) screens commonly found on low-end gaming monitors, but won't offer quite as good viewing angles and colors as high-end In-Plane-Switching (IPS) displays. Granted, the curved design of this specific model makes viewing angles less relevant, and the monitor's HDR400 support improves color accuracy slightly. Check out our guide to monitor technology for more information on the differences between each display type.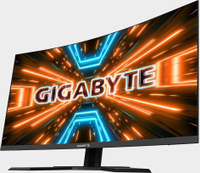 If this display isn't quite what you're looking for (or you're not sure what you're looking for), have a gander at our list of the best gaming monitors. We have recommendations for every price point and style, so you're bound to find something you like.