Jordan Thomas was working as a script doctor at Psygnosis when he heard that Ion Storm Austin was hiring. The studio had just released Deus Ex, and was expanding from one development team to two. "They were hiring a cabal of the very best game designers in the world," Thomas says. He wanted to be one of them.
There was one problem: Thomas had little game design experience. So he created an Unreal Engine level, designed to resemble a mission from Thief, and sent it to Ion Storm. The studio was impressed and granted him an interview, but didn't give him a job. "I think they wisely realised that my confidence did not match my physical experience," Thomas says. He was told to get some.
Thomas got a job working for Aspyr on the PC videogame tie-in for Harry Potter and the Philosopher's Stone, remaining there for seven months. When that project shipped in late 2001, he applied to Ion Storm Austin again and was granted another interview. The process commenced with a series of phone interviews that included studio head Warren Spector and the design lead of Thief: Deadly Shadows, Randy Smith.
"I had placed massive flash cards on the wall with all of these terms which I had looked up and dissected with interviews from all of them, trying to understand the specific Looking Glass language that they were all so steeped in," Thomas says. "So this very spartan apartment that I was in at the time was covered in reference as large as I could make it so that while walking around on the phone I could say like, 'Oh yeah, that's right, I have something smart to say about that random-ass word.'"
The phone interviews were followed by a written test, in which Thomas had to provide a design document for a level. Thomas pitched a level set in a spooky asylum, and Ion Storm liked it. The company flew Thomas out for another interview, where he was assessed again by Spector and Randy Smith. Following this were several design tests, from sketching out a level blueprint on a whiteboard, to designing a system for a game that wasn't to Thomas's tastes, such as "a system for a game that is based on doing taxes for a person who has never done them before".
This was what it took to become employed at Ion Storm Austin. "I never felt so tested in my life," Thomas says. He got the job, and was assigned to work on Thief: Deadly Shadows—the third and final game from what was widely considered the best development studio in the world at the time. Internally, however, Ion Storm Austin had always been a house of cards, where wild ambition and high-minded ideas battled against the harsh realities of game development. By the time Thomas joined the studio, the cards were already tumbling.
The fifth partner
Had it not been for the intervention of John Romero, Deus Ex would have become a Command & Conquer game. In 1997, Warren Spector left Looking Glass "when I realised the continued existence of the Austin Studio was going to jeopardise the existence of Looking Glass overall". Despite creating Thief and System Shock, Looking Glass was struggling and could no longer sustain a second studio so far removed from its original office in Cambridge, Massachusetts. "I didn't want to be responsible for that," says Spector. "I told Paul Neurath, the founder of Looking Glass, that I'd be fine. I'll find another deal."
Spector took with him a design document he'd been toying with since his days at Origin Systems. The working title was 'Troubleshooter'. "I wanted to make a game where players got to solve problems the way they wanted to. Fighting, sneaking, talking, doing whatever they wanted," Spector says. "And so I dusted that off, and kind of adapted it to a Command & Conquer setting and was going to do the Command & Conquer RPG. I was close to signing a contract when I got a call from John Romero."
Romero asked Spector to join Ion Storm as its fifth partner (the other four being Romero, Tom Hall, Todd Porter, and Jerry O'Flaherty). "I really wanted him to join Ion Storm so he could make the game of his dreams. It didn't matter to me what kind of game it was because it was going to be great—it's Warren," says Romero.
Spector replied, "It's too late, I can't, I'm working on this Command & Conquer thing." Romero told him not to sign anything. He said he would make the 200-mile drive from Dallas to Austin and change Spector's mind. This is exactly what he did. "I told him he could hire a team, make whatever he likes, have as much money as it took, and take as long as he needed," Romero says.
It was an offer Spector couldn't refuse. But he had a condition. He would join Ion Storm as the fifth partner, but he refused to work in Dallas. In fact, he refused to work anywhere but Austin. "In Texas there's four major cities. There's Dallas, Houston, San Antonio and Austin, and the only one I would ever consider living in is Austin," Spector says. "When [Romero] came down that day to try to convince me, part of the deal was, I'm not moving, I'm not going to work in Dallas, and he was okay with that."
Gathering the storm
With Romero's support, Spector began building the Ion Storm Austin studio. The initial team comprised six members, all of whom Spector transferred from Looking Glass Austin. This included Chris Norden, who was lead programmer and eventually assistant director of Deus Ex. In the early days, even before taking on those two roles, he wore multiple hats at the studio.
"I guess, in today's terms, I would've been the CTO," says Norden. "I was also part-HR. We had to do hiring, I had to do reviews. I had to set up the IT infrastructure. I had to hire contractors, I had to do security. I mean, you name it and I did it." Meanwhile, Spector was beginning to work on the paper document for Deus Ex.
Spector's concept of a game where you can choose from fighting, stealth, hacking and talking to create solutions to problems is a well-told story. But what was the clarifying moment when the Troubleshooter design document turned into Deus Ex? "On all of my projects, I think about what questions do I want the game to ask?" Spector says. "And the first one that came to mind for me on what became Deus Ex was, 'What would happen if you took James Bond, a guy who believes in right and wrong, and throw him into a world that's all shades of grey, where nothing is good, nothing is evil, it's all shades of grey.' That was a critical moment."
The concepting phase of Deus Ex lasted many months, all the while the studio was growing and taking shape. One of Spector's key hires was the 30-year-old Harvey Smith, who Spector had previously worked with at Origin during the development of System Shock. "[Warren Spector] was like, 'Well, we're gonna try to do another one of those games, it's gonna be set in the modern world, what do you think?'" says Smith. "And so I pitched mission documents back, and game system ideas, some of which never got used in the game, but still they were on target enough that Warren was really excited." Spector made Smith one of two lead designers on Deus Ex.
Ion Storm Austin's approach to game development was heavily influenced by Spector's experience at Origin Systems, and the design philosophies of Looking Glass luminaries, like Doug Church, who would appear from time to time at Ion Storm Austin and 'camp out' in Spector's office. "They were all hugely influenced by Doug Church's paper 'Formal Abstract Design Tools'," says Jordan Thomas, "which was a high-minded idea about teaching designers to speak the same way so that they could plug into any team, and stop using slang which is useful only to a particular bubble of culture." Harvey Smith, who worked with Church at Origin, describes talking to him as being "like drinking from a firehose".
In a similar fashion, Ion Storm Austin produced not only design documents for its games, but manifestos for how Spector and co. believed games should be designed as a whole. "We had our giant gameplay bible. Bazillions of pages that we tried to kind of follow, but they were living documents and they changed," says Norden. "It was like, design is important, engineering is important, art is important, audio design is extremely important. But the player ultimately needs to be doing what they want to do. They need to be having fun. They need to be in control."
When the concept phase was over, Spector stepped back into a supervisory role. "I am not an implementation guy," he says. "Once we get past the concept phase and we know what game we want to make, I leave implementation to other people." Implementing Deus Ex would prove to be far more complicated than anybody anticipated, constantly teetering on the brink of disaster.
Infinite choice
Ion Storm's slogan—'Design is Law'—stipulated that game design should come above technical innovation. It was conjured by Romero during the founding of the company, but Ion Storm Austin took it to heart, perhaps a little too much. At the outset Spector created two separate design teams for Deus Ex, and he had those teams compete with each other. Harvey Smith was lead designer of what Spector thought of as the Looking Glass design team, while another designer named Bob White led what Spector termed the Ultima roleplaying team.
"So I had this immersive simulation group and this traditional roleplaying group," Spector says, "and I was standing in the middle thinking, 'I can not just mediate, I can actually exploit the tension between those two to come up with something completely new.' Something that wasn't pure Looking Glass-style immersive simulation, but wasn't pure roleplaying game in the Origin sense." Yet rather than resulting in a merging of ideas, the structure caused confusion about what the game was supposed to be about. "They were each in charge of different parts of the world and they had their own ideas about how they wanted the gameplay to work," Norden explains. "So sometimes they'd come to us with conflicting requests."
Everything the designers dreamed up had to be implemented by Norden and his programming team, and Spector, Smith and White all had a lot of ideas. "Warren had this massive [idea]… he's like, 'I want the player to be able to do anything they want, and solve any puzzle in any way,'" says Norden. "And we're like, 'Uh, yeah, that's not really possible. We can do a lot, we can give the player a lot of choice. But infinite choice? No.'" Nevertheless, Norden and his team endeavoured to ensure that Deus Ex was as emergent as they could make it. "We tried to create the emergent behaviour by creating a ton of interactable objects in the world, and all the objects had to have interactable properties, and all the properties were linked to the real world," he says. "Everything had weight, everything had friction, all the surfaces had different properties associated with them. So we wanted you to be able to, at least, pick things up, move them around, destroy them, maybe stack them, maybe climb them."
The advantage of this was it meant players could do things that were unique to their game; a phenomenon that would happen even during testing. "Someone would come in and say, 'Hey I was doing this cool thing on my playthrough and this thing happened, what the hell, how did you make that happen?' And I was like, 'Well I didn't, it was just a random lucky thing.'"
Engine trouble
Every game Ion Storm made was beleaguered by engine problems, and Deus Ex was no different. The nature of those problems, however, wasn't exactly the same. In a break with Ion Storm tradition, Austin moved away from id's Quake technology and licensed Tim Sweeney's Unreal Engine. There were several reasons for this, including a better toolset, less restrictive geometry rendering and more personal support. "id's engine licensing at the time was really simple. They basically gave you a CD with the source on it and that was it," Norden says. "They didn't really do support or anything. So I went up and met with Tim, and talked to him, and talked to the guys there, and they were just really cool."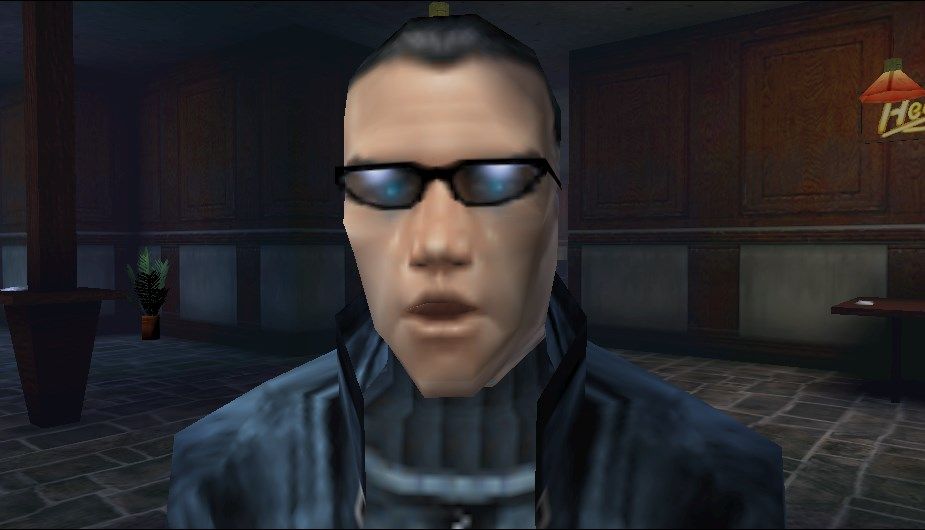 The problem, however, was that Norden and his team were taking an engine and trying to make it do things it wasn't designed to. " Deus Ex was a very dialogue-heavy game," Norden states. "And Unreal was a shooter, right? So those things don't mix. Theirs was no dialogue. There was no talking in shooters. So we had to create basically an entire conversation system and the tools that go with it." Even seemingly simple things, like being able to carry more than one pistol, had to be manually coded because the engine wasn't designed for it. "I might be carrying five pistols in my inventory because I put all my points into pistols," says Harvey Smith. "I'll have one for silenced play, and I have one for rapid fire, and I have one for fighting robots—just as an example, that's three different pistols. Unreal didn't have the concept of that, it only had the concept of, 'Do you have the pistol, yes or no?'"
Another problem was the game's core systems were coded in UnrealScript, which was slow to compile. Every time Norden made a change to the script it had to be recompiled, which in a game as complicated as Deus Ex is a constant process. "I wrote very rude comments in the code like, 'Why the eff is this so slow? Dammit Tim,' says Norden. "And we stupidly didn't strip the script code out before we shipped. So people just decompiled it and our comments were on display for everybody. So I feel really bad about that to this day." Luckily for Norden, Tim Sweeney saw the funny side of it.
"We're dead"
Deus Ex was in development for almost four years, and for three-and-a-half of those years it seemed like it would never come together. Spector's vision for the game's story was enormous, to the point where he had to be tackled on it. "Harvey and one of the designers who I've worked with for many years, guy named Steve Powers, came to me and said, 'We can't tell this story, there's no way we're gonna do the Russo-Mexican alliance sending an Army across the Texas border and invading. We're not gonna do that, we're not gonna have thousands of prisoners in a FEMA camp in the Southwest getting freed by our hero.'"
Meanwhile, the external feedback Austin received was not good. Looking Glass developers, like Doug Church, Marc LeBlanc and Rob Fermier, all came to Austin to playtest the game. "They came in and they would tell us, 'Man, this sucks. This skill system is terrible, what are you thinking?'" Spector says. The game's publisher, Eidos, were still supportive of Austin, but also confused by what the game was supposed to be. "Lots of people at Eidos, over the years that we were in development, said, 'Why don't you just make a shooter?"'
Eidos had good reason to be concerned. After three years and millions of dollars of investment, so far Ion Storm had put out one game, Dominion: Storm Over Gift 3, which both sold and reviewed terribly. Meanwhile, its other three projects were severely behind. In addition, due to a combination of those delays and misguided marketing from Ion Storm Dallas, by 2000 the public opinion of Ion Storm had turned from enthusiastic to openly hostile. Even though they were sheltered in Austin, the Deus Ex team felt the heat of this ire.
"It was interesting and tough to be part of the 'John Romero is going to make you his bitch' company'," says Spector. "And the Dallas office, they were spending money in ways that I would not have spent money, and the projects were all running late or they were projects we shouldn't have started at all." Indeed, there were worries that Deus Ex would flop purely on account of the widespread eagerness to see the hubris of Ion Storm blow up in its face. "We were like, 'Oh crap, we've got brand image issues now,'" says Norden. "'Are we gonna be doomed to failure because of this logo on our box?'"
At the same time, not everyone at the Dallas studio was happy with how things were panning out at Austin. Jerry O'Flaherty, who was the art director for Ion Storm as a whole, had sent several artists down to Austin to work on Deus Ex. "These artists would report back to Jerry about various goings-on within the studio," says Romero. O'Flaherty was close friends with another of Ion Storm's founders, Todd Porter, and according to Romero, Porter didn't like what he heard about how things were progressing at Ion Storm Austin. "This led Todd to call for the cancellation of the game, or him wanting to go down to straighten things out."
Romero, however, acted as a buffer between Austin and the more sceptical voices within Dallas. "I told Todd to leave them be, and we would not be cancelling the game, ever," Romero says. "I had to put my foot down several times during the Deus Ex timeline. I had the utmost confidence in Warren and Harvey."
Meanwhile, although some individuals within Eidos had their doubts, the publisher never stepped in to take control of the situation. In fact, when Deus Ex hit Alpha in August 1999, Eidos gave Austin six extra months to finish the game. It made all the difference. Harvey Smith's redesigned skill system significantly improved the game, while the rest of that time was spent "tuning and tweaking and finding the fun", as Spector puts it.
In the end, Deus Ex released on 17 June 2000, just three weeks after Eidos published Daikatana. For Ion Storm Austin, it was a strange time. Internet journalism was still in its infancy, so the developers had to wait a month or so for the reviews to come in. Spector was nervous. "There was a day when we were nearing the end where I put my head down on my desk and I just said out loud, 'If people compare our combat to Half-Life, we're dead. If they compare our stealth to Thief, we're dead. If they compare our roleplaying elements to Neverwinter Nights (which was the big RPG at that time), we're dead. But if they get to decide how much fighting or sneaking or RPG-ing they get to do, we're gonna rule the world.'"
Expansion
Deus Ex was a resounding success both critically and commercially—the only game developed by Ion Storm that managed both. "We had one incredibly bad review. A guy named Tom Chick just, I dunno if he hated me, but he sure hated Deus Ex, wow!" Spector says. "But other than that, the reviews were overwhelmingly positive." The success also secured the future of Ion Storm Austin, which by this point was owned directly by Eidos. "It was never a question that we wouldn't do a sequel. Eidos wanted it," Spector says.
Meanwhile, shortly after the release of Thief II: The Metal Age, and on the same day that Daikatana released in North America, Looking Glass Studios closed its doors. "I got a call from someone at Eidos saying, 'We have the rights to do a new Thief game, we're going to do a new Thief game, and we're going to let another developer do the next Thief game,'" Spector says. "I said, 'Oh no you're not. We're doing that here at Ion Storm.'"
Spector hired many of Looking Glass's staff, and the company began working on both Deus Ex: Invisible War and Thief: Deadly Shadows simultaneously. Because the company had effectively doubled in size, Spector decided to take on a more managerial role, and let other people oversee each game's development. Harvey Smith was selected to direct the second Deus Ex, while Randy Smith (no-relation to Harvey) was hired to oversee Thief. Chris Norden left Ion Storm Austin almost immediately after Deus Ex was completed.
Spector decided that he would not interfere with the direction of either game, and let both designers make the decisions they wanted to make. It's a decision that he now regrets. "I probably should have given those guys more direction, and not let them make some mistakes that I saw them making."
Choices and consequences
For the sequel to Deus Ex, Smith wanted to retain the multifaceted approach that players could adopt in play, but ensure that the experience was uniform across the entire game. "Looking at the missions for Deus Ex, some of them were kinda just all over the place. Not all of them were like science fiction dystopia … and some of them were pretty far afield. Some of them were more RPG, some were less RPG," Smith says.
As part of this plan, Smith designed the game with a much stronger, more vivid aesthetic, moving the game much farther in the future and imbuing it with a far more overt cyberpunk theme. This was one change that Spector saw as problematic, but decided not to bring up. "I wouldn't have moved Invisible War so far in the future. I think part of Deus Ex is it's a world that's recognisable as our own," he says. "I wouldn't have put the player character in a purple jumpsuit. I mean, it's a trivial point, but it just looked goofy."
Another issue was that Smith wanted to expand upon the narrative choices from the original Deus Ex, letting players switch between factions at will and having no forced failure states. "What it meant was none of your choices actually had any real consequences. If you can always change your mind, your choices are really weakened," Spector says.
The main problems for Invisible War (and, for that matter, Deadly Shadows) did not stem from design, but technology. Deus Ex was designed from the ground up as a PC game. Both Invisible War and Thief III were designed specifically for the Xbox, with the PC version approached as a port of the Xbox version. None of the Ion Storm team had much experience designing for console, and so they were disappointed to find the Xbox had a fraction of the power of a PC at the time. "The maps had to get so small a lot of our gameplay didn't work," Spector says. "It was kind of a surprise to us and there wasn't much we could do about it."
Although today Invisible War is viewed as a disappointment, at the time of its release it reviewed fairly well and to date has sold more copies than the original Deus Ex. Although the project was a difficult one, Smith believes there are still good things about the game. "The Antarctic mission that was kind of a call-out to The Thing, one of my favourite movies," he says, as an example. "Starting off in an apartment, finding out it's a lab is a very Philip K. Dick move that we wanted to make. The Black Market Augmentations and how they work, along with the other biomods, so you can put together a bunch of drones and stuff. There were lots of little things along the way that we liked."
Cradle to grave
Perhaps because of the immediate comparison with Deus Ex, Invisible War is often viewed as the game that got away from Ion Storm Austin. But in terms of what the developers had planned, the game that came out most compromised from under Spector's watch was Thief: Deadly Shadows.
As a lifelong Thief fan, hearing about elements of the game which never made it out of Ion Storm Austin is agonising. Originally, Deadly Shadows was meant to be twice as long. Every level designer was given two levels to design for the game, but early in development they were all asked to scrap one of those levels. Jordan Thomas's two missions were the Cradle, which made it into the game, and the Grave, which didn't. "The Grave was specifically a massive sort of death-processing facility owned by the Hammerite faction," says Thomas. "And it was going to double down on the idea of religious notions of death and the cycle of the soul leaving the body, and sort of delve into some of the Victorian reuses of corpses."
In addition, the freely explorable city Deadly Shadows introduced was intended to be many times larger than it appeared in the final game. Thomas states that Emil Pagliarulo, the designer who created Thief II's famous 'Life of the Party' mission had "a legendary build-out of what the geometry of the docks might have been. And it was almost 100% scrapped by the time we finished".
The reason behind this ruthless cutting down was partly to do with the console focus. But equally significant was that the studio went against its own mantra, and began designing its own technology. For both Invisible War and Deadly Shadows, Ion Storm Austin created a custom renderer that could project real-time shadows from every character and object.
"It was a combination of videogame technological sort-of one-upmanship early on, combined with an imagined notion that real-time shadows would lead to dynamism in gameplay scenarios that Thief II couldn't deliver," Thomas says. "The fantasy of what we would do when the shadow of a pillar would truly move, and you could stay inside that shadow as the guard with the torch crossed through a room with thick enough columns, it sounded really good on paper."
But the combination of this advanced renderer (which beat Doom 3 for real-time shadows by about a year) and the limited power of the Xbox meant that huge swathes of the game had to be cut down to get it in. "It ended up being one of the decisions that most of the team felt was a massive mistake," Thomas says. "The city sections, good gravy, we reduced those to almost nothing."
The great god player
Ion Storm Dallas may have been notorious for its arrogance, but there was more than sufficient hubris to go around at Ion Storm Austin too. It just emerged in a different form. From its Looking Glass genetics, Austin inherited the culture of the auteur, that blend of artiste and academic that dedicated itself heart, mind and soul to the idea they were chasing, and where the ends justified the means. "I've called it a culture of intellectual Darwinism," says Thomas. "It was like a court case, an ongoing, months long court case in which everyone was the player's advocate, and they were going to bring 100% of their rigour to bear on the argument, because the great god player deserved it."
This design philosophy led to an atmosphere that could at times be exclusionary. "It led to quieter people, who are, if any degree of removal away from a heterosexual white male, to be less likely to say anything," Thomas says. It was also an atmosphere of perfectionism. So when reviews of Invisible War and Deadly Shadows hovered in the low-80s, the effect on team morale was devastating. "We were groomed to believe that you were 90-plus on Metacritic or you are nothing," he adds.
Shortly after the release of Deadly Shadows, Warren Spector left the company. He attributes this partly to the work equivalent of the seven-year itch—"I just get itchy, you know, to do something different"—and dissatisfaction at the kinds of games Eidos was publishing. "I remember going to E3 one year, right around the time I left, right before I left," he says. "There were things like, 'This time you get to kill with a meat hook, and here's the game of kids killing cops, and here's a racing game where the idea isn't to win the race, it's to create the biggest explosions.' And, I just looked around, and I was showing Invisible War and Deadly Shadows, and I just said, 'One of these things is not like the others.'"
Despite Spector's departure, and the disappointment at the critical reception of Deadly Shadows and Invisible War, there was no sense that the studio's life was nearing its end. The studio regrouped and formed designs teams for both Deus Ex 3 and Thief 4. In an echo of the company's early years, there were two competing pitches for Deus Ex 3, one of which was Thomas's own. "We built a crazy ambitious text only version of a narrative web, which you've seen in a lot of other games since, the notion of the procedural story," he says. "It was ludicrous, but very inspiring at the time, and felt like the great dragon that everyone wanted to slay."
Slowly, though, Ion Storm Austin began to bleed employees, leaking staff to other companies such as Midway Austin. Then, in 2005, Eidos announced a major layoff. "I was in the room where people, we had to decide how many, but which ones got the seats to stay," says Thomas. "And it was just, it made you wonder why anyone ever assembles for any field of human endeavour."
The remaining employees kept going, but by this point most of them were just "punching a clock", as Thomas describes it. Then, about a year into pre-production on Deus Ex 3, the final layoff came, and Ion Storm shut its doors for good. Thomas, however, was kept on by Eidos for a few extra months, so he could finish the design document for his version of Deus Ex. "I've never known why they wanted that and I've no idea what they did with it, but I did so." It was an ironic end for the studio. For years Ion Storm Austin had built a cult around the idea, and it took on such power that in the end Eidos perceived that was where all the value lay.
Perhaps the strangest thing about Ion Storm as a whole is how its studios were simultaneously so completely different and so very similar. Both companies were driven by sky-high ambitions, Dallas in your face and larger than life, Austin intellectual and innovative. Both companies held design as a talisman, and found themselves mired in technological problems. Dallas was demonised while Austin was evangelised, and yet both suffered from personality clashes, management foul-ups, and an inflated sense of self-worth.
Harvey Smith sums up these strange and shifting contrasts. "There were very volatile extroverts in Dallas, and Warren's group tended to be very volatile introverts and nerds." He recalls an example from one of Ion Storm's release parties, where the company rented a boat on a lake. "We invited the people from Dallas down with us," he says. "A lot of the Dallas guys just got drunk on the boat. And a lot of our people were on the inside of the boat because the sun was frying our pale skin. And we were—literally people broke out board games, and we were playing board games on this party boat."