The best MSI gaming laptops combine sleek practicality with gaming prowess. They'll ace your favourite games at their native resolution while retaining value for money. MSI holds a spot on our best gaming laptops list, and for good reason. Laptops like the GS66 Stealth offer strong gaming performance and battery life—two things that are vital in a choice gaming laptop. Known for packing its laptops with capable hardware and delivering smooth frame rates in the latest games, MSI remains a favourite.
That's why we've brought together the best MSI gaming laptop deals we could right now, as there's usually a variety of options. Some will fit your needs more than others, and it's not always easy to discern what you're looking for, or the price you should be paying for the privilege; that's where we come in.
Chassis size is important to get right—do you want a 15-inch all-purpose laptop, a 17-inch desktop replacement, or something even more portable? You'll also want to make sure the graphics card can handle your preferred game at the laptop's native resolution—remember, some games are more of a strain than others. If you're after true portability without sacrificing performance, something like the GS65 Stealth Thin is a great machine that takes advantage of Nvidia's Max-Q technology, delivering power from within a slim-line chassis that weighs less than five pounds.
If portability is second on the list, and performance is your top priority, a more powerful 'muscle class' laptop (aka. desktop replacement) might be a better bet. These are generally heavier, like the MSI GE76 Raider for example, but will be able to handle recording, streaming, and editing too, as well as some immense gaming sessions.
Where are the best gaming laptop deals?
In the US:
In the UK:
The best MSI gaming laptop deals today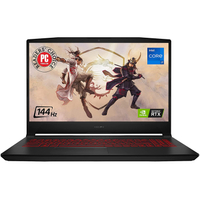 MSI Katana GF66 | Nvidia RTX 3060 | Intel Core i7 11800H | 15.6-inch | 1080p | 144Hz | 16GB RAM | 512GB SSD | $1,349 $899.99 at Amazon (save $449.01)
Dropping below the $900 mark is when you know you've got a good RTX 3060 laptop deal on your hands. It's got all the necessary specs you could want, such as high refresh rate screen, 16GB RAM, and a decent capacity SSD for the money. It's basically bang-on what you'd want to pay for a traditional mainstream gaming laptop.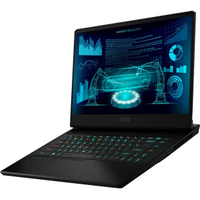 MSI GP66 Leopard | Intel Core i7 11800H | Nvidia RTX 3080 | 15.6-inch | 1080p | 144Hz | 16GB RAM | 512GB SSD | $1,849 $1,569.99 at Walmart (save $279.01)
It's an old code, sir, but it checks out. That's still an RTX 3080 GPU in there, even if it's plugged into an 11th Gen Intel CPU it'll still game like a hero. The rest of the spec is pretty decent, too, and means you'll have an RTX 3080-based system for less than an RTX 3070 Ti.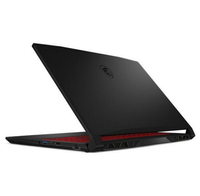 MSI Katana GF66 | Nvidia RTX 3070 | Core i7 11800H | 15.6-inch | 1080p | 144Hz | 16GB RAM | 512GB SSD | £1,399 £949 at Very (save £450)
This machine has been discounted below £1,000 across all the retailers so far this sales season, but this is the cheapest we've seen it at. And to be able to get an RTX 3070 laptop for less than a grand makes this svelte MSI machine a great deal. The only issue I have with the spec is that 512GB SSD, and that there is only a single NVMe slot in which to upgrade your storage.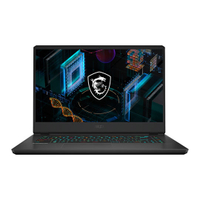 MSI GP66 Leopard | 15-inch | Nvidia RTX 3080 |Intel Core i7 11800H | 144Hz | 1080p | 16GB RAM | 1TB SSD | £1,998.98 £1,598.99 at Scan (save £399.99)
An RTX 3080 laptop for this price? Yes please. Nvidia hasn't yet released its next-gen RTX 40-series mobile GPUs, so this is still one of the best GPUs you can get in a laptop. Plus a laptop is more a holistic affair, your performance is based on both the GPU, CPU, screen, refresh rate, and resolution. Luckily, this comes with a 1080p, 144Hz panel, so it's great for FPS gaming and will make the most of that RTX 3080.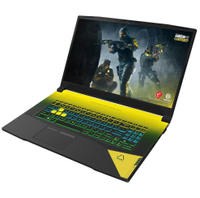 MSI Crosshair | Nvidia RTX 3070 | Intel Core i7 12700H | 17.3-inch | 144Hz | 1080p | 16GB DDR4 | 512GB SSD | $1,899 $1,349 at Newegg (save $550)
The RTX 3070 is very capable in mobile form, particularly when driving a 1080p screen like this. Pair that with a powerful 12th Gen Intel CPU and that 144Hz screen will be well used. This is a decently specced gaming laptop that will handle whatever you throw at it. I wish it had a better SSD for the price, but 16GB of dual channel DDR4-3200 RAM is not terrible. This is the Rainbow Six Extraction edition, so you've really gotta like yellow.