Our rundown of everything we know about Cyberpunk 2077 includes a "guess" that it will be released sometime in 2019—because that little tidbit is not actually something we know. But our theory has been strengthened somewhat by a tweet out of Bilkom, which partnered with CD Projekt on The Witcher 3: Wild Hunt in Turkey.
The tweet went up last week and has since been deleted, but was captured for posterity by VG247 Turkey. The Google translation is very rough, but the relevant bit is "the new game Cyberpunk 2077 … in the year 2019!"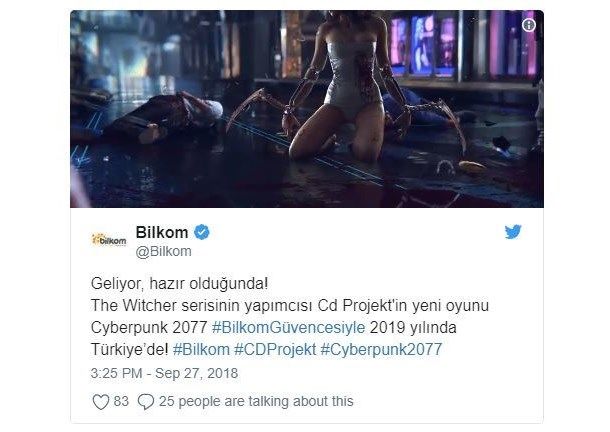 That's a long way from a confirmation, but it fits with what we've heard previously, including a report from March 2017 stating that the work on the project was "quite advanced," even though it was at that point more than a year away from being properly revealed.
Then again, CD Projekt isn't shy about delaying games, and I imagine it will want to be extra-cautious with Cyberpunk 2077, given the extremely high expectations for it. And let us not forget, since we're managing expectations here, that original Cyberpunk creator implied after the E3 reveal in June that the release could still be "a few more years" away.
CD Projekt has said nothing official about the Cyberpunk 2077 release date so far and I don't imagine that's going to change now, but I've emailed them anyway and if somebody slips up and tells me the big secret, I'll let you know.
Thanks, PCGamesN.