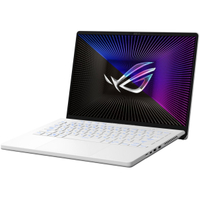 Asus ROG Zephyrus 14 | Nvidia RTX 4060 | AMD Ryzen 9 7940HS | 14-inch | 1080p | 144Hz | 16GB RAM | 512GB SSD | $1,399.99 at Best Buy (save $200)
If you don't want a hulking gaming laptop, let me introduce the Zephyrus 14 (see our review): a 14-incher that can game without busting your bank balance or your shoulder when lugging it around—no-nonsense specs in a delightful package. This is the latest version with the RTX 40-series GPUs; this is a very smart package, though not the most affordable RTX 4060 machine by any stretch.
Price check: Newegg $1,699.99 (for 32GB | 1TB model)
Best Buy has a deal on an Asus ROG Zephyrus 14 with an RTX 4060 and a 165Hz 1600p display for $1,400, a $200 reduction from its original price. It's a great choice if you're looking for a gaming laptop that's easy to travel with and won't take up much space.
The Asus ROG Zephyrus 14 is a 14-inch gaming laptop with an AMD Ryzen 9 7940HS processor and an RTX 4060 graphics card offering midrange performance at 1080p and 1600p. It's a good candidate for using DLSS 3 to get a big framerate boost in games like Cyberpunk 2077.
On the memory side, the 16GB of DDR5 RAM and a 512GB NVMe SSD which is okay, though I would have loved to have seen a larger SSD since 512GB fills up pretty fast these days. However, the specific make or model of these components isn't mentioned in the listing, so potential buyers should be aware of that.
The laptop boasts a bright 1440p, 165Hz IPS panel display with a peak brightness of 500 nits—quite impressive. We've reviewed several gaming laptops with a 16:10 aspect ratio this year, and the Zephyrus might have the nicest display of them all.
In our review of the AMD Ryzen/Radeon variant,we praised its sleek design and vibrant display. However, we noted that the laptop can become noisy under heavy usage, and its battery longevity leaves something to be desired.
If you're in the market for a more powerful option, Newegg offers a Zephyrus 14 variant with double the RAM and storage for $1700 if you don't mind speaking a little extra.