Where to buy an AMD Radeon RX 6700 XT graphics card - live updates
AMD's cheapest RDNA 2 card to date goes on sale today, March 18, at 9am EDT (1pm GMT).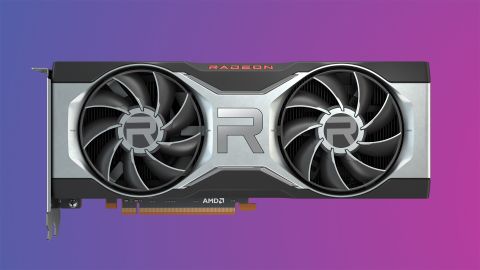 The AMD RX 6700 XT launches amid a tough time for global GPU supply. We're trying to keep a brave face, but I don't expect we'll see much of this in-demand GPU at launch. The rumours don't paint a pretty picture, either. There could be as few as a couple thousand for the entirety of the EU, with other countries looking at very limited quantities.
That's why it pays to be smart with where you look for this card right from the get-go, to better your odds at finding one before they're all gone.
We've picked up a few tricks from previous Radeon graphics card launches, which you can find ahead of time in the regularly updated blog below. We'll also be keeping this article updated with stock alerts and what's going on as we hear it all from the launch.
Haven't had a chance to skim the numbers? Here's our Radeon RX 6700 XT review. You better be a quick reader if you hope to pick one up today.
Good luck, gamers.
Refresh
Where's best to buy an AMD Radeon RX 6700 XT?
If possible we recommend trying your luck over on AMD's official website and store.
For previous AMD RDNA 2 releases the company has seemingly had more stock on its own website for reference designs than other retailers.
There's one thing that could change that this time around, however. Third-party designs of the RX 6700 XT will launch alongside the reference cards today, and that means that board partners—Asus, XFX, Sapphire, etc.—will be offering 6700 XTs today.
That could mean a wider spread across more retailers than with previous launches.
Newegg (opens in new tab) and Micro Center (opens in new tab) both list a range of graphics cards ready for launch, although these listings alone does not necessarily mean we'll see all of these cards launch right at 1pm on the dot.
Newegg has also been using a raffle system to sell the latest graphics cards, and it may be that the Newegg Shuffle (opens in new tab) arrives at launch as opposed to card stock directly on the site.
You can read up on the Newegg Shuffle here (opens in new tab), which is regretfully a desperate measure to get cards out to customers and not a fun new dance trend.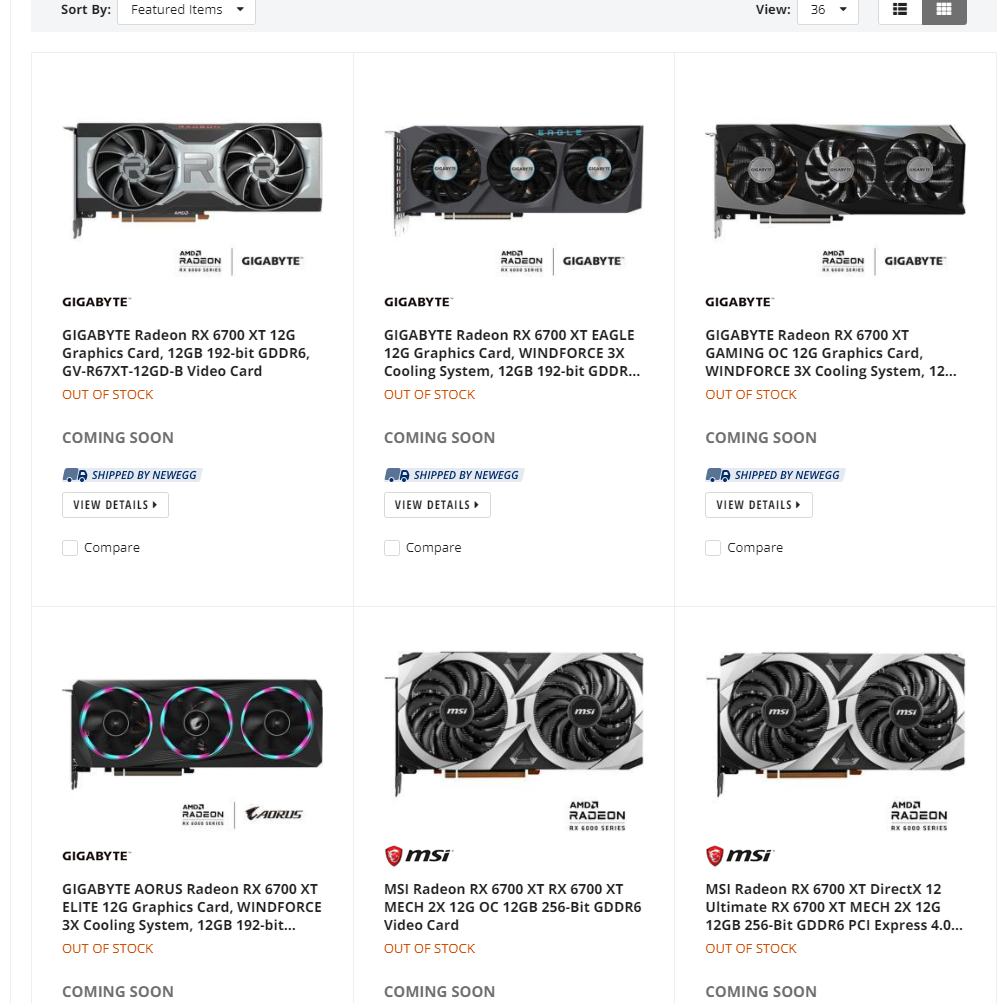 Let's just take a quick moment to check in on Micro Center's RX 6700 XT prices.
Oops, all bad.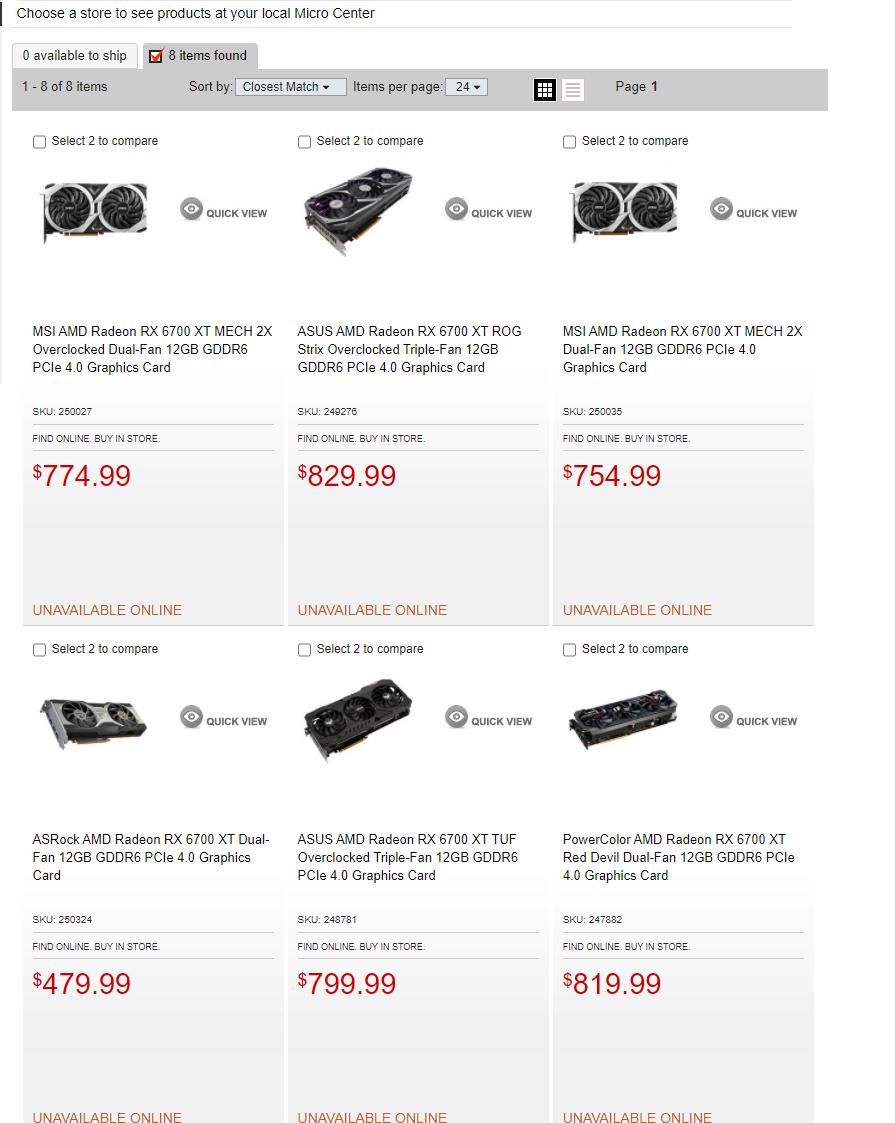 All the more reason to be chasing those reference AMD designs. Just a quick note on that: the stock cooler is pretty darn great.
We're trying to stay positive here, MegaFlare08.
We have a RX 6700 XT listing on the AMD store (opens in new tab). Watch this space closely.
We've also got pricing over at Newegg (opens in new tab). Not much under $700 beyond the reference fare and a couple XFX cards. Good on XFX for keeping prices close to MSRP.
All listed as sold out, of course.
At least in the UK it appears as though AMD's official store is sold out. We're checking US availability, where the add to cart button is still available, but so far we're running into technical issues.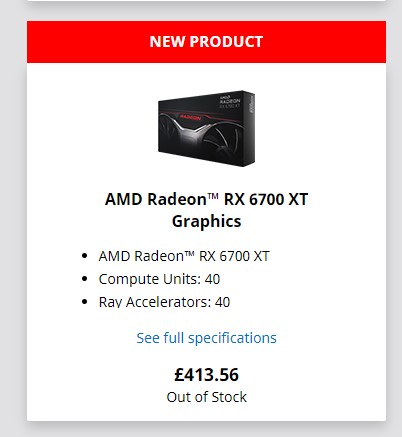 And in a flash the AMD store in the US is reporting back 'out of stock'. Although for a moment there we were able to get a card in the basket. Gone in the blink of an eye.
According to AMD's website, items may go out of stock even during the checkout process.
The two screenshots below say it all.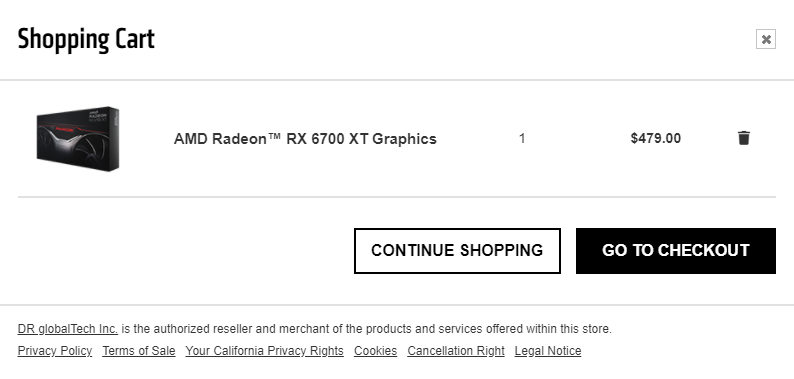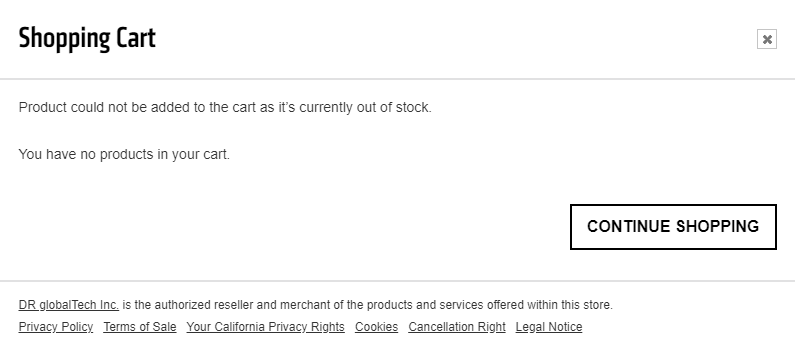 Best Buy (opens in new tab) is staggering the release of the RX 6700 XT, as it has done with previous GPU launches. That means the checkout button will only appear for a brief moment, that's your chance to get in and checkout. While stocks last, and we have no real idea of how many Best Buy may have remaining, if any.
If you're just joining us, perhaps this is your best bet.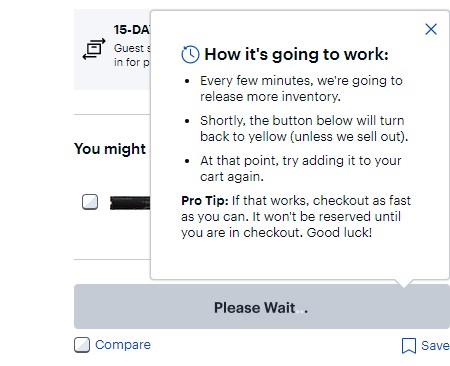 You know we're in dire straits when stock of the RX 6700 XT is seemingly long gone by the time the official Radeon Twitter account announces the card's availability.
Get performance to dominate your game. The new @AMD Radeon RX 6700 XT is here with legendary 1440p performance for enthusiasts and competitive gamers. #GameOnAMDMarch 18, 2021
Micro Center lists availability (opens in new tab) for pickup at some of its stores in the US. If it's safe to do so, this could be an option for those of you close by.
If you're just joining us nearly two hours post-launch, I have some totally expected but unfortunate news: The Radeon RX 6700 XT is all sold out, at least by our reckoning.
If you want to get your hands on a graphics card anytime soon, we recommend checking out our list of the best gaming PCs (opens in new tab). It's actually the pre-built machines that are still able to offer some availability for the latest GPUs. Saying that, you may still be in for a wait.
You could hold on hope for a restock sometime soon, but that may require a little more time and effort on your part. What we know today is that most retailers are refusing to take pre-orders and instead listing all available stock directly on the site, so you'll need to pay close attention, perhaps signing up for stock alerts or watching some savvy streams (opens in new tab), in order to jump on any available card as soon as it arrives.
Sign up to get the best content of the week, and great gaming deals, as picked by the editors.
Thank you for signing up to PC Gamer. You will receive a verification email shortly.
There was a problem. Please refresh the page and try again.