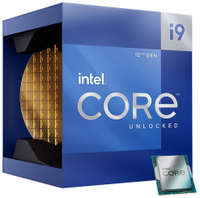 Intel Core i9 12900K | 8+8 core | 24 threads | 5.2GHz Boost clock (P-core) | $589 $356 at Amazon (save $233)
For a whole lot less than it launched for, you can pick up Alder Lake's flagship chip. This is a multithreading machine of a processor and a superb gaming CPU, you just need a decent 500/600-series motherboard and some RAM to go with it, and you'll be cooking up a high-end gaming PC for less.
When the new shiny thing comes out, it tends to blow the older generation stuff out of the water. For its 13th Gen, Intel increased core counts across the board and heaped more cache on its chips. Yet it wasn't a crushing defeat for the older 12th Gen chips. They can still be worth it, for the right price, and at $356 it's tough to turn down this Intel Core i9 12900K deal.
Right now you can grab the Intel Core i9 12900K for $356 on Amazon. A massive saving on the chip's lowest recommended customer price of $589.
The Core i9 12900K is a 24-thread processor, which makes it a pretty mean multithreaded chip for content creation and streaming. It was the dominant chip in its day, and 2021 wasn't really all that long ago. Of course, we loved it for its mostly unrivalled gaming performance. In my Intel Core i9 12900K review, I said "this chip totally obliterates previous Intel generations by most metrics: single-threaded performance, multithreaded performance, clock speed, and memory performance."
It quickly dispatched most of AMD's Ryzen 5000-series at the time of its release, too. Nowadays AMD has even better gaming chips in the Ryzen 7000-series with 3D V-Cache, and Intel has Raptor Lake, but you won't find half as good a discount on those chips as you can this Core i9 right now. The Core i9 13900K is $560, which is only a touch under its MSRP.
The Core i9 12900K was the flagship for Intel's new approach to CPU design when it arrived. Rather than straight gaming cores, it comes with eight Performance-cores (P-cores) and eight Efficient-cores (E-cores). The P-cores take care of the speedy gaming workloads, while the E-cores deal with background tasks and distributing the less critical load elsewhere.
The important price comparison to make here is with the Core i7 13700K. This is a very similar chip to the Core i9 12900K, except it runs a bit faster on both P-cores and E-cores. You'd have to pay $393 for the Core i7 13700K, and while that might be worth it to some, the Core i9 12900K is a savvy buy for $37 less.
Both are a whole lot cheaper than AMD's Ryzen 9 7900X, though you could pick up the Ryzen 7 7700X for less. In our benchmarking the Core i9 12900K did generally outperform AMD's Ryzen 7 chip, but there are some decent deals over at Micro Center for whole Ryzen CPU/motherboard/RAM bundles. They're in-store pickup only, however.
Micro Center actually has a Core i7 13700K bundle with an Asus Prime Z690 motherboard and 32GB of DDR5-6000 RAM for $650, which is cheaper than you could get those parts over on Newegg separately. And one for a Core i9 12900K with a better motherboard than you could otherwise buy for $500 all-in. But again, in-store only.