I've probably looked at more motherboards just today than I have in the past three combined. That's because every manufacturer has brand new Z790 motherboards ready to show off ahead of a yet unannounced Intel processor generation (that's the Raptor Lake refresh, by the way). But one thing I've noticed across nearly every board I've seen today, be it from ASRock, Gigabyte, or MSI, is that they all are fitted with seriously beefy coolers on their PCIe 5.0 NVMe slots.
Some of these coolers are included on the motherboard, and even these integrated designs are looking beefed up with the coming generation of SSDs. But take a look at some of the coolers included or available as extras for PCIe 5.0 drives and things get out of hand pretty quickly.
Just look at the size of the cooler and fan loaded onto the MSI Spatium Pro PCIe 5.0 2TB Frozr+ drive. That drive is capable of a very impressive 14,520MB/s sequential read according to the benchmark results on display, and thanks to that cooler it runs 30 degrees Celsius cooler than it would have without (44 degrees Celsius was the max temperature I saw on the test machine), which is pretty darn good, but damn if it's not a chunky addition to any gaming PC.
And without the cooler you're likely looking at a toasty drive.
Or how about the passive version of that cooler, which is even larger to make up for the lack of fan. There's two of them in the image I snapped above, but I've seen smaller heatsinks on a GTX 1050.
The more budget version of the drive comes with a decent-sized cooler, by PCIe 4.0 standards, and MSI touts the cooler-less versions as being better for an upgrade than a fresh install (i.e. where you already have a cooler in place).
MSI also had a new PC case with a row of small fans lined up along where most primary NVMe slots live, and out the rear of the case. It's called the Gungnir 300P. And there's the similar 300R with RGB all over it.
Gigabyte wasn't immune to chunky cooler fever, either. Its 10,000MB/s PCIe 5.0 SSD has a heatsink that protrudes out massively from the case, and its latest motherboards come with stacked heatsinks as standard.
ASRock was similar, with multi-layered heat sinks becoming the norm for the next wave of Intel Z790 and AMD AM5 motherboards.
I can't say I'm surprised. We previewed performance on the Crucial T700, the fastest PCIe 5.0 on the planet at the time (April this year), and even its 12,000MB/s speeds couldn't distract our Dave from the fact it ran at 82 degrees Celsius, despite its decent sized cooler and that it was compared against some PCIe 4.0 drives that weren't fitted with a heatsink.
Peak Storage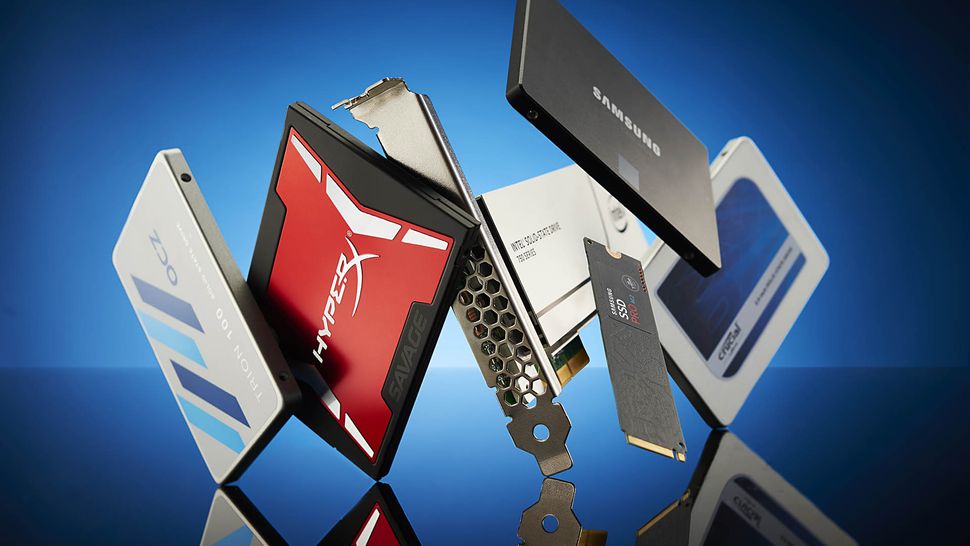 Best SSD for gaming: the best solid state drives around
Best PCIe 4.0 SSD for gaming: the next gen has landed
The best NVMe SSD: this slivers of SSD goodness
Best external hard drives: expand your horizons
Best external SSDs: plug in upgrades for gaming laptops and consoles
You can see why combined liquid coolers for both CPU and SSD are a thing now.
Phison is the company behind most PCIe 5.0 SSD controllers today, if not all of them in the market right now, and it is keen to urge people to use a heatsink with its latest drives. There's a separate issue with Phison's PCIe 5.0 controller, the E26, and overheating, but there's a fix for that so that shouldn't be an issue by the time these drives are more widely adopted.
But it does make you stop and think if you really need all that speed right now. If you can spare the change, and the space in your case for a cooler, you won't find much to match a drive like MSI's Spatium Pro today. But I imagine one of many absurdly cheap PCIe 4.0 drives will suffice for most PC gamers for at least a few years.