More Fortnite guides
Fortnite Chapter 3 Season 2: Everything we know
Best Fortnite skins: Finest virtual threads
Fortnite Creative codes: Best custom maps
Fortnite on iOS: How to play Fortnite on GeForce Now
Fortnite Toys: The best NERF guns, action figures, and more
Fortnite's Avian Ambush quests ask you to fly (and do a bunch of other stuff) with a chicken. As the most graceful of birds, the chicken is a fantastic choice for getting some extra air in your jump, or just finding a bit of loot.
Fortnite Chapter 3's map is huge, though, and chickens are small. They also run away like cowards who are afraid of cartoon cats wielding katanas. So we've gone through the trouble of locating a reliable source of chickens and also laying out every Avian Ambush quest for your convenience.
Here's where to find chickens in Fortnite and how to fly with a chicken.
Where to find chickens in Fortnite
In the map above, you'll find a location that pretty reliably spawns chickens you can chase around to complete this challenge. Southwest of Rocky Reels, you'll find a gas station and another building at an intersection.
Walk around the area, possibly off the road, and you'll likely find at least a couple of chickens. Now here's the tricky part.
How to fly with chickens in Fortnite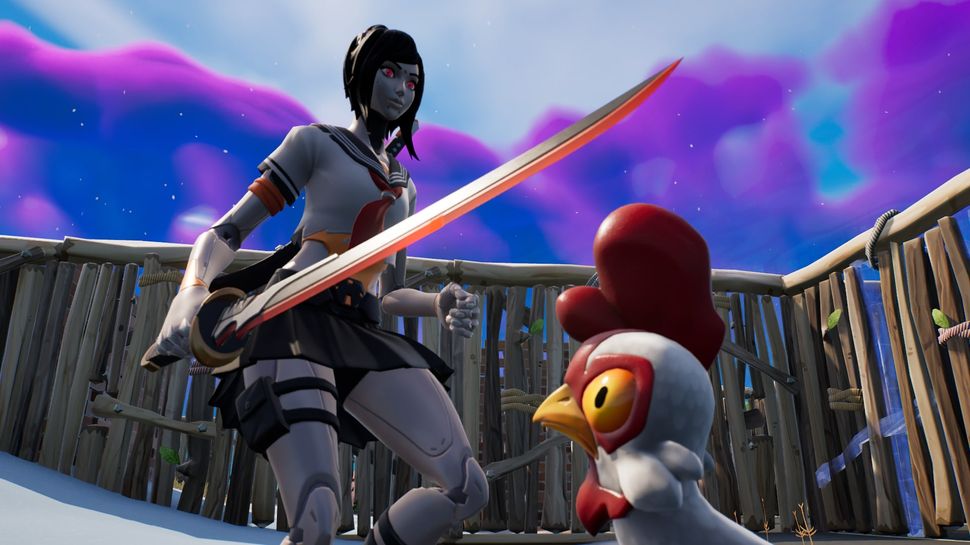 To fly with a chicken in Fortnite, one must become the chicken. Actually, no, you just need to catch it. Unfortunately, chickens are wily devils who can run faster than you.
So your best bet to capture a chicken and successfully grab it is to build a series of walls around the area to trap them. They'll still try to run, but close them in anytime they move to one side or the other and eventually they'll run out of area to run from you.
Then press your "F" key (or whatever button you use to pick up/interact) when you see the prompt appear above the chicken. It's possible it will only flash for a second, if it's wiggling and running around.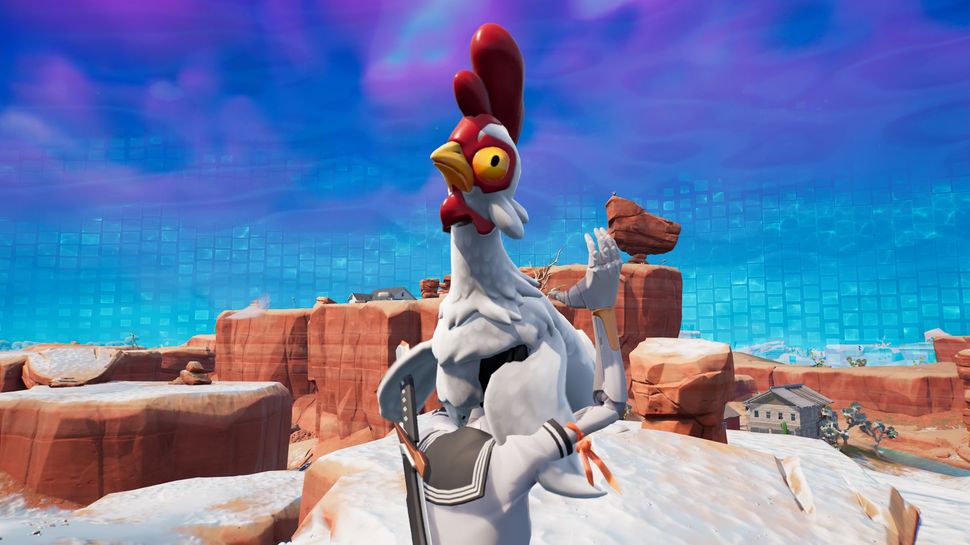 Once you pick up the chicken, your character will place it above their head. Now all you have to do is run and jump to activate the chicken's flying ability. This gives you a slight low-gravity jump effect, courtesy of the chicken's itty bitty wings, which suddenly have to support the weight of a sentient banana man.
Avian Ambush quests
Here are all the Avian Ambush quests for this week:
Throw chickens (5 of them)
Slide for 30 meters continuously while holding a chicken (1 time)
Open a Vault while holding a chicken (1 time)
Fly with a chicken for 20 meters in a single flight (1 time)
Catch a chicken in different matches (3 times)
Hunt a Loot Chicken or Crow (2 times)
Bounce on a tire, umbrella, or Web Bouncer 3 consecutive times while holding a chicken (1 time)
Avian Ambush week ends on March 15 at 7 AM PST, so make sure you finish the challenges before then if you want all that XP. We anticipate one additional wild week challenge set before the end of Chapter 3 season 1, so be on the lookout for that, too.