DLSS is coming to Diablo 4 (opens in new tab). Blizzard's long-awaited ARPG is set for release on June 6, 2023, and we're hoping for a smooth ride with DLSS 3 upscaling support available in the game from the get-go.
"Supporting smooth gameplay in Diablo 4 is a priority for Blizzard," Michael Bukowski, Diablo 4 technical director, says. "We're excited by the high frame rate of Diablo 4 running on Nvidia GeForce RTX 40-series hardware and DLSS 3."
Let's hope Bukowski is right about that frame rate, though it'll be more telling how well the game runs on lower-end hardware rather than, say, the $1,500 RTX 4090 (opens in new tab). Diablo games have never been too demanding on PC hardware, but there's seemingly been a massive visual update with Diablo 4. Game looks real good.
Still, the Diablo 4 recommended specs (opens in new tab) are hardly demanding. It looks like this game should shake out to be an easy-going one on entry-level or ageing hardware. Phew.
DLSS 3 is an RTX 40-series exclusive—namely for the new Frame Generation technology that actually creates additional frames requires the new 4th Gen Tensor Cores and Optical Flow Accelerator found only within the Ada Lovelace architecture. Older generations of Nvidia RTX graphics card should still be able to run the game with only DLSS Super Resolution enabled for a fps boost, however.
Someone over on Reddit (opens in new tab) has already seemingly spotted reference to DLSS 2.4 in the Diablo 4 Beta, along with mention of DirectStorage (opens in new tab). Now that could be very interesting, as DirectStorage is a technology to better take advantage of speedy SSDs and kill loading screens and bolster asset streaming in games. Could be a good one for Diablo 4's unfettered gameplay style and open world.
Diablo 4 isn't the only game set to receive a DLSS 3 update soon. Forza Horizon 5 will also be getting an upgrade to the newer upscaling tech. It already offers older DLSS support and works with AMD's alternative FSR tech, but DLSS 3 should push frame rates a far bit higher with frame gen.
Other games with DLSS updates arriving soon include: Deceive Inc., Gripper, Redfall, Smalland: Survive the Wilds, and The Finals. A free copy of Redfall (opens in new tab) will actually be included in sales for a bunch of graphics cards and gaming laptops ready for the game's launch in May.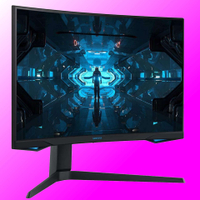 (opens in new tab)