This isn't the first Alder Lake gaming PC we've looked at this year, but the ones before it have all been very, very expensive. If you've got the budget to stretch to an all-singing all-dancing high-end system, then you're spoiled for choice, with the likes of the Velocity Micro Raptor X55, Corsair One i300, and Origin 5000T Millenium all being fine machines if you've got $5,000 burning a hole in your back pocket. Which frankly, not many of us have.
Time for something completely different: A budget Alder Lake PC. While the previous machines we've looked at focused on 4K gaming and showcasing the top of Intel's 12th Gen stack, here Cyberpower is more concerned with 1080p gaming and hitting a far more reasonable price point.
To do that you're looking at an Intel Core i5 12400F and an Nvidia GeForce RTX 3050. Much more modest fare. And at £1,055 ($999 for a similar core spec in the US) much more affordable too. There was a time when that's how much you'd expect to pay for a reasonable gaming machine, so it's good to see that we're finally returning to some kind of normality here.
Of course, graphics cards aren't quite down to their MSRPs yet, and so the options for budget machines are limited to the most recent releases from AMD and Nvidia, with a toss-up between the Radeon RX 6500 XT and GeForce RTX 3050. Cyberpower has gone for the latter in this machine, and while it isn't a powerhouse by any stretch, it is an Ampere chip that comes complete with RTX cores, so you get such goodies as ray tracing support and frame rate-boosting DLSS.
The other notable choice dictated by the overall system price is the decision to go with DDR4 RAM as opposed to DDR5—Intel's Alder Lake chips support both memory types. Pricing for the new memory standard is starting to come down, but DDR4 is definitely in a better place for gaming. And for the money, we'd much rather see the healthy capacity and speed that this offers over just using the newest funkiest thing.
Technical specs
CPU: Intel Core i5 12400F
GPU: Nvidia RTX 3050 8GB
RAM: Corsair Vengeance LPX 16GB DDR4-3200
Motherboard: MSI B660M-A WiFi DDR4
Storage: 1TB MSI Spatium M390 NVMe SSD
PSU: InWin A65 650W 80+
Connectivity: 6x USB 2.0, 2x USB 3.0, RJ45, 3x Audio, Wi-Fi 6, PS/2 keboard/mouse
OS: Windows 11 Home
Warranty: 5 Years Labour, 2 Years Parts
Price: £1,055 | $999
This also impacts the motherboard choice, as DDR5 motherboards tend to cost notably more than their DDR4 brethren. Here Cyberpower has used a budget MicroATX B660 motherboard from MSI, the PRO B660M-A WIFI, which as the name suggests, adds Wi-Fi 6 support to the mix. Don't worry though, there's an ethernet port of speedy wired connections too. This motherboard also houses the machine's 1TB SSD, which sits below a heatsink between the CPU and graphics card.
All of this is bundled neatly into a surprisingly good looking chassis for a budget build. This has been kitted out with four RGB fans to tick that gamer aesthetic as well, although you'll be pleased to know you can turn this light show off using the included remote control easily, too. This is a glass-fronted case, but don't worry there's plenty of airflow thanks to the grills on the right-hand side and a healthy gap between the fans and that front panel. It's a good solution, that runs quiet and keeps the system components running cool.
The only downside with this case is that there are no USB Type-C ports on the front panel, just USB 3.0 Type-A. There is a USB 4 port on the motherboard itself, but this hasn't been connected to anything, something that is compounded by a lack of Type-C ports on the rear I/O—a surprising omission for any motherboard in 2022.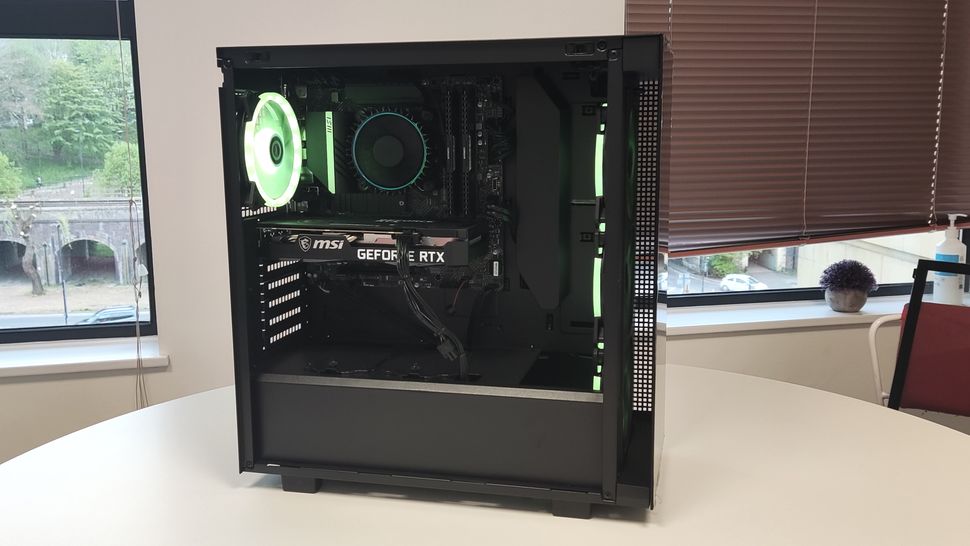 Benchmarks
Cinebench R20: 4,735 (multi-core), 656 (single)
Cinebench R23: 12,395 (multi-core), 1,719 (single)
X264 v5.0.1: 35.26 fps
SiSoft Sandra RAM bandwidth: 38.4 GB/s
3DMark Port Royal: 3,541
3DMark Time Spy: 9,641 (CPU), 6,220 (GPU)
Hitman 3 Dartmoor: 90 fps
Hitman 3 Dubai: 118 fps
F1 2020: 118 fps
F1 2021: 76 fps
Metro Exodus (Ultra): 50 fps
Metro Exodus (RTX): 41 fps
Horizon Zero Dawn: 71 fps
FFXIV Shadowbringers: 9.435 seconds
Max CPU temp: 79°C
Max GPU temp: 66°C
When it comes to performance, the Infinity X125 sits exactly where you'd expect—just about capable at 1080p, although it's a tough call at times. You're going to want to tweak some of the settings to maintain a smooth frame rate, particularly when it comes to more exacting games, which probably isn't what you want to hear after dropping a grand on a new gaming PC.
Metro Exodus, for instance, averaged 50fps at the highest settings, while turning on RTX pretties drops this down to 41fps, and yes, that's with DLSS turned on. You can tweak the settings to hit 60fps, but then you're not getting the best visual experience. At least you have GeForce Experience on hand to make the whole thing as easy as possible.
Less exacting games perform better, strangely enough, with the likes of F1 2020 hitting a silky 118fps whilst hurtling around a rainy Vietnam circuit. Horizon Zero Dawn also managed a respectable 71fps on average, with lows of just 58fps.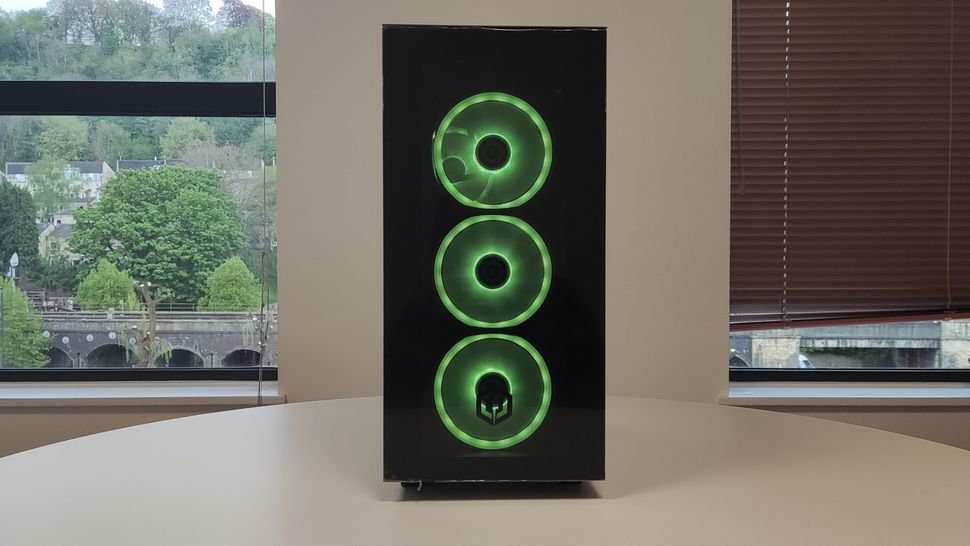 These frame rates are all recorded at 1080p, and upping the resolution to 1440p proves that the RTX 3050 simply doesn't have the raw grunt to handle higher resolutions.
The same is largely true of ray tracing as well, with one of the lowest scores I've ever seen in 3DMark Port Royal. If you're after serious ray tracing performance, you should really have your sights set on the RTX 3060 at least.
In fact, you can tweak the configuration at the time of purchase to upgrade to an RTX 3060 for a mere £42 extra. That's easily the best upgrade you could ever make—far better gaming performance for the price of a game? You know it makes sense.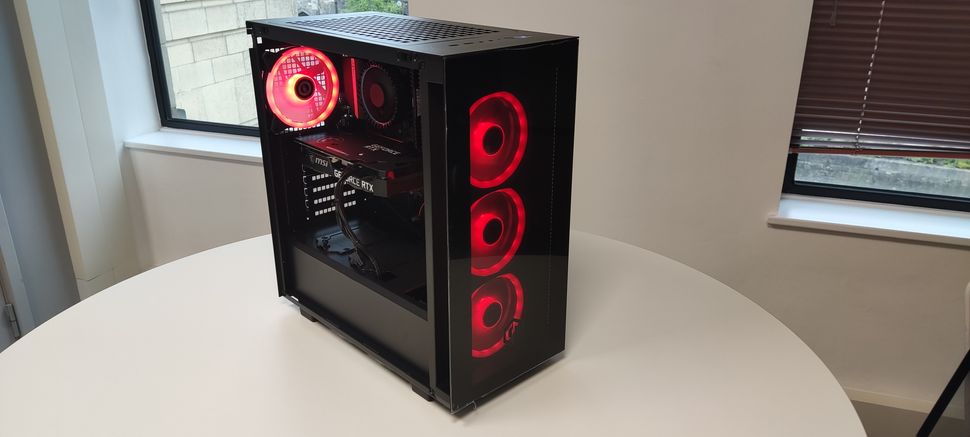 It's worth highlighting that this machine runs quietly and coolly even when pushed hard too. Even though Cyberpower has used the stock Intel cooler, the temperature still only hits 79­°C. The RTX 3050 maxes out at just 66°C as well. Those case fans aren't just for the pretty RGB lights.
Overall then, there's plenty to like here. Component selection mostly makes sense and it's a surprisingly good looking system given its budget nature. I'd recommend upping the graphics card to an RTX 3060, for sure, and the lack of USB Type-C ports is annoying, but it's still a decent PC for the money. It's well built, using well-known components, and there's plenty of space for further upgrades too.