Looking for the Warzone bunker codes to get you as much loot as possible in Verdansk? While we have a good idea where they are by now, accessing the loot within is remains a challenge. Not only are these areas usually crawling with players eager to claim the loot for themselves, but a number of them also require Warzone codes to access the goodies inside.
One of the easier bunkers to locate—but one that's also fraught with danger due to its very public location—is the bunker at Verdansk Airport, added with Call of Duty: Black Ops – Cold War Season 1. While this particular bunker doesn't need a code, there are many that do and this guide will help you find each code and location. And though several bunkers, including Warzone bunker 11, have been sealed since the start of Season 2, details on their locations and how to access them can still be found below.
The launch of Cold War and Warzone Season 2 suggests that we might see Verdansk evolve throughout the season. Not only has a zombie outbreak erupted on the crashed Vodinoy ship, but a number of Verdansk's nuclear silos have opened up as well. But for now, if you're intent on relieving those Warzone bunkers of their loot, read on to discover the locations of each, as well as the combinations needed to access them.
Warzone bunker codes
Warzone bunker codes: Here's every location that requires a combination
As part of the Call of Duty: Cold War reveal, bunkers were added that required codes, rather than a Red Access Card. If you're after the original bunkers that don't require a code, scroll down to the section further down this page. Otherwise, take a look at the video above to see these newer bunker locations, or check out the map below—as well as a list of the codes for each. Don't worry, unlike the stadium bunker, these Warzone bunker codes are all fixed.
The Warzone bunker codes are:
Prison - 72948531
Farmland - 49285163
South Junkyard - 97264138
North Junkyard - 87624851
Park (nuke) - 60274513
TV Station - 27495810
Warzone bunker locations
Warzone bunkers: The original locations
Below is a list of every original Warzone bunker location. If you're looking for the newer bunkers which require Warzone codes to access, scroll back up this page to the section above.
You can also take a look at the map above if you need a visual reference—though do be aware that some locations are close together so the indicators on the map may be a little off. If you're unsure, the descriptions below should make things clearer.
Note: A few changes to the Warzone map have arrived with Season 2's launch and it looks like bunkers are already being affected. Bunkers 00, 04, 05, 06, 09, and 11 have all been sealed and can't currently be opened.
00 (Sealed): On the coast south of Promenade West, head down the cliff as if you're going out of bounds to find the path to this mischievously hidden spot.
01: North of the go-kart track and southwest of Boneyard.
02: Drive north along the road from the previous bunker.
03: Right next to bunker 02, but you'll need to drop through a trap door.
04 (Sealed): Southeast of Dam, in the cliffs above the large Russian sign.
05 (Sealed): On the west side of Crash Site.
06 (Sealed): On the far east side of the map between Quarry and Lumber, above the train tunnel.
07: East of TV station, northeast of Stadium. Look for another trap door.
08: Opposite bunker 07, head down the steps inside.
09 (Sealed): Northeast of Prison, cut into the cliff below the bridge.
10: South of Tavorsk Park on Verdansk's southern edge.
How to get into a non-keypad Warzone bunker
If you want to access the loot inside a non-keypad bunker, you'll first need to find a Red Access Card. These cards are fairly rare and can only be found inside legendary crates, and even then they're not a guaranteed drop. But securing an access card is only half the battle, you now need to make it to a bunker in one piece.
This is easier said than done as players will flock to these locations in the hope of nabbing the goodies for themselves. And there is always the threat of chancers looking to steal your card before you have the chance to use it. If you make it to the Warzone bunker in one piece—congratulations. Have fun looting your rewards.
If you're looking to find the secrets contained within Warzone bunker 11, you'll find more details on that below.
Warzone bunker 11
How to get inside Warzone bunker 11
Win more with these Warzone loadouts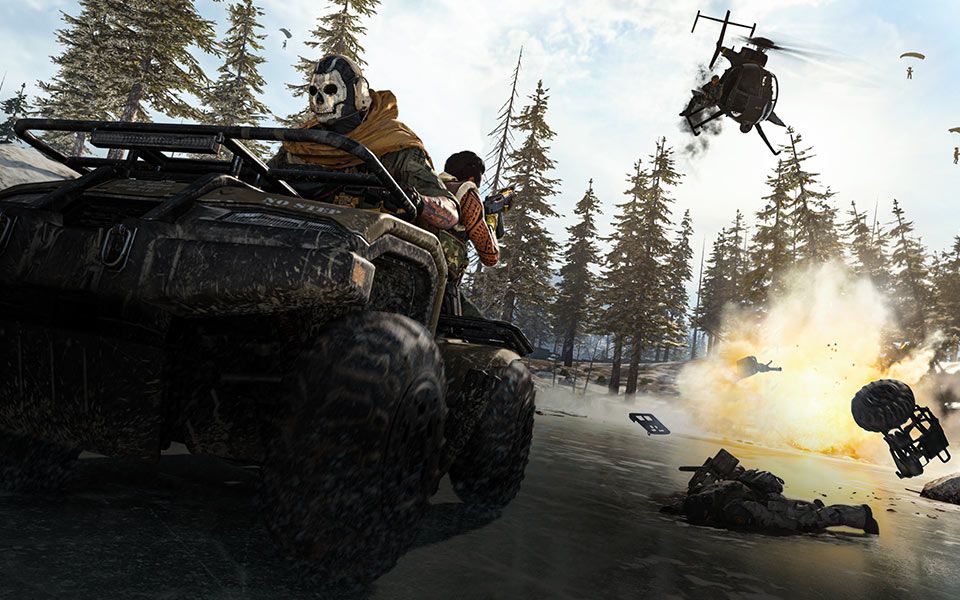 Best Warzone loadout: Finest overall setups
Best M4A1 loadout Warzone: Top all-purpose AR builds
Best MP7 loadout Warzone: Effective SMG setups
Best Grau loadout Warzone: Strong AR builds
Best M13 loadout Warzone: Attachments to choose
Best Kilo 101 loadout Warzone: Boost the punchy AR
Note: Warzone bunker 11 is currently sealed, as of the launch of Season 2. Should the bunker become accessible again, the information on how to grab the goodies is below.
Bunker 11 works differently from the other bunkers you'll find in Warzone. It's located to the northwest of the Military Base and you don't need a keycard to access it. There's quite a lot of work involved to grab the loot inside and you'll need to track down a number of phones and learn to translate Russian—though looking at the reference below might be the easier alternative.
It's not just a case of finding any old phone. You'll need to track down a phone playing a message in Russian—any of the phones marked by blue icons on the map above is potentially the right one. Once you've found it and listened to the message, the list below will help you translate the Russian numbers. Once you've noted them down, you can continue with the next step.
0: ноль ("nohl")
1: один ("a-deen")
2: два ("dva")
3: три ("tree")
4: четыре ("chye-tir-ye")
5: пять ("pyat")
6: шесть ("shest")
7: семь ("syem")
8: восемь ("vo-syem")
9: девять ("dyev-yat")
Now you have the three numbers, check the map above to find the numbers. These correspond with the specific phones, so it should be easy to work out which ones you need to look for. You need to visit these in the order that you heard them in the original message. Visit each one and listen to the messages that they play.
Once done, head to Warzone bunker 11 and claim your rewards. You should find the Mud Dauber blueprint for the MP7, two miniguns, and a load of supply crates to loot. There's also a nuke in a separate room but unfortunately, you'll need to leave it where it is.
Warzone airport and stadium bunkers
How to access the Warzone stadium bunker
If you're wondering how to access the stadium bunker, you're going to need a Warzone bunker code to access it. But as the code changes with each match, you'll have to go through the same process each time. For more details, check out this Warzone stadium access code guide—but brace yourself to get through multiple keycard doors if you want to claim the rewards inside.
Warzone Airport bunker location
New bunker in verdansk from r/CODWarzone
The airport bunker was added with the launch of Cold War Season 1 and you won't need a code to get inside. What you will need to do is to locate the crack in the runway at Verdansk Airport and jump inside. You should find a tunnel that leads to an abandoned Soviet bunker, full to the brim with supply crates. The video above, from Reddit user Mundoschristmas, shows the exact location.
The main issue with this bunker is its very public location. There's a lot of loot stashed there which is hard for players to ignore, so expect a lot of competition if you're heading for the runway in search of those rewards.