If you're in the market for one, there's still time to pick up a cheap gaming router deal before Christmas. While it's not the most thrilling of gifts for the PC lover in your life (even if that person is yourself), we all enjoy getting a bargain, and maybe you just really need a new router. While routers were in a bit of a technological funk a couple of years ago, they've improved dramatically in the last 18 months, so you can get quite a bit of tech for your money now.
We've done the legwork for you, tracking down the best cheap gaming router deals for this week. While they're an item that usually gets heavily discounted during the sale seasons, it can be tricky to make decent savings on the exact router you want, so if you see it at a reasonable price it's probably best to buy now, and not wait for the new year, purely because retailers are keen to sell them before the holidays. You'll find a number of great models below, from Netgear Nighthawks to TP-Link Archers, and some mid-range options for lower budgets. As ever, if you need to know more about a specific model, here's our guide to the best gaming routers.
US deals are right at the top. Here's a link to get straight to the UK deals.
US Cheap gaming router deals this week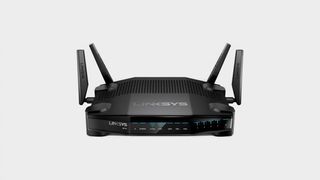 Linksys WRT Gaming Wifi Router | $150 (save 50%)
One of our favourite mid-range routers with great built-in networking optimization. This is is as cheap as it's ever been on Amazon. Buy at Amazon
TP-Link Archer C5400X | $304.24 (was $399)
The Archer C5400X is a formidable gaming router, especially over the 5GHz range. It has heaps of great features, it's easy to use, and... is currently 25% off. Buy it from Amazon.
Netgear R6700 Nighthawk | AC1750 | $89.37 (save $40)
One of the top models when it came out, the R6700 is still a formidable router with excellent range and fast speeds. If you bought last week, you'd have saved an extra $20, but this is still a good price. There's an extra $10 off at checkout. Buy at Amazon
Netgear R700P-100NAS Nighthawk | AC2300 | $174.99 (save $25)
This is a essentially a faster version of the above model, with some additional features sprinkled in. Namely, it works with Amazon Alexa and Google Assistant to control your home network using voice commands. Buy at Amazon
UK cheap gaming router deals this week
TP-Link Archer C5400X | £299.99 (save £50)
This excellent gaming router is one of the newest and highest performing in 2018. Great QoS controls, very easy to set-up, and super powerful. And £50 off. Buy at Amazon.
TP-Link Archer C1200 Gaming Router| £60.16 (£15 off)
A well-regarded entry level choice at half its usual price. There's a nice saving on this router but it's about £1 more expensive this week. Buy at Amazon

Linksys WRT32X-UK AC3200 Gaming Router | £112.85 (£187 off)
Our sister site TechRadar calls this "a rock-solid gaming router" with easy set up and configuration options. The only problem was the price, and the pre-Christmas discount takes care of that. Buy at Amazon
ASUS ROG Rapture GT-AC5300 | £339 (£61 off)
Our favourite luxury router is enjoying a very good discount on Amazon UK. It's packing a quad-core processor and a GB of RAM to outperform its excellent predecessor. This is the router's best ever price on Amazon. Buy at Amazon

Our favorite gaming routers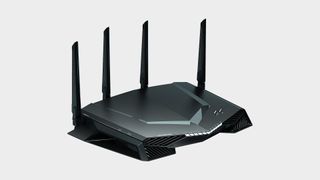 Netgear Nighthawk XR500
Our favorite router of 2018
Speed: AC2600 | LAN Ports: 4 | Antennas: 4 | Processor: Dual-core 1.7GHz | Dimensions: 12.7 x 9.6 x 2.2 in (321.9 x 243.7 x 55.0 mm) | Weight: 1.77 lb (801 g)
Optimized for gaming
Only has 4 LAN ports
Poorer 5GHz range
If you're looking for a specialized gaming router, this is very much the one to get. While it isn't the most powerful, offering a dual-core 1.7GHz processor that allows AC2600 speeds, it does bring brilliant performance over the 2.4GHz range and packs in a bunch of features that are perfect for gaming. The QoS gives you the ability to prioritize gaming traffic, and there's additional Bandwidth Allocation features that let you further enhance the flow of your connection. It's perfect if you share a connection with other users, which includes everyone who doesn't live alone.
The drawbacks come over the 5GHz range, where the XR500 lags behind some of the premium routers like the Rapture GT-AC5300, and the lower number of LAN ports is a bit of a concern if you're looking to connect more devices to it. However, for the regular PC player looking for a rock-solid router, at a reasonable price, this is the one to get.
ASUS ROG Rapture GT-AC5300
The best high-end gaming router
Speed: AC5300 | LAN Ports: 8 | Antennas: 8 | Processor: Quad-core 1.8GHz | Dimensions: 11.46 x 4.72 x 14.88 in (291 x 120 x 378 mm) | Weight: 4.14 lb (1878 g)
WTFast enhances gaming traffic
Excellent performance at 2.4GHz and 5GHz
It's really large
It's expensive
If money is plentiful, this is the gaming router to get because it's technically the best you can buy. We only recommend the Nighthawk XR500 over this one because it manages to balance performance with price. This maintains great speeds over both the 2.4GHz and 5GHz ranges, and manages the lowest video packet loss of all the routers we've tested. It has all the extra stuff you'd expect, including eight LAN ports and two USB 3.0 connections.
On the customization side, it not only has the usual QoS options that allow you to prioritize gaming traffic, but it also has WTFast, which further enhances and stabilizes the connection for gaming. Sure, the unit itself is a bit of a beast (it's really large, and looks like a dead spider), but that's what you get with such a powerful gaming router.
Linksys WRT32X
A top mid-price gaming router
Speed: AC3200 | LAN Ports: 4 | Antennas: 4 | Processor: Dual-core 1.8GHz | Dimensions: 9.68 x 7.63 x 2.04 in. (245.87 x 193.80 x 51.82 mm) | Weight: 1.76 lbs (798.32 g)
Great mid-price router
Has good 5GHz range
Poorer 2.4GHz range
If you're sticking to a budget, but still want performance, the WRT32X is the one to go for. While its speeds aren't the best over 2.4GHz, it does great work on the 5GHz range, equalling the performance of many more expensive models. What sets this router apart, for the price, is what's called KPE (Killer Prioritization Engine), which enhances game-specific traffic incredibly effectively. Combine that with the speeds it already offers, and this router punches well above its weight for the price.
However, if you have a laptop or motherboard with Killer NIC, this further boosts the performance of the gaming optimization, so you're getting even more performance. No, the speeds aren't quite as good as the $400 routers on this list, but for the much reduced price you're getting a plucky router that really does perform above its price.
Some online stores give us a small cut if you buy something through one of our links. Read our affiliate policy for more info.