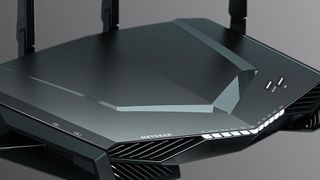 Choosing the best gaming router is an essential part of any PC set-up. Whether you've built your own rig, bought pre-made, or you're just looking to upgrade your entire home network, the quality of your router can make a big difference to the way you play online and manage your multitasking. Sure, your PC may be able to handle 4K streaming while you download in the background and chat to friends, but if your gaming router isn't up to the task you'll quickly get frustrated. Selecting the best gaming router for you is actually way more interesting than it was a few years ago - the market for routers designed specifically for gaming has expanded and become more dynamic, so you have plenty of genuinely good options to choose from.
The big thing to look for when you're choosing a gaming router is Quality of Service settings (QoS). This allows you to prioritize gaming usage over other demands on your bandwidth, so if someone else in your household decides to start streaming Netflix or downloading video files, you won't be hit with latency. Here's how to tune your set-up for gaming.
Getting one of the best routers, sadly, means spending quite a chunk of money - the most powerful can cost upwards of $300/£250 - but these are parts of your PC set-up that will last for years before needing an upgrade. You can usually find good deals on gaming routers too, especially around Black Friday.
A note on this guide - we've tested each and every product here to make sure you're actually getting the best gaming routers, at a range of prices (full details at the end of the article). And if you need it, here are our best USB Wi-Fi adapters to pair them with.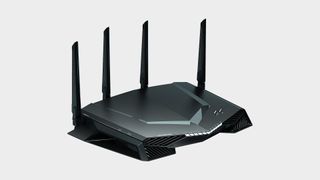 Netgear Nighthawk XR500
Speed: AC2600 | LAN Ports: 4 | Antennas: 4 | Processor: Dual-core 1.7GHz | Dimensions: 12.7 x 9.6 x 2.2 in (321.9 x 243.7 x 55.0 mm) | Weight: 1.77 lb (801 g)
Gaming focused NetdumaOS
Spectacular throughput
Poor 5 GHz range
Only four LAN ports
The Netgear Nighthawk Pro Gaming XR500 is the best gaming router for most users. It features AC2600 speeds (N800/AC1733), a dual core 1.7 GHz processor, dual USB 3.0 ports, Beamforming and MU-MIMO. It also uses Dynamic Frequency Selection (DFS), which adds fifteen additional unlicensed channels on the 5 GHz frequency to minimize interference. The only real deficiency hardware-wise is the router has only four Gigabit LAN ports while some competing products have eight.
The Netduma OS in the XR500 offers a number of innovations which help make this router our top pick, including Geo-filtering—which allows a radius to be set (typically <3000 km), after which the router will preferentially connect to the closest gaming server—as well as Bandwidth Allocation that allows for granular control of prioritization of gaming devices. Finally, there is robust QoS for prioritization of gaming traffic.
The performance increase of the Netduma OS really shines through in our 2.4 GHz tests which put the XR500 well above the competition. Although the 5 GHz speeds weren't nearly as impressive, the XR500 is still our top pick because it performs so well right out of the box and is truly optimized for gaming.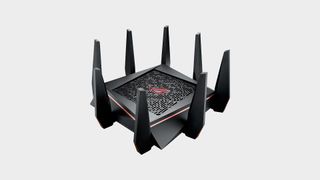 ASUS ROG Rapture GT-AC5300
Luxury upgrade for the ultimate lag-free experience
Speed: AC5300 | LAN Ports: 8 | Antennas: 8 | Processor: Quad-core 1.8GHz | Dimensions: 11.46 x 4.72 x 14.88 in (291 x 120 x 378 mm) | Weight: 4.14 lb (1878 g)
Fast 5GHz speeds
Low video packet loss while streaming
It's huge
The Asus ROG Rapture GT-AC5300 Gaming Router builds on the success of the company's AC5300 model that won this category in our previous version of this guide. It features beefed-up hardware, including a move from a dual core to a quad core processor, and doubles the RAM to 1GB. Other shortcomings are also addressed, with both USB ports now the faster USB 3.0, and a total of eight Gigabit Ethernet ports for wired devotees.
In addition, the GT-AC5300 features a gaming centric interface with features such as tracking Network Ping, and Ping Deviation over time. This model also integrates with WTFast for faster connections to gaming servers, and includes a one-device subscription to the service.
Specs, logos and flashy interfaces aside, we were eager to see how this model performed, and it did not disappoint. In testing the Asus ROG had excellent 5 GHz speeds on both distances tested. This model really showed its stuff on our network gaming congestion test, as it generated both the highest FPS of 33.617, while also streaming with the lowest video packet loss of 7.76 percent. For the price of $400, the Asus ROG router totally trounces the competition.
TP-Link Archer C5400X
The easiest gaming router to set up and manage
Speed: AC5400 | LAN Ports: 8 | Antennas: 8 | Processor: quad-core 1.8GHz | Dimensions: 11.34 x 11.34 x 7.24 in (241 x 241 x 55 mm) | Weight: 3 lb (1160 g)
Very easy to operate
Powerful, but not overpriced
Great 5GHz speeds
2.4GHz speeds are middling
TP-Link's latest entry into the high-end gaming router space is a significant improvement over previous models, and now ranks among the best gaming routers of 2018 - especially when it comes to the 5GHz range, at which it excels. Our recent review of the TP-Link Archer C5400X awarded it near-top marks. What we love about it is how easy the C5400X is to set-up and use, while still offering the features you'd expect like the ability to easily manage QoS, the inclusion of network security (via Trend Micro), and option to not only blacklist but also whitelist certain devices.
In terms of the throughput speeds, our tests clocked the following for the Archer C5400X: at 2.4GHz it delivers 117Mbps near / 112Mbps far, which is kinda middling, while at 5GHz the TP-Link performs extremely well, clocking 344Mbps near and 347Mbps far. From this perspective, it's market-leading. What disappoints, if anything, is the lack of specific tech to decrease latency, which you see in competing models of the same price, like the Netgear XR500. In terms of ports and antennae it's near identical to the superb Asus ROG Rapture GT-AC5300, but doesn't quite offer the same performance. It is, however, a cheaper alternative and a highly-recommended gaming router that's pleasingly easy to set-up and manage.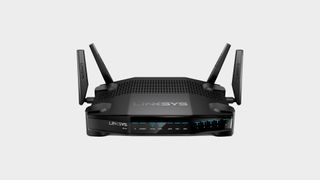 Linksys WRT32X
A great mid-range gaming router
Speed: AC3200 | LAN Ports: 4 | Antennas: 4 | Processor: Dual-core 1.8GHz | Dimensions: 9.68 x 7.63 x 2.04 in. (245.87 x 193.80 x 51.82 mm) | Weight: 1.76 lbs (798.32 g)
Built in Killer Networking optimization
Great 5GHz range
Requires Killer NIC to really shine
Take the already capable Linksys WRT3200M router, let Killer Networking redo the software including the KPE (Killer Prioritization Engine), and we get the Linksys WRT32X. This router takes prioritization of gaming to the next level, but the catch is that it really shines when the client is a Killer NIC, which are only integrated into motherboards or notebooks. With a Killer client, we can stream four simultaneous 4K videos, and still game at over 26 FPS- an impressive feat.
While the 2.4 GHz performance lagged behind some of our other mid-range choices, the WRT32X performed exceptionally well in our 5 GHz testing. At close range the 5 GHz speeds rivaled those of our top picks and even beat several in the far tests. Even without a Killer Networking adapter, the WRT32X performs very well. But if you're rocking a gaming laptop or motherboard with a Killer NIC, purchasing this router should be a no brainer.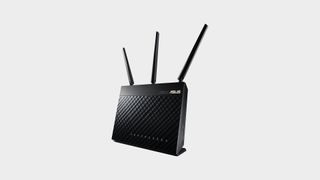 ASUS RT-AC68U
Custom firmware for power users on a budget
Speed: AC1900 | LAN Ports: 4 | Antennas: 3 | Processor: Dual-core 1GHz | Dimensions: 6.3 x 3.3 x 8.6 in (160 x 84 x 218 mm) | Weight: 1.4 lbs (635 g)
Wide firmware compatibility
FPS tests matched higher end routers
Poor 5.0 GHz speeds
The Asus RT-AC68U features AC1900 speeds (N600/AC1300) that are fairly standard in this segment. It takes a fairly business approach to the router design, with matte black plastic in a vertical design, with three antennas that can be positioned. The router features a 3 x 3 antenna design and a dual core 1GHz processor inside, with 256 MB of RAM with 128 MB of flash memory. With wide support for custom firmware such as Merlin, Tomato, DD-WRT and OpenWrt, functionality on the RT-AC68U can be exponentially upgraded with a simple firmware flash.
While several others have struggled on the 2.4 GHz frequency, the RT-AC68U hardly breaks a sweat. The only real problem for this otherwise capable router is that it got bested on the streaming video tests and falls short in 5 GHz performance. However, priced at $160 with support for just about every custom firmware the RT-AC68U is great for power users on a budget.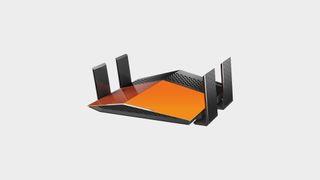 D-Link DIR-879
Ultra-budget for cheap networking thrills
Speed: AC1900 | LAN Ports: 4 | Antennas: 4 | Processor: Dual-core 1GHz | Dimensions: 7.9 x 9.5 x 3.5 in (201 x 241 x 89 mm) | Weight: 1.19 lbs (540 g)
Insanely cheap
Unique design
No USB ports
Priced below $50, the D-Link DIR-879 EXO is a steal for any gamers with heavy budget restrictions. It features a flashy orange design with four antennas that actually resemble the appearance of much higher end routers. While the overall performance isn't great, the router performs quite well considering it's nearly a third of the price of other competing AC1900 gaming routers.
While the 5 GHz performance and range are actually quite admirable, the 2.4 GHz speeds left quite a bit to be desired. Another possible deal breaker could be the lack of any USB ports, but with a price tag so low we're actually surprised there weren't more features missing. If you can't afford to save up for one of our higher ranked routers, the D-Link DIR-879 EXO is probably the best $50 router you can find for gaming.
How we test gaming routers
All the routers in this guide were tested first hand using a variety of high bandwidth applications, including gaming, 4K video, file transfers, and general web surfing. The latest version of the router's firmware was flashed onto the router at the onset of testing. All the client devices used were consistent throughout testing, running the latest drivers and software.
Testing was done for throughput using NetPerf software. A desktop with a Gigabit Ethernet port (10/100/1000) is used to send the data via a wired connection to the router via a CAT 5e cable.
Three test runs were done on each wireless adapter at each of the 2.4 GHz and 5 GHz frequencies, at both the close and far distances, with the highest throughput of each parameter reported. The client used is the Trendnet TEW-809UB, our choice for the Best high-end USB Wi-Fi Adapter. The throughput is tested both at a "close" 8' (2.4m) distance with direct line of sight, and also at a "far" 30' (9.1m) distance with an obstructing floor and wall in the way, as well as some metal ductwork intervening. The "close" test indicates the peak throughput of the hardware, while the "far" test is a more realistic test of what the end user will experience when separated from the router by a wall or floor.
Some online stores give us a small cut if you buy something through one of our links. Read our affiliate policy for more info.