The best gaming routers are essential if you're looking to game with low latency over Wi-Fi. Can you imagine paying for the good internet only to have your dinky router slow things down? Gaming on Wi-Fi shouldn't be a laggy mess in 2022, and with Wi-Fi 6 and Wi-Fi 6E offering plenty of bandwidth you're likely to get a decent speed.
In a perfect world, a wired connect still ideal for your PC. But alas, a lot of us don't have our PCs in the same room as the router. Hell, sometimes it's not even on the same floor. The further away you are from the router, the great chances of your wireless signal not performing to its potential. This only gets worse the more devices that are connected to it like smart TVs, tablets, phones, and game consoles. today even some of your appliances demand a bit of your Wi-Fi. The router you want needs to deliver the fastest speeds and a stable connection regardless of what's connected to it.
While a wired connection will always be faster, the latest wireless kits can easily match the speed and latency of being hard-wired. If your motherboard lacks wireless networking capabilities, you can rely on a USB Wi-Fi adapter as a decent stopgap.
If you're playing on one of the best gaming laptops, you should focus a little more on your Wi-Fi, since some gaming laptops' only option is a wireless connection. Getting your network up to speed is paramount for a modern smart home to boost the connection to your Smart TV, consoles, tablets, smartphones, and everything else that needs a decent internet connection. And if your home is spread over many long hallways, a Wi-Fi range extender can be a lifesaver.
Fun fact: did you know Wi-Fi doesn't stand for anything?
Best gaming routers
Wireless standards come and go, and too often, they are more marketing hype than any meaningful, practical improvement (looking at you, WiGiG). To simplify wireless standards, 802.11ac was renamed 'Wi-Fi 5,' while the latest standard, 802.11ax, is dubbed 'Wi-Fi 6' by the Wi-Fi Alliance.
Wi-Fi 6 promises some advantages, including, not surprisingly, greater bandwidth. The other big news here is Orthogonal Frequency Division Multiple Access (OFDMA), designed to increase the number of subchannels for each wireless channel, reducing latency and allowing the router to handle more clients simultaneously. There are also improvements to MU-MIMO to enable more data to be transmitted at once and refinements to beamforming.

The RT-AX88U is a vertically configured router, allowing the four antennas to be spaced out better than a comparable horizontal unit. The finish is a black matte plastic that tends to show fingerprints. There are also a pair of USB 3.1 ports—one in the back, another on the side.
Overall the specs for the RT-AX88U are quite top-notch and easily compete with the best gaming routers out there. The hardware ingredients for this router include a quad core 1.8 GHz CPU, 1 GB of RAM, and 256 MB of flash storage.

In our testing, the next generation of Wi-Fi, 80211ax (Wi-Fi 6), provides clear benefits to 5 GHz throughput and gaming in a network congested environment. While the current street price of $346 does put the RT-AX88U in the high end category, with performance this good, it deserves to be there.
Color us impressed with what we have seen of 802.11ax so far. When it comes time to upgrade your router, the Asus RT-AX88U is more than worthy of consideration.

Please read our full Asus RT-AX88U review.
The Netgear Nighthawk Pro Gaming XR700 is a strong follow-up to the XR500, which impressed us as it was the fastest router we had tested to date. Both are part of the company's 'Nighthawk Pro Gaming' networking line of products—but the XR700 is even faster than its predecessor.
The XR700 has plenty of the right ingredients, with one WAN and six LAN ports for enough wired connections, support for link aggregation, and even a 10 Gigabit LAN SFP+ port for ridiculous Ethernet bandwidth. Let's get it out of the way. With all the attention on the wireless market heading to 802.11ax/Wi-Fi 6, this XR700 uses a combination of the last generation 802.11ac/Wi-Fi 5 wireless and 802.11ad technology (that's the 60 GHz frequency one), which unfortunately has not gone mainstream. It also supports Beamforming via four active antennas.

Another highlight of the XR700 is the gaming-centric Duma OS, which boasts Geo-Filter tech to connect to the closest server when gaming. The XR700 has granular control of the bandwidth, prioritizes throughput by each device for both the upload and download separately, and assigns a specific percentage for each device to balance the load, thereby preventing any single device from becoming a bandwidth hog.
The XR700 is a strong all-around performer in our tests, starting with the 2.4 GHz frequency with some of the fastest scores to date of 284 Mbps at close range and 225 Mbps on our far test. This continued on our 5 GHz testing with strong 325 Mbps and 332 Mbps scores at close and far ranges, respectively.
The Asus ROG Rapture GT-AX11000 is designed to be the class-leading, 'best of the best' gaming router, and looking at the hardware specs, it delivers—big time. Building on the prior routers of this series, the Asus ROG Rapture GT-AC5300, and adding in Wi-Fi 6 technology, it promises a lot.

This router uses a dedicated 2.5G Base-T port for higher wired bandwidth and four Gigabit LAN ports, although we prefer the eight ports that other Asus routers offer.
On the wireless side of things, this is a Wi-Fi 6 tri-band solution offering more than 10 Gigabits of wireless bandwidth, along with DFS bands to avoid interference.

Additional gaming-centric features include integrated WTFast, VPN Fusion to segregate gaming traffic from VPN for maximum throughput, Dynamic QoS to prioritize gaming traffic, Games Radar (no, not that one) to check the ping times to different game servers to minimize latency, and for those that prefer a more colorful surrounding, Aura RGB.
Running the Asus ROG Rapture GT-AX11000 through our testing left us seriously impressed. While the 2.4 GHz speeds are decent 171 Mbps on the far test, the 5 GHz speeds are exceptional, with one of the fastest throughput speeds of any router so far at 334 Mbps. Oh, and we don't even have an 802.11ax USB Wi-Fi adapter yet, so this is using 802.11ac gear on the client-side. Yes, this router is really that good.
Best gaming laptop | Best capture card | Best gaming monitor | Best gaming headset | Best computer speakers | Best SSD for gaming
Gaming routers remain an important segment of the market, with recent entries, including the Netgear XR500 earlier this year and the Linksys WRT32X last year. While a typical router may be standard for some uses, when it comes to the heavy lifting of high-quality video and gaming—especially simultaneously—lower-end gear will invariably choke under the demands of heavy network traffic.

Similarly, while there has been a transition to mesh router kits, which offer better coverage for larger homes, none (yet) are targeted for the gaming market. A higher-end gaming router can offer higher throughput speeds, better Quality of Service to maintain a video stream while keeping gaming latency low, and more wired ports, among other advanced features.
While TP-Link has made some decent routers for the lower and midrange of the market, the company's high-end gear has previously been lacking, as they did not target the gaming market with their previous top-end router, the Archer C5400. The routers from this company have not done well with prioritizing gaming traffic, relegating them to more general-purpose network use (although their recently introduced mesh kit, the M9 Plus is surprisingly capable in this area).
What disappoints, if anything, is the lack of specific tech to decrease latency, which you see in competing models of the same price, like the Netgear XR500. In terms of ports and antennae, it's near-identical to the superb Asus ROG Rapture GT-AC5300 but doesn't quite offer the same performance. It is, however, a cheaper alternative and a highly recommended gaming router that's pleasingly easy to set up and manage.

TP-Link's took its time to enter the high-end gaming router market. They clearly benefited from the time-honored approach of not being the first out of the gate, but then being better than the competition. Strengths are many, with ridiculously fast 5 GHz throughput, a user-friendly interface with a large library of advanced features, and robust QoS. Weaknesses are minimal: slow 2.4 GHz throughput and a lack of an integrated GPN. The Archer C5400X is available for $199.99 and features a two-year warranty.

Read our full TP-Link Archer C5400X review.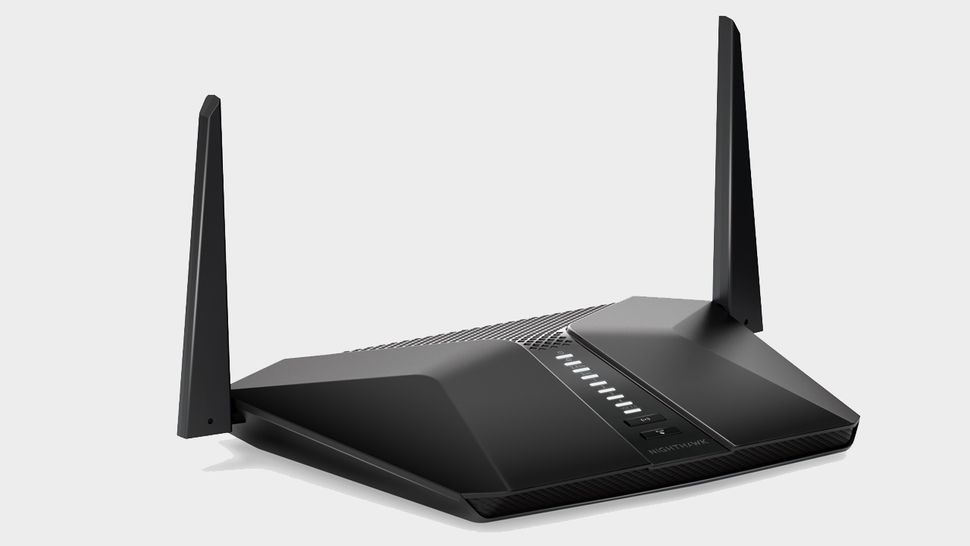 Wi-Fi 6 is spreading across product lineups, and the Nighthawk AX4 is an excellent example of what this spec can accomplish, even on a more budget router. The Nighthawk AX4 does not have flashy colored stripes and LEDs of high-end gear. Rather it has a horizontal orientation, with two external antennas, four Gigabit LAN ports, a single USB port, and a row of green indicator LEDs.
The Nighthawk app handles the interface, although it can also be used via a web portal, this is also more generic, as you won't find the DumaOS here, but the more familiar Netgear one. There is also QoS (which is a simple toggle on or off) for gaming. Still, there is no granular control to better balance gaming needs and video streaming across multiple connected devices to optimize the experience better.
In testing, the AX4 achieved some great performance numbers when it came to throughput, with a close testing speed of 344 Mbps on the 2.4 GHz frequency and 345 Mbps on the 5 GHz frequency. There was also no slouch on the far testing with 222 Mbps on 2.4 GHz and 309 Mbps on the 5 GHz frequency, showing the Wi-Fi 6 spec value. For those who want the throughput that Wi-Fi 6 offers at a more affordable price than most, the Netgear AX4 is an attractive offering.
Gaming router FAQ
Is a gaming router worth it?
Gaming routers can prioritize traffic to your gaming PC and consoles—they're built to be greedy. The best gaming router reduces lag during your online game sessions, even if other devices in your household are streaming or downloading. If you've had the same router for years, it might be the right time to consider an upgrade if you want to get the most of your internet.
Is wired better than Wi-Fi for gaming?
Given the potential for Wi-Fi connections to have hiccups, we would always suggest, where possible, to have your gaming PC wired into your router directly. Failing that, buy a Powerline connection. Wireless connections are getting more effective, and Wi-Fi 6 is good enough that wireless VR streaming is now possible. But if latency creeps in there, you might throw up.
The best gaming routers have multiple LAN ports for wired connections—which are preferred—but most differ from ISP-provided gear through the latest Wi-Fi standards, such as 802.11ax, aka Wi-Fi 6. This means faster and more efficient wireless data throughput for a more significant number of devices. That last bit is key to rock-solid wireless performance in an age of smart devices and appliances.
Can I use any gaming router with my provider?
Before you splash out on a new router, you will need to make sure that it is compatible with your current ISP. Some ISP-provided cable modems, for example, don't offer pass-through connectivity to allow a high-performance router to be paired with it. So it's important to make sure you're not wasting your money.
What are Wi-Fi 6 and Wi-Fi 6E?
Wi-Fi 6, otherwise known as 802.11ax, is an improved generation of wireless communication between devices. Both client and router need to support Wi-Fi 6 to get its benefits, but these include faster throughput for a more stable and efficient connection, (ideally) less interference, and upgrades to MU-MIMO features.
Wi-Fi 6E delivers the benefits of Wi-Fi 6 with the 6GHz frequency in play to expose further congestion-free networking to your compatible devices. You probably need a good reason to buy a Wi-Fi 6E router today, but it could offer you some improvement with compatible devices.