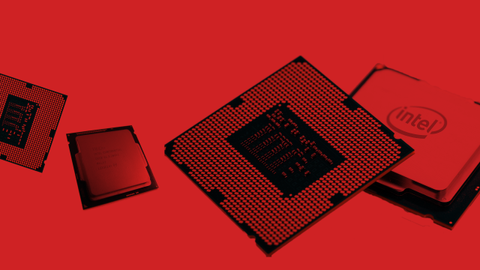 The best PC gaming processor
There's no component of your PC working harder than the CPU. It's running your operating system and programs as complex as Battlefield 4 and as simple as Notepad. Today's desktop processors can handle just about any game you throw at them, and can even be overclocked to better multitasking performance. You don't have to buy the most expensive processor around to have a great gaming experience. We've researched and tested the best gaming CPUs around, and these are the ones worth putting in your next gaming rig.
Update 2/11/2016: We've revamped our testing and recommendations for the best gaming CPU and best high-end CPU, respectively. Our next update will tackle the best budget CPU for gaming.

The best gaming processor
Handles even the most demanding PC games
Moderate improvement over the previous i5
Good overclocking potential to 4.5 GHz and beyond
Z170 platform brings more PCIe lanes and support for cutting edge memory and SSDs
Lower base clock speed than Core i7
Lacks the Core i7's Hyperthreading, useful in very demanding multithreaded applications
It takes a lot to improve on a processor. Hundreds of millions of dollars of R&D, in fact. Take the short-lived Broadwell CPU, released just a few months before Skylake: in essence it's a die shrink of the Haswell architecture, but boy did it take Intel some time to get that one nailed. But then shrinking below 22nm is no laughing matter. It was Intel's (and the world's) first-ever consumer 14nm processor. That paved the way for Skylake and the i5-6600K, the new best gaming CPU in town.
Sklyake's new architecture at 14nm provided a much needed 10% improvement on the last generation of processors while also supporting modern advancements with the Z170 chipset. It brought DDR4 support to the masses, improved USB and Thunderbolt support and swapped over from 8 PCIe 2.0 lanes on the chipset to 20 PCIe 3.0 lanes instead, for all of your M.2 storage needs.
Read

More

The best budget gaming processor
Only $70
Extremely overclockable
Dual-core (rather than quad-core) hurts performance in a few high-end games
Needs to be overclocked to reach potential
Note: There are now better low-end CPUs than the G3258, as more games begin to take advantage of quad core CPUs. We'll have an update for this recommendation soon.
One of the oft-cited downsides of gaming on a PC, compared with gaming on a console, is the cost of the hardware. There's certainly some truth to that, since a single high-end component can cost as much as entire console, and in some cases, more. But by carefully choosing components, you can shave hundreds off the price of your gaming PC and still enjoy most up-to-date games in high resolution without having to keep the detail settings on the lowest possible level.
Enter the Pentium K G3258 processor, a truly affordable chip that can slug it out with the big guns of the processor world. Every so often, Intel brings out an affordable CPU that's trivial to overlock to higher speeds. You might even think they've done it on purpose, since the G3258 carries Intel's Pentium 20th Anniversary branding.
Read

More

The best high-end gaming processor
Far better multitasking than an i5
More cores than a Skylake i7 for an equivalent price
Overclockable to give all six cores even more multitasking power
$130 more than a Core i5
Negligible performance difference in most games, which won't use the extra cores
In the last iteration of this buyer's guide we opted for a standard i7 CPU over the more premium Haswell-E, deciding the "extreme" platform was too expensive to recommend for gaming. Since then, as usual, the dynamic PC gaming landscape has changed quite dramatically.
To understand our choice here, you have to understand exactly how the industry and our demographic is changing. Today's 1.2 billion PC gamers stream, they render video, they work on their machines and run all sorts of additional programs in the background. And for that reason we decided to opt for the Intel Core i7-5820K as our best high-end gaming processor.
Read

More
How we tested processors and others we tested
In our latest round of testing, we focused on Intel's new Skylake CPUs and how those compared to last generation's Devil's Canyon and the still competitive X99 Haswell-E platform. For our next update, we plan to focus on the budget tier and incorporate benchmarks with AMD's latest processors.
How we tested
To bring our CPU testing and buyer's guides in line with the rest of our future reviews, we decided to completely rework our testing protocols for the lot of them. First we have to start with the test beds.
| | | |
| --- | --- | --- |
| Platform | Z170 - Skylake | X99 - Haswell-E |
| Motherboard | Asus Z170 Maximus VIII Formula | Asus X99 TUF Sabertooth |
| RAM | 32GB (4x8GB) Corsair Dominator Platinum 2400 MT/s C14 | 32GB (4x8GB) Corsair Dominator Platinum 2400 MT/s C14 |
| GPU | Nvidia GeForce GTX 980 | Nvidia GeForce GTX 980 |
| SSD 1 | Samsung 950 Pro 512GB M.2 NVMe SSD | Samsung 950 Pro 512GB M.2 NVMe SSD |
| SSD 2 | Samsung 850 Pro 2TB SSD | Samsung 850 Pro 2TB SSD |
| PSU | Be Quiet! Dark Power Pro Platinum 1200W | Be Quiet! Dark Power Pro Platinum 1200W |
| CPU Cooler | NZXT Kraken X61 | NZXT Kraken X61 |
As you can see it's a pretty extensive array of hardware, most of it not cheap. The reason being is that when testing CPUs we want to ensure that there are minimal to zero bottlenecks in other parts of our systems. Samsung's 950 Pro PCIe M.2 drives are phenomenally fast, and provide us with ample storage room to play with. Couple that with the 2TB SSD to house our Steam library and we're set. Sticking with Asus for motherboards meant we shouldn't have any conflicting driver issues. And Nvidia's GeForce GTX 980 is still a powerful GPU, capable of driving games both at 1440p and 1080p with little to no problem. Cool all this with a full 280mm NZXT Kraken X61 and we're good to push the overclocks as hard as we can.
Then it comes down to our testing software suite. We use a fresh install of Windows 10 Technical Preview, alongside the latest chipset, driver and BIOS updates for both boards. For computational rendering benchmarks we decided to use both CineBench (R15) and HWBOT's x265 Benchmark. For synthetic graphics testing we used both 3D Mark Firestrike's standard test, and Heaven 4.0. Then for good measure we threw in AS SSD's Sequential and 4K benchmarks for our second SSD, and also prepared a 5GB archive folder package, just to see what each CPU could do.
Then it's all about them load tests, so for power draw and temperature we powered the system on, closed down any additional programs, waited 5 minutes and took readings from our watt measuring device and the average from the four cores from real temp GT. Then to test load temperatures we coupled Prime 95's burn test with a standard FurMark 1920x1080 GPU stress test, waited five more minutes and did the same. We did this at both stock and overclocked frequencies, that way we could ensure that we had stable overclocks at the same time.
Then the most important factor came down to the game tests. We used Total War: Attila's in engine benchmark tool, Batman: Arkham Knight's in engine benchmark tool (for an example of an unoptimised game), Call of Duty: Black Ops 3 for your traditional AAA shooter, and of course Project Cars, to try and push the GPUs as hard as we could.
All benchmarks are performed three times, and then an average is taken from the three. All gaming benchmarks, bar the integrated ones are recorded in MSI's Afterburner software, pulled into an excel document and then the average is found from there.
Benchmarks
Socket
2011 - 3
1151
1151
Chipset
X99
Z170
Z170
Codename
Haswell-E
Skylake
Skylake
Model
i7-5820K
i7-6700K
i5-6600K
Computational Benchmarks
CineBench (R15)
1,008
873
591
HWBOT x265 Benchmark
21.64 fps
20.90 fps
15.50 fps
AS SSD - Sequential SSD2
497 MB/s - 480 MB/s
500 MB/s - 479 MB/s
492 MB/s - 466 MB/s
AS SSD - 4K SSD2
32 MB/s - 83MB/s
24 MB/s - 48 MB/s
26 MB/s - 45 MB/s
Firestrike - Integrated
--
1,090
1,053
Firestrike - Dedicated
11,328
11,293
10,469
Heaven 4.0 - Dedicated
72.9 fps
75.3 fps
74.4 fps
Extract Time - 5GB Folder
00:58
00:45
00:51
Archive Time - 5GB Folder
02:11
02:49
04:08
Overclock Benchmarks
Maximum Overclock Achieved
4.5 GHz
4.9 GHz
4.8 GHz
Maximum Overclock Voltage
1.415V / 1.9V
1.41V
1.4V
CineBench (R15)
1294
1,060
772
Heaven 4.0 - Dedicated
74.8 fps
75.5 fps
74.9 fps
HWBOT x265 Benchmark
28.76 fps
25.35 fps
20.17 fps
Power & Temperature
Draw & Temp - Idle
70W / 25*
63W / 21*
61W / 21*
Draw & Temp - Load
375W / 50*
353W / 61*
299W / 42*
Draw & Temp OC - Idle
95W / 26*
81W / 27*
71W / 22*
Draw & Temp OC - Load
527W / 78*
420W / 86*
340W / 63*
Gaming Benchmarks
Total War: ATTILA
47.8
46.5 fps
38.1 fps
Batman: Arkham Knight
106 fps
87 fps
87 fps
CoD: Black Ops 3
96.0 fps
74.1 fps
85.1 fps
Project Cars
70.0 fps
69.1 fps
64.9 fps
Gaming Benchmarks @ OC
Total War: ATTILA
52.6 fps
51.2 fps
48.6 fps
Batman: Arkham Knight
109 fps
90 fps
95 fps
CoD: Black Ops 3
98.7 fps
83.3 fps
88.4 fps
Project Cars
69.0 fps
69.4 fps
69.8 fps
Competitors
Although Intel has dominated our CPU recommendations, this is due to their current strong position in the CPU market. AMD's competing processors are a fine platform, and won't exactly perform badly in games, but the company remains a step behind Intel, unable to offer the same level of performance at the same price. AMD's new Zen CPU, releasing in 2016, could majorly shake things up, with a huge expected jump in instructions per clock. We're eagerly waiting to see how the next round of competition plays out.
Original reporting by Orestis Bastounis. Updated reporting by Zak Storey.
A note on affiliates: some of our stories, like this one, include affiliate links to stores like Amazon. These online stores share a small amount of revenue with us if you buy something through one of these links, which helps support our work evaluating PC components.