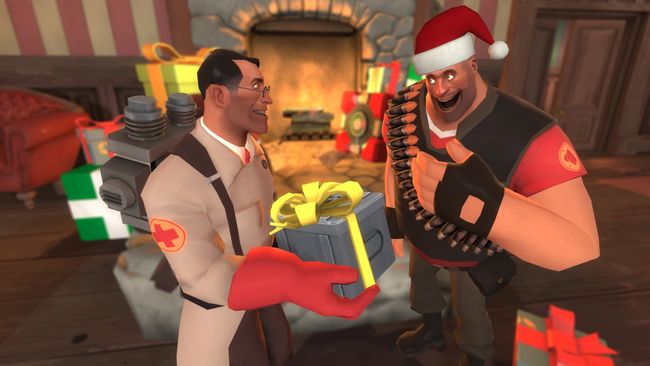 Ahhhh, the holidays. What could be better? It's cold, the family's squabbling, everyone is stressed, and for some reason Wonderful Christmas Time is the only song you can get on the radio. On the bright side, there's usually pie, and there's always PC gaming!
Whether you're shopping for yourself or the most dedicated PC gamer in your life, it's easy to pick out cool games, but much harder to find the perfect gaming books and clothes and just plain cool stuff. This year our holiday gift guide is a mix of fun things we'd like to have on our desk, gaming clothes that we'd actually wear, gorgeous art books, and some of our favorite hardware and accessories that make PC gaming better.
Go practical or go fun—we have plenty of options for both, split up into price tiers for easy shopping!
Gifts under $25
In Elder Scrolls these are the seemingly harmless things that take you out at the lowest possible moments, still reeling from a giant attack or crawling ashore after a fight with a Slaughterfish. Here it's a little cuddle buddy that will keep you company while you wait for a new Elder Scrolls game to kill 200 hours in. He's only six inches tall but don't let that worry you, the ladies will love him anyway.
The Dark Souls-obsessed gamer in your life has likely already learned all there is to know about the series' lore and spent long nights poring over Fextralife wiki pages. But there's almost certainly something they don't know in You Died, a collection of interviews and stories by a pair of writers (including our colleague Kotaku UK Keza MacDonald) who care deeply about the series. Learn about how one fan turned his lore dissection into a living and how developers have been influenced by the Souls series. Meet the game's most hardcore invaders. It's the most fun you can have reading about Dark Souls unless you really love stat tables.
We've all just got to accept that adult coloring books are a thing now, and it's really easy to be super snarky about them until you've had a few glasses of sherry and then suddenly you're sat in front of a Big Bang Theory marathon coloring carefully and wondering what happened to your hopes and dreams.
This addition to the coloring book pile is at least cool, boasting 32 pixel art designs of recognizable characters and elements from the world of gaming - treasure chests, plumbers, castles and aliens - for you to scribble on with childish abandon.
Toss your throw pillows and replace them with the warmer, more loving and more huggable plush Companion Cube from Valve's store. Cradling it in your arms is the least you can do to repay the poor Companion Cube for all those times you dropped it into an incinerator, you murderer.
If Firewatch inspired you to sign up with the United States Forest Service and spend your next summer alone in the wilderness trying to tame turtles then you're going to want to tweet about it. But you can't, because your phone reception died the moment you arrived, so you have to write it all down instead. And sketch pictures you can Instagram later.
Capture your thoughts in this elegant selection of notebooks inspired by the Crime By The Numbers series of books you find scattered throughout Firewatch. The covers are designed by Olly Moss and hide solid Field Notes paper within.
This selection of Overwatch themed throw pillows will bring a touch of class to any gaming hole, offering just the right amount of buttock support for a long gaming session. Of course, it doesn't feel right to place your unmentionable region onto the face of Mercy on a regular basis, but she's a healer and it's nothing she hasn't seen before. Except that rash, that is something that no one in the galaxy has ever seen before and FOR THE LOVE OF GOD DON'T SCRATCH IT.
Cable management doesn't end inside your PC. As satisfying as it is to perfectly route your case's cables so nary a stray wire is visible, it can be just as satisfying (and aesthetically pleasing) to clean up that rat's nest under your desk with some svelte cable sleeves. Wrap up all those separate cables into a couple slim tubes and marvel at how much cleaner it looks. Bonus: makes dusting and vacuuming much easier.
This cute cordless lamp is powered by AAA batteries. A cheap, portable way of getting some Vault Boy on your gaming desk, and a friend to keep in your pocket in the post-apocalypse.
Gifts under $50
Now is the time to get into Dungeons and Dragons. Whether you play or write your own campaign like Evan, James, and Tom have in the office, D&D has never been better, more accessible, or better supported by resources like (random dungeons and more), , and if you're playing remotely, .
If you just want to dip your toe in, the is a cheap and doofus-proof way to jump in. Inside, you'll get an abbreviated rulebook, five ready-to-go character sheets, some dice, and the 64-page starting adventure Lost Mine of Phandelver, a generous and detailed intro to D&D storytelling that'll last you hours and hours.
If you're committing to a longer campaign, start with the Player's Handbook, a gridded , and some for the dungeon master to sketch castles, caves, and encounters. Grab a couple plastic figure to populate your board, or give Ebay a look—you can get old D&D figures, Lego, or Pathfinder models for a steal.
For those of us who will put years into a single D&D campaign, adventuring with a figurine that doesn't resemble our one-eyed, dwarf barbarian-chef-pirate is unthinkable. Hero Forge is a fabulous tool for creating and 3D printing your own miniature. The browser-based utility is impressively close to what you'd get in an RPG like Dragon Age: choose a race and gender, pick a pose, adjust sliders to sculpt a facial expression, throw a variety of weapons or items into your character's hands, pick one of five different materials (from plastic to bronze), and you've got a handmade, unpainted avatar of your tabletop self.
It isn't limited to fantasy characters, either: Hero Forge's inventory of 3D gear and costumes ranges from chainswords, top hats and gas masks to crossbows, tommyguns, and flutes, for you bards out there. They also offer gift cards.
CD Projekt missed an obvious trick when commissioning this 6" vinyk version version of the world's most weary witcher. No . Still, Geralt's signature swords are removable from their scabbards, those glaring feline eyes are spot on, and let's be brutally honest about this: Who else do you want guarding your desk? Some schumck from Dragon Age? The Watch Dogs guy whose name no-one even remembers? I don't think so. There are other gifts in this guide, but none are going to give you all witching, all the time. This isn't some tough RPG-style choice. You already know what to do.
Vinyl is back in vogue, and with good reason: boutiques like Mondo and iam8bit are creating some truly stunning limited edition vinyl releases for games and film. iam8bit's collection seems worth purchasing for its album artwork alone. No Man's Sky, FTL, Banner Saga, and Hyper Light Drifter, just to name a few. Even the records themselves are art, thanks to colored vinyl and unique splatter patterns on some of the soundtracks.
Give the gift of learning how PCs work with the perfect hobbyist system. The Raspberry Pi is as cheap a computer as you'll find, and it's a great little board for learning about programming and hardware customization, thanks to optional add-ons. Combine it with an Arduino for some cool homebrew hacking, or turn the Raspberry Pi into a MAME arcade machine or media streaming box or .
Subtle enough to wear out in non-gaming company, clear enough to the initiated to mark you out as a fellow Team Fortress 2 Builders League United enthusiast. One that likes to keep cosy in fleece-lined casual wear. There's even a special pocket for your phone or iPod with a special opening for your headphone cable.
Just be careful if you run into anyone wearing the Reliable Excavation Demolition version, or you will of course be honor bound to challenge them to a bout of fisticuffs, no matter the time or place. And you really can't afford to be thrown out of anymore Trader Joe's.
The couple that cosplays together stays together, or at least that's how my parents explain their habit of dressing as Durotan and Draka for Sunday dinners. This Medic dress is a dignified gateway into the world of Team Fortress 2 themed dressing up, and comes in Red and Blu flavors. We can't promise you won't be mistaken for an actual medic at a crucial point, leaving you wrist deep in a terrible wound suffered by a stranger, but these are the life events that make us learn and grow. Or you can just use it to sneak into hospitals to steal the pudding cups.
This sounds like a boring gift at first, but stick with us. It's easy to settle for the bargain-bin USB drives you usually find in a plastic tub at the checkout line of a drug store, but a fast USB 3.0 drive can save untold time and frustration. With a 200 MB/s write speed, this drive can move a 2GB file in ten seconds, as opposed to the two minutes it would take even the best cheapo drives. And with speeds that fast and a storage capacity bigger than many SSDs, the Supersonic Rage 2 can pretty much double as the most convenient external hard drive ever—perfect for bringing a whole boatload of files over to a friend's.
Whether you've splashed out on the robe or not the slippers are a no-brainer. Cold feet aren't just a problem for elderly adventurers you know. As a bonus these make real murloc sounds, a king of "mnnnrggggh" when you walk. It'll knock the nightly sneaking out of bed to get in a little extra World Of Warcraft grind on the head but it'll be worth it to stroll around with your feet shoved into the corpses of one of WoW's most irritating enemies.
Private military companies are the new Chanel and this retro Metal Gear Solid jacket comes in a flattering fit for the Snake-loving lady or gentleman. With its 80s varsity styling and its Diamond Dogs patch you're hitting some major cultural touchstones and looking on fleek while doing so. I mean, it's going to get awfully nippy on those oceanic bases, and you can't afford to let standards slide when you're hanging out with Kiefer Sutherland.
Everyone uses power strips, but we don't all invest a few more dollars to get one that'll ensure the safety of our components. With surge protection for everything from network, to phone, to coax, the APC P11VNT3 is our choice for plugging in devices that don't need battery backup. Best of all, APC spaced out plenty of outlets for those huge and ugly wall-warts that everybody hates. Even your old Super Nintendo brick will fit without blocking another outlet!
Play the part of Aperture Laboratories in this board game created by Valve designers. There's cake and you get your own test subjects to play with, plus it promises "death and dismemberment." Basically it's like the best kid's birthday party ever.
The game is made for 2 to 4 players so you don't even have to be incredibly popular to try it - and if one of those two people is your imaginary friend who can judge - and comes with adorable miniatures of the companion cube and a turret. You also get a game code for Portal 2 but obviously you've already played that.
Sad news: this Glommer will not drop delicious, sanity sapping goop on a regular basis but hey, that's what Chipotle is for. This cuddly character does have an elastic bungee cord to recreate Glommer's signature jauntiness and posable wings. No one has proved throwing this plush version into the path of a marauding Krampus will save your life and your base from destruction, but no one has proved it definitely won't either.
Matt Sainsbury has interviewed an impressive number of developers for this book, including Amy Fredeen and Alan Gershenfeld (Never Alone), Auriea Harvey and Michaël Samyn (The Path), Suda 51 (Killer Is Dead) and Jennifer Schneidereit (Tengami) to name just a few. If you ever wanted to know the creative process behind the most striking games you've ever played this volume will hold the answers, and maybe even stop you skipping that cutscene next time. Jeff spent hours on that.
Gifts under $100
With Mass Effect Andromeda on the horizon, you know the biggest Mass Effect fan in your life is psyched to get back out into space and explore the Biowareverse. Why not help them do it while representing the Normandy? N7 hoodies are stylish while still being more understated than most gaming gear. Just an emblem and some sweet red and white piping to add a little flash to your get-up.
Human contact is so rare in Dark Souls, every encounter with a fellow adventurer is an exciting moment to be treasured. But Siegmeyer was the best of them all: he remained jovial in the face of every obstacle and always buoyed my spirits when I ran into him. I best remember him sitting on the edge of Sen's Fortress, trying to figure out how to get past its gate. He sits in this contemplative pose a lot, actually, making this figure a perfect memento of a great character. Consider it the Dark Souls equivalent of .
There's no turning back: RGB lighting is here to stay, and if you're going to light up your battlestation, you might as well do it in style. NZXT's Hue+ is an easy to setup lighting system that has tons of modes, and can be controlled via NZXT's excellent CAM software. The lights are bright, and if the 4 included cables aren't enough for you, can be extended.
It's easier than ever nowadays to stay connected with friends and family, and a good webcam can go a long way in making the gap between loved-ones (or party members) feel smaller. The Logitech C920 has been the best webcam in both quality and value for a long time now, and the recent release of an updated version called the C922 has dropped the original's price even lower than usual. It's a great and easy-to-use webcam, and the easy choice whether you'll be using it to stream games on Twitch or just connect with others in video calls. Additionally, the C922 is moving in to replace the C920 altogether, so it may not be available at such a low price for too much longer.
If you suggested I buy a $60 screwdriver a few years ago, I'd probably laugh in your face. But then I used the Snap-on ratcheting screwdriver and saw the light. It's the best screwdriver I've ever used: a rock solid comfortable grip, handle storage for a variety of basic philips and flat bits, magnetized tip, and oh so satisfying ratcheting action as you twist the handle. An easy dial switch lets you ratchet in forward or reverse. Any PC gamer who spends a good chunk of time tinkering with their rig or doing other work around the house will save some serious elbow wear with the Snap-on. Another perk: It's bright orange, which makes it pretty hard to lose.
A controller is a fine gift that says "Let's play multiplayer!" or "Now you can buy some indie games on PC that don't play well with a keyboard!" But it's not very special—unless you custom design a beautiful Xbox One controller in the Xbox Design Lab and laser etch it with the name of your gift recipient. Microsoft offers some great color options that allow you to go stylish or garish—whatever makes the best gift. And if you want to give the gift of creativity instead, a will let your beloved customize a controller all on their own.
The brand new Chromecast Ultra is the cheapest way to get 4K HDR streaming to a TV, and it's a great choice for PC gamers. It's the first model to include an Ethernet port (PC gamers love Ethernet ports). And you can stream from a smartphone or your desktop and easily mirror your browser tabs. It's not as powerful as having your PC hooked up to your TV, but it's a quick and easy alternative. Plus, 4K Netflix!
Maybe if enough of us start wearing these sartorial nods to Half-Life hero Gordon Freeman Valve will come over all Christmas miracle and just get on with it already. Either way, this is a Valve approved piece of kit with kangaroo pockets and the perfect orange lining. It's worth pointing out that this doesn't actually function as a HEV suit in any way, so you'll want to avoid radiation, energy discharges or indeed blunt-force trauma over the holiday period. And just generally for the rest of your life.
Corsair Polaris MM800 RGB mouse pad
Looking at the Corsair Polaris RGB mouse pad reminds me of a scene in Pixar's A Bug's Life, where one of the flying characters gets drawn, uncontrollably, towards the blue light. Is a mousepad with lights embedded in it ludicrous? Yes. And yet people just stop and stare when this thing is lit up. Can't. Look. Away.
Surprise the UPS man in this one morning and he'll never steal your packages or kick them across the driveway again, you'll look that cute. Don't worry though, you'll only have the look of a murloc, and none of the slimy skin or presumably tangy fish odour. Why not bulk buy for the entire family and form your own murloc clan? Grandma will love it and every holiday breakfast will be a treat. Nothing says 'I love you even though you're 102' like faux fur polyester.
We've gone full circle with the Minecraft madness—a game that was developed to offer free building blocky joy to the masses is now available in real world blocks. This set comes with 984 pieces including Steve , a horse, a sheep and 3 skeletons as well as a bunch of crucial Minecraft accessories. The fortress has a pressure-plate doors, lookout towers and a prison and the set is suitable for those aged 8 and above so you can share with your child/niece/nephew. Best not let them though, they'll only make it untidy.
iFixit dismantle phones and laptops and other complex pieces of technology every day. As you'd expect, they have a pretty good idea what kinds of tools it takes to do that job well, and their recently revamped toolkit contains the whole lot. Its screwdriver set will help with assembling or disassembling a new PC build, and the rest of the included tools will come in handy around the house when you need something highly specialized: a spudger or tweezers or anti-static strap. Bonus: pick up the to never lose a screw again.
This is the sort of book you'll need to show people behind some sort of protective cover, lest their drool besmirch its perfect pages. It's a celebration of the particular brand of aesthetic Atari has represented through the gaming ages with high-resolution scanned artworks, photos, packaging and plenty of history to cram into your brain.
This special edition comes with a leather cover, special slipcase, an Atari Vault Steam Key for access to over 100 classic games and a special print of new artwork from Atari artist Cliff Spohn. And if the price feels a bit steep, the normal version, which is still a gorgeous 350 page hardback, is only $30.
Gifts over $100
Everyone would love to have the world's fastest graphics card, the GTX 1080, but the price puts it out of reach for many. The 1060 makes for a much reasonable gift: it still run every current game at 1080p ultra for less than half the price of the 1080. It comes with all the efficiency of Nvidia's Pascal architecture, requiring just 120W via a single 6-pin power connector, making it a card that can fit into just about any desktop build. It also has enough VRAM that you shouldn't be at risk of running out of memory in games over the next couple years.
SATA SSDs may not be the absolute fastest storage solution, but for gaming it doesn't matter much—any decent SSD is far better than a hard drive, and Samsung's 850 Evo line remains one of the best SATA solutions. It combines excellent performance with a good price, and you can go as large as 4TB if you really need a lot of storage. 500GB is the sweet spot, providing enough room for 5-10 large games along with your other files, though the 1TB and 2TB models have a slightly better price per GB.
The price of this makes it one for the true BioShock fans only, or as a make-up gift when you're in proper proper trouble. This replica of the in-game item is 9" tall and part of a limited edition run of just 500. It's hand painted resin and weighs in at a hefty 1.6lb, so if all else fails in can be used for self-defence in the unfortunate occurrence of a home invasion. I mean, those horns are pointy. Note: does not allow the owner to manipulate and generate fire in any way.
The Razer Blade has reigned as our favorite light and thin gaming laptop for some time, and this year's upgrade makes it even better. While previous versions of the Blade featured less-powerful, mobile variants of the year's graphics cards, the new Blade's desktop-class GTX 1060 brings the pixel-pushing power, even on the go. The blade is pricey, but not terribly so compared to the less-powerful MacBook Pro. Give the gift of gaming on the go.
Losing data is always a big headache. If you have backups, you're already miles ahead of the general population. But sometimes a backup won't help you. Like during where a power surge or a grumpy Thor hits your house so hard your graphics card is fried. This is where an uninterruptable power supply (UPS) such as the APC Back-UPS Pro 1000VA comes in. It saves your PC, and your sanity, from the potential doom of a power outage or surge. Best of all, APC is one of the best names in the industry when it comes to saving your equipment's from a rogue lightning bolt. Eat it, Thor.
Our recommended affordable combines a 4K panel with low input lag, HDR support, and great color quality—you're not going to get much better without spending a whole lot of cash. The KS8000 is particularly notable for its sharpness and low input lag as a monitor, with only about 20 ms of lag with HDR enabled.
UK readers take note: for reasons only Samsung understands, this model is called the KS7000 in the UK.
Taking your PC's audio performance to ear-shattering levels means taking your audio outside the PC. Fostex's HP-A4 is a beastly unit inside a compact shell. It supports enough power to drive the most power-hungry planar-magnetic headphones, and enough nuance to let you claim to be an audiophile. The HPA-A4 also doubles as a high quality 24-bit/192kHz DAC. Time to let go of onboard sound forever.
People don't usually budget for a gaming chair when building a new rig, but what good is a high-end pixel-pusher if you bust your back sitting on some uncomfortable wreck you snuck home from the office? If you glance through a handful of Twitch streams, you'll see one thing in common. Almost all streamers—the set of gamers who spend likely the most consistent time sitting at their computers—sit in some kind of racecar-looking gaming chair. This one from E-Blue is the most comfortable we've tested, with high-quality materials and adjustable ergonomics. It also features an LED lighting system that is totally unnecessary but cool nonetheless. If you want to drop more cash, consider a throne from our guide to the best chairs, too.
Some online stores give us a small cut if you buy something through one of our links. Read our affiliate policy for more info.