Once you go solid state you can't go back. But there are so many on the market how do you know what the best SSD deal is? That's where we come in.
When they first appeared on the PC scene the solid state drive was very much a luxury item, and even then capacities of 250GB seemed like extreme extravagance. Now the SSD is almost an expected component of a proper gaming PC.
And gone are the lowly 30-60GB capacity SSDs too, with even a 120GB drive looking like a miserly amount of space for your Steam library. For less than sixty bucks you can now pick up a 240GB SSD which will outperform even the most expensive drives of just a few years back.
If you've already checked out our guide to the best SSD then you'll already have an idea what you're after, but if you want them for the absolute best price then allow us to help…
- Looking for the best SSD deals in the UK? Come this way...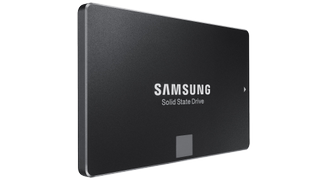 Capacity - 120GB | Controller - Phison | Interface - SATA | $58
- Looking for some SSD speed for your ageing old laptop? Then dropping a 120GB Silicon Power S55 into your machine, instead of the 2.5" spinning disk hard drive, will deliver a great performance boost. Check out this little solid state bargain for $58.
Capacity - 500GB | Controller - Samsung | Interface - SATA | $160
- But if you are after performance, you wont get better than Samsung's 850 EVO at this price, not on a SATA connection. The speedy 500GB version is still a decent price and you can get it for $160. Sadly, don't expect the new 4TB version to be affordable any time soon.
Capacity - 256GB | Controller - Samsung | Interface - SATA | $130
- If you're looking for a top of the line SATA SSD, the 850 Pro is the fastest around. You'll be spending a bit more on it, so you have to be sure you want the extra edge in performance.
Capacity - 960GB | Controller - Phison | Interface - SATA | $270
- There's a good chunk of money off SanDisk's SSD Plus at the moment. You'll find discounts on all the various capacities right now. You can find the large 960GB version on Amazon for $270.
Capacity - 275GB | Controller - Phison | Interface - SATA | $93
- Crucial makes some good SSDs on the lower end of the price spectrum, and the Crucial MX300 is another example of that. Find one for $93 today on Newegg.
We've picked out our current favorite solid state drives and have put together our best SSD guide which details both the overall best SSD around as well as the best budget SSD as well as the best high-end SSD.
And here are the best prices we've found for them around the web today:
"The ideal SSD for a gaming PC strikes that perfect price/performance/reliability balance, and Samsung's 850 EVO SSD manages this, and then some."
"With an affordable SSD, like the BX100, larger capacities are a more realistic prospect."
"If you're building the ultimate rig, and want the very best possible performance in any situation, without worrying about the cost, then it's the 850 Pro you should choose."
A note on affiliates: some of our stories, like this one, include affiliate links to online stores. These online stores share a small amount of revenue with us if you buy something through one of these links, which help support our work evaluating components and games.