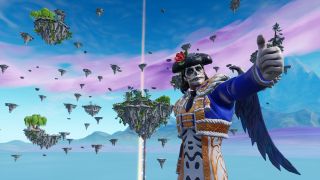 Legos are for chumps. The brick-to-dollar ratio is out of this world. On the verge of total economic and cosmic collapse, we must turn to Fortnite in order to make blocky models of the Millenium Falcon for free. Fortnite's Creative mode isn't just some cheap Minecraft knock-off either. We're not playing with the Mega Bloks of building games here. With new biomes, structures, creative tools, and creative codes releasing every few days, Fortnite Creative isn't just a diverse bucket of blocks—it's a bucket of blocks you can play Team Deathmatch in.
While Fortnite Creative is still young, plenty of talented creators have earned Epic's blessing, allowing their creations to be shared and played by anyone, so long as you know the creative code required to head to their islands. We've sifted through the growing collection of cool stuff for easy reference here. Keep tabs on this page since Creative Mode is sure to change with every new Fortnite season. We'll be sure to update it with any new creative codes that catch our eye.
If you're unfamiliar with how to load an island, head into Fortnite Creative, walk up to a featured rift, and hold down the use key to bring up the code menu. Pop it in, let the island load, then walk into the rift to begin.
The best Fortnite creative codes right now
Compact Combat - 0553-7157-6638
Dust 2 - 1068-0274-9341
Fury Racing: Snowy Summit - 1731-2660-6859
Snipers vs. Runners - 7352-4203-8482
Warm-up Course - 5618-2963-5299
Code: 0553-7157-6638
It's the original Fortnite map before the rocket and the cube and all that noise, but it's tiny. Compact Combat is a miniature take from P_recs on what started it all. Novel, detailed, and a fun little deathmatch map.
Code: 4573-9507-5308
Ballers may be a controversial subject in the regular game of Fortnite, but you can't deny how fun they are to mess around with. This hilarious bouncy pinball course is all you need to see to have fun inside of a Baller again.
Code: 5030-1216-1484
Season 8's jungle theme is put to great use in this build by Jesgran. You're placed into a treacherous jungle temple and it's your job to navigate through traps and death-defying jumps to find the treasure.
Code: 6245-9996-8091
The nigh-impossible challenge map is back in its third variation, as the sadist known as Cizzors has mastered the map-making tools to once again test your sanity.
Code: 9026-2925-8175
New to season 8, this map is all about naval warfare using the game's brand new pirate cannons. It's like Fortnite meets Sea of Thieves in the best way possible.
Code: 6412-7533-9638
Another classic FPS map reimagined in Fortnite. Noob tubes optional.
Code: 1654-0324-7788
It was inevitable. While the driftboard isn't quite as easy to control as a PS1-era digital skateboard, the exaggerated proportions make up for the exaggerated airtime you'll get.
Code: 1731-2660-6859
A bumpy road and tight track make for a great all-terrain course. You'll need to play this one slow and smart to get ahead.
Code: 2900-4196-3823
A great map for hanging with friends. Featuring seven games, including ATK sumo, Duck Hunt (your friends are the ducks), a grapple arena, and more, this is an easy recommendation for pals looking for somewhere to mess around between squad games.
Code: 3632-0591-6558
A tricky parkour challenge with a simulated storm to keep you moving. If you're looking to put some pressure behind your platforming, Storm Runners is for you.
Code: 5350-4663-4208
Descend floor by floor and take on puzzles and parkour challenges along the way.
Code: 8883-7894-7324
This one is wild. 10 full stages designed to emulate the effect of moving through portals, a la the classic videogame, Portal. IdiotsPlayGames even made a model GlaDOS out of Fortnite assets. Fun parkour in a creative, familiar space.
Code: 8552-3258-2013
The recent addition of music blocks to Creative mode has completely reinvigorated the community, and Roeloffsyt's Crab Rave (based on this old gem) is one of the first exemplary music stages.
Code: 4351-4005-8292
Created as a Block Party submission, PrudizCreations' Giant Ice Dragon is exemplary of how you can use seemingly simple tools in ways they weren't necessarily intended to make something wild. It's a damn sculpture.
Code: 5496-4876-0626
An intricate maze that makes clever use of black tiles to disorient and induce crying. Some challenging platforming can frustrate, but the surreal visuals make it worthwhile.
Code: 1991-9282-9857
An dense, detailed maze made for The Block that does excellent work as a standalone hide-and-seek playground.
Code: 9674-8089-7319
Hop around a tiny interpretation of Tilted Towers. Can you reach llama at the top without building or using glider redeploy? I sure as hell can't.
Code: 7352-4203-8482
One player needs to get from point A to point B, all while another player snipes at them from afar. A novel mode that makes for good practice, too.
Code: 6609-4915-0804
Eye candy and a great deathmatch map for snipers, Mystic Islands are a proof of concept by CCruzFight. By making use of some prop variables, they were able to flip a rock upside down and create floating islands.
Code: 9653-5199-9021
It's hide-and-seek in a massive battle bus. Enough said.
Code: 5618-2963-5299
If you're just trying to get some wins under the belt, this course is the perfect place to practice complex edits, builds, and shots (sometimes in combination) before failing all night long.
Code:1090-0783-2499
This creation reminds me of the bit in Wild Wild West that takes place in/around a massive mechanical spider. This is that machine, but a llama.
Code: 9795-3537-9919
It's not much for deathmatch or hide-and-seek, but it's doing well in the Very Cool Bridge department. An example of the foreboding detail possible with Fortnite's building tools.
Code: 1523-9832-0089
Want to make complex machinima? Bad memes? Use this simple map.
Code: 2012-6281-8095
I didn't play much Call of Duty back when, but I still know Nuketown like the back of my hand. Here it is in Fortnite... reimagined.
Code: 7512-6248-2736
A maddening death trap, a maze built to torment—it is CUBE.
Code: 6224-0839-9043
What if Salvador Dali played Fortnite? What if M.C. Escher was Ninja's dad? Well, I'm not sure, to be honest. But this sure is a neat, disorienting, and surreal platforming challenge.
Code: 1068-0274-9341
It was inevitable. Play the classic CS map in Fortnite.