Win more with these Call of Duty: Warzone guides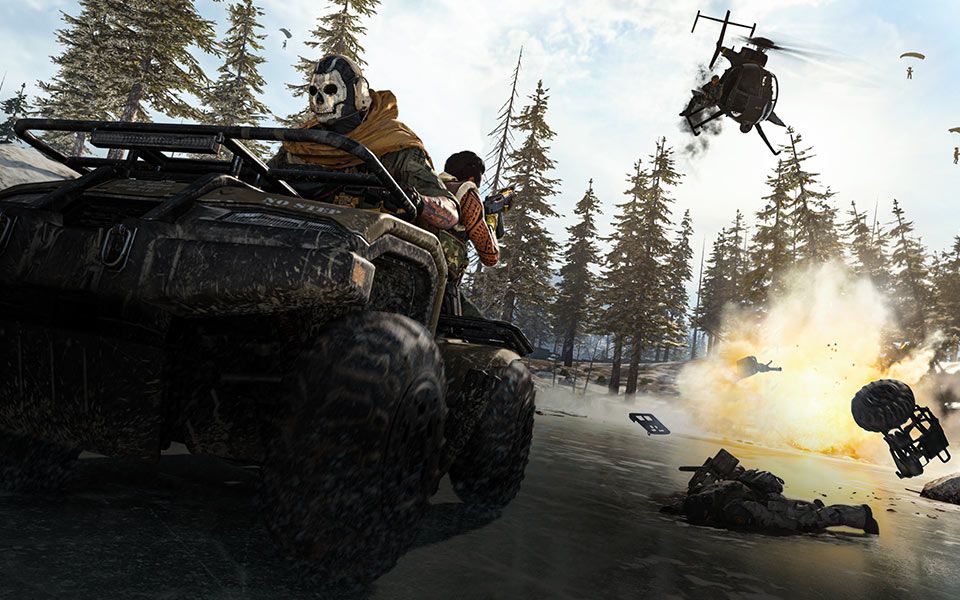 (Image credit: Infinity Ward)
Call of Duty: Warzone map: Best loot spots
Call of Duty: Warzone loadouts: The gear to choose
Call of Duty: Warzone SMGs: The best submachine guns
Call of Duty: Warzone guns: The best weapons
Call of Duty: Warzone crossplay: Play with console friends
Call of Duty: Warzone bunkers: All vault locations
Call of Duty: Warzone update: All the latest changes
CoD: MW season 4 is now live and available to download as a hefty 45GB update. Both Modern Warfare and Warzone have welcomed new modes to their playlists, alongside new challenges. Scrapyard returns to Multiplayer in its very own 24/7 slot, and Barakett Promenade has been added to Ground War.
Warzone's playlist has been freshened up with Warzone Rumble, a new 50v50 mode that encourages players to battle in specific areas across Verdansk with quick respawns and custom loadouts enabled. Special in-match events have also been introduced to add some urgency to its mid-game. There are several new changes to cover, so here's everything we know about Call of Duty: Modern Warfare season 4.
Call of Duty: Modern Warfare season 4 release date
CoD MW season 4 is now live, but you need to download its large update in order to get started.
It was originally scheduled to release on June 3, but was delayed in respect for the Black Lives Matter protests happening across the world.
Intel Incoming on Season Four. New #ModernWarfare and #Warzone content is live tonight, June 10th @ 11PM PDT!June 10, 2020
Activision warns that the update is "going to be large"
Season 4 has a hefty data price, so beware before downloading. Infinity Ward senior communications manager Ashton Williams warned players in a tweet that the Season 4 update is "going to be large". That's saying something, considering the usual bloated sizes of Modern Warfare's patches.
But the larger size isn't without reason. Infinity Ward is compressing parts of the game to reduce the overall size increase of the game. On console, Williams says the game will only grow by 4 GB. On PC, where the size of the game has already eclipsed 200 GB, the size will likely grow more. Williams reminded console players that an option exists to uninstall chunks of the game they're not playing (like the maligned Spec Ops mode), but sadly that feature doesn't exist on PC.
Call of Duty: Modern Warfare season 4 roadmap
Activision has released a full picture of what to expect in season 4 of Modern Warfare. Here's what's coming during launch week:
New maps: Scrapyard, Trench, Barakett Promenade
New operator: Captain Price
New weapons: CR-56 AMAX assault rifle and Fennec SMG
Updates: 50v50 Warzone rumble and Contraband contract
Here's what's coming during the rest of the season:
New operators: Gaz and Roze
New map: Cheshire Park
New modes: All Or Nothing, One In The Chamber, Team Defender
New weapons: Rytec AMR and Kali Sticks
Warzone updates: BR realism, Intel drops, Juggernaut Royale, Weapon mastery challenges, and Supply Run contract.
Call of Duty: Modern Warfare season 4 operators
After lots and lots of teasing from Activision, season 4 is here and Captain Price is officially on the roster. He's joined by two more new operators coming mid-season as well.
Captain Price: Your favorite bearded wonder.
Gaz: Sgt. Kyle 'Gaz' Garrick returns to Verdansk to join the Armistice, following the events of the Campaign.
Roze: an ex-Ranger in the U.S. Military, Roze is a hunter/tracker from the Colorado Mountains.
Captain Price is unlocked in the Battle Pass this season. Gaz and Roze will be added to the Store midway through the season.
Modern Warfare's story has been woven into its campaign, Spec Ops, and, more recently, into Warzone. If you need a refresher on what's happened so far, get yourself up to speed with the detailed breakdown posted on Activision's blog. If you're just after the highlights, Mr. Z is still a notable threat, and chemical weapons are primed for use across Verdansk. Price has been called upon to handle the situation with his task force. The trailer even features a fast cut to a nuclear warhead that looks very similar to what's been found in one of the Warzone bunkers.
Warzone modes and events in season 4
Activision are adding some new twists to the Warzone battle royale throughout season 4. Starting off, there are three new in-match events that can take place dring the mid-game.
Jailbreak: all eliminated players, gulag queue and spectators, will be redeployed.
Fire Sale: discounts all items at Buy Stations for 60 seconds.
Supply Chopper: a non-lethal supply chopper spawns that you'll need to shoot down to loot.
Season 4 will also add three limited time modes throughout the season:
Juggernaut Royale: Three Juggernaut suits will spawn in Verdansk, giving you higher health, no fall damage, and a minigun. If a Juggernaut wearer gets sent to the gulag a new suit will spawn.
Realism: Follows multiplayer rules with limited HUD and increased headshot damage.
Warzone Rumble: A 50 v 50 team deathmatch face-off
Multiplayer maps and modes in season 4
For owners of the full Modern Warfare game there will be three new maps and some new multiplayer modes as well.
Zhokov Scrapyard (multiplayer): Watch your six amidst airplane hulls and other debris.
Barakett Promenade (ground war): Take advantage of rooftops or get close-up in building interiors.
Trench (gunfight): Navigate a network of tunnels or move quicker above ground but risk giving away your position.
Modern Warfare multiplayer is getting some new modes during the season as well:
Team Defender: a single player must hold the flag while their teammates defend them.
One In The Chamber: Your weapon only has one bullet. Get more bullets by scoring kills or with a melee attack.
All Or Nothing: players have limited armaments: only a handgun and a throwing knife.
Call of Duty: Modern Warfare season 4 battle pass
The season 4 battle pass is structured similarly to its predecessors. It features Price as the new operator, 100 tiers, and will cost 1000 COD Points, which equates to $9.99/£8.39.
The battle pass bundle—which includes 20 tier skips—is priced at 2400 CP ($19.99/£16.79). The pass gives you plenty of opportunities to earn more COD Points, so if you grind far enough you could land the next battle pass without having to part with more cash.
Will Call of Duty: Warzone duos be everything we hoped for?
The community has been requesting Warzone duos for months, so there's no excuse for your stats suffering in battle royale now. Will you and your teammate do yourselves proud as you take on Verdansk? Only time will tell.