AOKZOE. A-ok, Zoe. Oak Zoe. I'm not entirely sure how to pronounce this handheld PC's name, but I can at least confirm that its new A1 Pro handheld looks mighty thanks to the Ryzen 7 7840U stuffed inside it.
The AOKZOE A1 Pro is a handheld gaming PC that looks a lot like any other. It comes with an 8-inch screen, flanked by analogue sticks, but this one does come with some patches of RGB lighting. Admittedly, I feel these will almost always be covered by your palms as you play, but there is power-sucking RGB. Let that be known.
Let's be honest, the main draw of this handheld is the chip powering it: the Ryzen 7 7840U.
That's basically the same as the top ROG Ally, which is using a semi-custom version called the Ryzen Z1 Extreme. Both share an eight-core Zen 4 CPU with 12 CU RDNA 3 GPU, and that's a huge step up on the AMD chip powering the Steam Deck.
For all that power, the AOKZOE A1 Pro can run a 1920 x 1200 pixel screen—another big upgrade over the Steam Deck.
AOKZOE has dropped a handful of benchmarks to give a rough idea of the performance you can expect out of this handheld. Just note a good few of these benchmarks are running at the same resolution to the Steam Deck, and not at the handheld's native res.
The AOKZOE A1 Pro will launch on April 30 at 8am PT (4pm BST) on Indiegogo, ahead of the ROG Ally's release date of May 11, but I doubt you'll get this console in your hands before someone that buys the ROG Ally at launch.
There are a few models to choose from:
7840U | 64GB RAM | 2TB SSD - $1,159
7840U | 32GB RAM | 2TB SSD - $959
7840U | 32GB RAM | 1TB SSD - $859
7840U | 32GB RAM | 512GB SSD - $799
The cheaper model would be $100 more than the rumoured price of the top ROG Ally, but would come with 32GB of LPDDR5 RAM, which is double what Asus is offering. The A1 Pro is notably heavier, however, at 729g to 608g, and that will matter when you're playing on this thing while lying in bed. Even the Steam Deck can feel a little onerous to game on above your head and it's just 669g.
Steam in your hands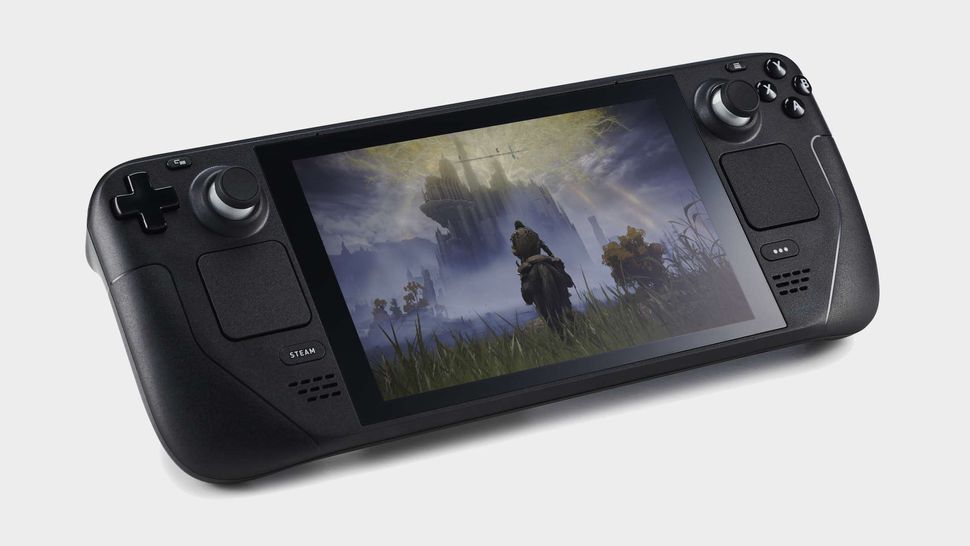 Steam Deck review: Our verdict on Valve's handheld PC.
Accessories for the Steam Deck: Get decked out
Steam Deck availability: How to get one.
Steam Deck battery life: What's the real battery life of the new device?
Steam Deck - The emulation dream machine: Using Valve's handheld hardware as the ultimate emulator.
A lot of that extra weight is likely down to the monster battery the A1 Pro is sporting. With a full 65Wh battery in it, with a 17,100mAh rating, that's way in advance of the 40Wh, 5200mAh battery inside the Steam Deck. We don't know what the ROG Ally is packing on the battery front yet, but given that it's lighter than Valve's handheld, I wouldn't expect this level of battery.
That alone could be a huge plus for the A1 Pro over either Deck or Ally.
But you are getting another option for a portable PC here, and I'm keen to see how this generation of handhelds stack up against the Steam Deck. The main thing for me is how well they can utilise Windows with only a couple analogue sticks and a touch screen. That OS is not the handiest in cramped spaces, nor is it going to be as well-optimised as the Steam Deck's SteamOS. But hey, if they can make it work, there's a lot of performance to unlock here.