While Valve has yet to begin selling its Steam Deck directly into the Australian market, various third-party sellers have been selling imports for a while. Prices tend to vary, but the general rule of thumb is that around AU$900 is what you can expect to pay for the base 64GB model in Australia.
That's quite a lot. The 64GB model costs $399 in the United States, and taking into account GST (but not any shipping or freight), that equates to roughly AU$665—quite a lot less than AU$900! But thanks to a limited eBay sale, you can grab a Steam Deck 64GB model right now for AU$659.
That's a good price as far as the Steam Deck goes in Australia. It's available on eBay, but there are a few steps before you'll get that price. First, you need to be an eBay Plus subscriber—sign up for a free trial here. After that, you'll need to use the coupon code PWEDOCK at checkout to get the AU$659 price.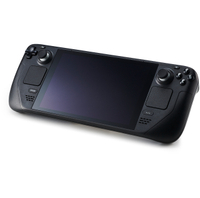 Steam Deck 64GB model | AU$897 AU$659 @ eBay
If you're after a Steam Deck and don't want to wait for Valve to officially release it in Australia (if that ever happens), then this offer is worth investigation. To get the price above, you'll need an eBay Plus subscription, for which you can grab a free trial. After that, use the coupon code PWEDOCK to get the discounted price.
While 64GB might seem slight in an age of 150GB games, it's actually cheaper to buy this 64GB model and upgrade it, rather than buy the 256GB or 512GB models in Australia at present. This 1TB Western Digital NVMe SSD, for example, would do the trick, and it's only AU$133. That would bring the total up to AU$790—a far sight cheaper than even the 256GB model, which tends to go for around AU$1,260 in Australia. Then you can use our Steam Deck SSD upgrade guide to get it all working.
In our guide to buying a Steam Deck in Australia, we do warn to practice caution when buying a Steam Deck from third-party vendors. You should be in the clear with eBay, though—they have a money back guarantee with this particular seller, so you're protected directly by eBay.