A returning player might wonder what wizardry is at play in Minecraft these days. Fast-paced hack-n-slashing and rapid bridge building are now par for the course in competitive Minecraft. To the uninitiated, the block-laying speed that some players achieve is bewildering, but those in the know realise that it's all to do with drag clicking, something that ROCCAT's latest gaming mice are great at facilitating.
Drag clicking refers to when you slide your finger across your mouse button in such a way that the friction makes clicks register in very quick succession. By using this method to maximise your clicks per second ('CPS') you can gain a competitive edge in Minecraft, as it lets you place blocks quicker and get in more weapon strikes.
Nailing the technique is more of an art than a science, but that doesn't mean you can't get a leg up on the competition from the start. Apart from perfecting the technique, the best thing you can do is grab a mouse that makes drag clicking easier, like ROCCAT's latest Kone and Kane gaming mice: the Kain 120 AIMO (opens in new tab), Kain 200 AIMO (opens in new tab), Kone Pro (opens in new tab), and Kone Pro Air (opens in new tab).
All these mice are perfect for drag clicking for three main reasons. First, because their textured surfaces generate more friction when you drag your finger across them. Second, because their low debounce capabilities reduce the time between when mouse clicks can register. And finally, because they all boast ROCCAT switches with 'Titan Click', meaning switches that have been designed to limit the physical bounce so that keypresses can register faster.
The ROCCAT Kain 100 AIMO (opens in new tab) was long rated the best drag clicking mouse by many Minecraft gamers, but now this mouse has been updated in the form of the Kain 120 AIMO and Kain 200 AIMO.
The general design has stayed the same with these new versions, but there have been some improvements. Namely, a sensor that reaches up to 16,000 DPI, improved grip across the entire mouse, an improved scroll wheel, RGB logo lighting, and, on the Kain 120, a braided cable. The main difference between the Kain 120 and Kain 200 is wireless capability, which only the latter offers.
Given that the Kain 120 AIMO and Kain 200 AIMO are essentially new and improved Kain 100s, you might think that they'd be the clear winners when it comes to drag clicking. But you'd be wrong, because some competitive Minecraft gamers are now instead opting for the ROCCAT Kone Pro or Kone Pro Air.
The main allure of the Kone Pro and Kone Pro Air over their Kane rivals is how much they weigh. The wired Pro comes in at 66g, and the wireless Pro Air comes in at 75g. For a wireless mouse to hit only 75g is some kind of sorcery, and for a wired mouse to hit only 66g is sorcery, too, considering this mouse isn't pockered with holes to shed excess weight.
And while a light weight isn't necessary for drag clicking, it can help with general competitive gaming performance, which is why these mice are being chosen ever more frequently by competitive Minecraft gamers.
So, if your competitive Minecraft juices have been stirred while watching one of your favourite Minecraft streamers, and you're wondering just how they do it, the answer is that they probably drag click. And if you want to start drag clicking yourself, these ROCCAT mice are a great stepping stone towards bridge building glory.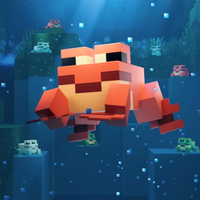 (opens in new tab)