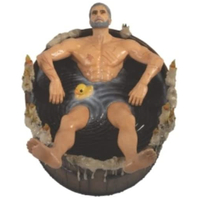 (opens in new tab)
Bathtub Geralt | Polyresin | Rubber Duck included | 5.5 x 3.5 x 8-inches | $79.99 $62.75 at Amazon (save $17.24) (opens in new tab)
The man, the myth, the bathtub. It's the iconic PC gaming meme made flesh. Well, polyresin. And now it can be yours with a 22% discount. Bargain, eh?
Forget buying a new graphics card, don't worry about replacing that old Celeron CPU, that 256GB hard drive still works, so why replace it? No, here's the one upgrade you can make to your gaming PC setup that is 100% guaranteed to improve your performance in the true spirit of PC gaming...
It's Bathtub Geralt (opens in new tab). And he's available for just $62.75 at Amazon (opens in new tab) right now.
Balance this eight-inch statuette atop your rig and, while you may not achieve any higher frame rates in your favorite games (The Witcher 3, top of that list, obvs.), you can be certain you've achieved something special in the field of PC gaming. And just like that, your setup will be complete.
Seriously, you can just stop there, your job is done. PC gaming ticked off the list and you can move on with your life. It's been lovely knowing you, have fun whatever hobby you move on to hitting a 100% achievement rating on next.