Rig of the Month: The Riddler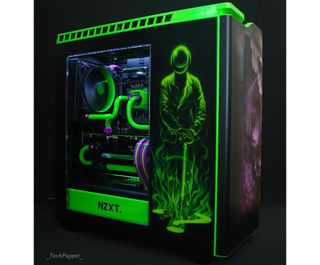 Green with envy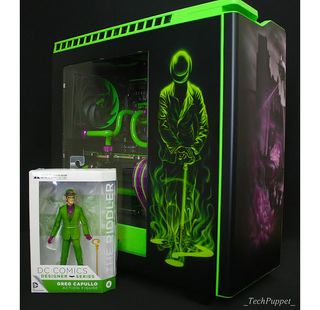 NZXT's H440 mid-tower case in green and black was a natural choice for Jacky's build. With the other elements in place, the black panels give off a villainous vibe, and the green accents play right into the overall theme of her mod.
Using nearly every inch of available real estate, Jacky had a local shop (Naylor Finishes) airbrush the Riddler next to the case window on the left side panel.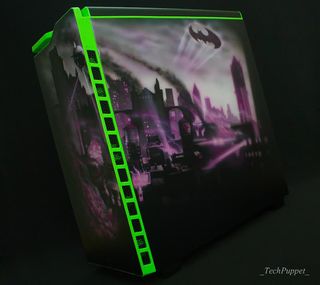 The entire artwork on the front and right side panels was also airbrushed. It's an eerie depiction of Arkham City, also known as Gotham North, a dangerous place for Batman thanks to the hundreds of traps set by the Riddler.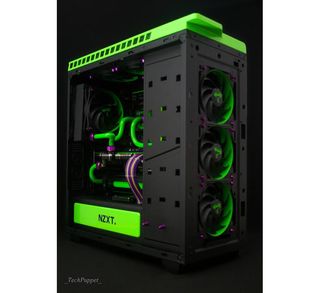 Jacky bought a Silhouette Cameo for the project and added decals for detail throughout the build. For example, each fan sports Batman's logo wrapped in the Riddler's iconic question mark. These kinds of little touches are found throughout the system.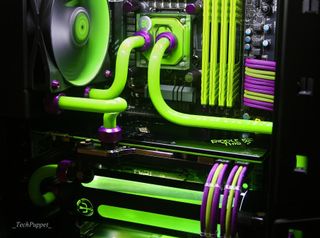 An MSI Z77 MPower motherboard serves as the foundation for the hardware, which includes an Intel Core i7-3770K processor, 16GB of Corsair Green LP Vengeance DDR3-1600 RAM, XFX DD 7950 Black Edition graphics card, 256GB Samsung 850 Pro SSD, 750GB WD Black HDD, and a Seasonic X Series 750W PSU.
Though Riddler likes to make life chaotic for Batman, the inside of this rig is well organized. Jacky also took the time to sleeve all the cables with green and purple PET sleeving.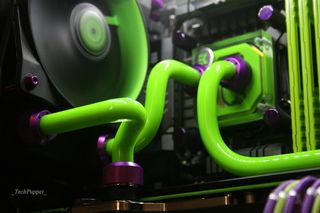 Here you can see the EK-Supremacy Clean CSQ EVO Nickel CPU water block. The rest of the water cooling setup consists of: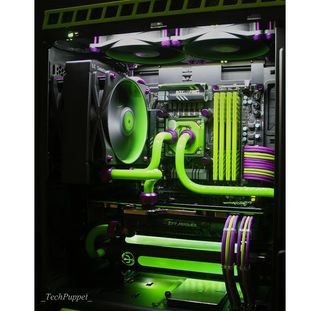 Another look at the inside of the build and the detailed craftsmanship.
"For me detail is important and can transform a build," Jacky explained to us. "For the reservoir, I placed it in the front horizontally between the GPU and PSU shroud. I drilled holes in the PSU shroud to mount the reservoir on the EK reservoir brackets so it would sit comfortably underneath my GPU."
Jacky also went the extra mile and found purple anodized screws from Probolts to add more color, though there wasn't enough inventory to complete the build. Luckily she had a friend that offered to anodize any additional screws that were needed.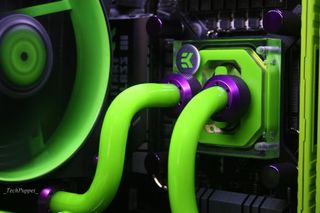 A closer look at the CPU water block and bent PETG tubing with colored coolant and green UV dye pumping through.