When AMD launched its Radeon RX 7900 XT in November 2022, we were impressed with its gaming performance, but less keen on its $899 MSRP. That put it way too close to the 7900 XTX but over time, price drops have made it more palatable. With this Newegg deal, you can get one for just $750. So what are you getting for your money?
Well, how about the fact it's an RDNA 3 GPU with 84 Compute Units or 5,376 shaders in total. In specific circumstances, these units are capable of processing two instructions at the same time, effectively giving you 10,752 shaders. It doesn't work like this all of the time, though, but the rest of the chip is still very high-end.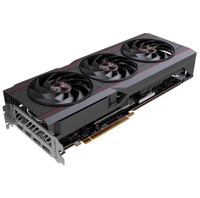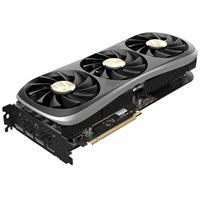 Zotac RTX 4070 Ti | 12GB | 7,680 shaders | 2,655MHz boost | $784.99 $749.99 at Newegg (save $20 with promo code BFDCY2Z49)
This is Nvidia's most powerful Ada Lovelace GPU that has a sensible price. Well, as sensible as you can get these days with high-end GPUs. It's a potent 1440p/4K graphics card, but it's true highlights are its ray tracing performance and DLSS 3.5 feature set. Use all of them in games that support it and just watch the fps counter go.
Price check: Amazon $749.99 | Walmart $749.99
There's 20GB of fast GDDR6 VRAM, plus 80MB of Infinity Cache, and along with the 192 ROPs it's ideal for 4K gaming.
However, it's not a perfect graphics card. The maximum power limit of 315W is pretty high, so you'll need plenty of fans inside your PC case to help shift all that hot air. If you're upgrading from a much older GPU (or one that uses far less power), then you could find that your PSU (power supply unit) could do with an upgrade too.
AMD's graphics cards aren't as good at handling ray tracing as Nvidia's, though there aren't many games that use it really well. But that will change as the likes of Cyberpunk 2077 and Alan Wake 2 show just what is possible when developers use ray tracing instead of so-called rasterization for lighting duties.
Okay, so what about the GeForce RTX 4070 Ti? Well, it's not as good as the 7900 XT in 4K gaming and is generally far more suited to 1440p. But it has two aces up its sleeve.
First of all, there's the full support of Nvidia's DLSS 3.5 technology, which comprises AI-processed upscaling, frame generation, and ray tracing denoising. DLSS upscaling is offered by lots of games these days and the performance gains you get with it means the 4070 Ti can run 4K just fine.
And if the game supports DLSS frame generation, then you can get an easy fps boost with just one click. AMD's Radeon cards can do upscaling and frame generation too, when games use FSR 3, and although it's really impressive tech, it's not quite as good as DLSS.
Nvidia's GPUs can also handle FSR 3 so if a game only offers that system, then you're still good to use upscaling and frame gen. The RTX 4070 Ti also has a peak power consumption of 285W, around 10% less than the RX 7900 XT. It doesn't sound like much of a difference but the card often runs at less than that, so it generally doesn't belch out as much heat as the Radeon.
So which one is worth your money? Well, if you really don't care about ray tracing and your gaming room getting a little toasty, then the Radeon RX 7900 XT is a great deal at $750. It's not bad at ray tracing, just not as good as Nvidia's latest GPUs, and in normal rendering, it's very impressive.
The RTX 4070 Ti doesn't have the same raw performance, but has a superior feature set for gaming. Yes, you're technically getting less 'hardware' for the money but DLSS 3.5, Reflex, and ray tracing make up for it, in my opinion.
And if you use your GPU for more than just gaming, Nvidia gets the nod here. Content creation apps like Blender do run better on GeForce cards than Radeons and if you're keen on dipping into the world of AI, then you pretty much have to go down the Nvidia route.
At its launch MSRP of $799, the RTX 4070 Ti was seen as being too expensive for what you got as a GPU. While the discount isn't massive, it does bring the price down to a level that's going to be more palatable for many high-end PC gamers.
I don't think you'd be unhappy with either card but as someone who does a fair amount of non-gaming stuff with my graphics card, I'd pick the RTX 4070 Ti. But if I just wanted pure gaming power and nothing else, I'd go with the RX 7900 XT.