At what point does the refresh rate on a monitor become too high? Can you even see the past difference 240Hz? Or 144Hz? Alienware thinks we could go higher and that 500Hz is "the new category of speed" for gaming monitors. Considering that other brands like Asus ROG are also launching their own 500Hz display (opens in new tab), we expect to see this new 'category of speed' turn into quite the fight in 2023.
At CES 2023, Alienware revealed its latest gaming monitor, the AW2524H, the company's first 500Hz gaming monitor. Technically, it's a native 480Hz gaming monitor that can hit 500Hz overclocked (via single DP). This 1080p 24.5-inch IPS gaming monitor also has got a speedy response time of 0.5ms GtG and 1ms in 'Extreme Mode.' The monitor also does 240Hz via pair of HDMI ports.
Design-wise, the AW2524H is going with a smaller hexagonal base, rather than the two jutting feet that it currently uses for its monitors (opens in new tab), so it'll take up less space on your desk—a welcome design choice. Alienware is also ditching the RGB ring that's typically on the monitor's spine but adding a retractable headset hanger. Fair trade, if you ask me.
Other features include G-Sync support, VESA Display HDR 400, and Nvidia Reflex Latency Analyzer. More importantly, it's got half a dozen USB ports which all gaming monitors should have.
There's no getting around the fact that this thing is built for competitive gaming, where speed matters and nothing else. So unless you have a burning desire to play Valorant or CS : Go at the highest speed imaginable, 500Hz might be overkill for anyone else. If you want size, picture quality, and a fairly speedy display, check out the AW3423DW, Alienware's gorgeous curved QD-OLED display. (opens in new tab)
The Alienware AW2524H is expected to land in North America on March 31, and in China on February 8. There's no pricing yet, but we assume this will fall under the 'not cheap' category. Between these and LG's new OLED 240Hz monitors (opens in new tab), 2023 is looking like it will be an exciting year for gaming monitors that want to straddle the line between speed and picture quality.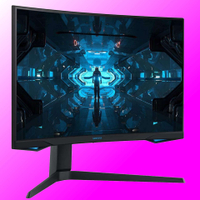 (opens in new tab)