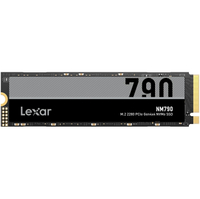 Lexar NM790 | 4TB | NVMe | PCIE 4.0 | 7,400MB/s read | 6,400MB/s write | $209.99 $176.95 at Amazon (save $33.04)
This has swiftly proven itself one of the best ways to stuff 4TB inside your gaming PC. It's as fast as the fastest PCIe 4.0 drives yet rather cheap. With this Prime deal, it's even cheaper, and not a deal to be missed.
Just last week I published my review of the Lexar NM790 4TB. In it, I called this SSD proof of "how cheap SSDs have become over the past ten years," and "truly mind-boggling." That was last week, however, when this drive would've set you back around $200. Today, amidst Amazon's Big Deal Days event, it's just $177.
It does appear to be a great time to invest in such a seriously massive SSD, too. What with this year's biggest game releases not even all fitting on a 1TB SSD. That doesn't even include the major releases yet to come, such as Call of Duty: Modern Warfare 3, which is sure to gobble up heaps of storage space in its gaping maw.
If you want to know why this drive is worth it over any other, and you don't want to read through my entire Lexar NM790 review, I'll breakdown why I like this drive for you:
✅ It's as fast as the best PCIe 4.0 drives on the market at 7,400MB/s read and 6,500MB/s write. That's despite it being a DRAM-less drive.
✅ Its high-layer NAND, YMTC's 232-layer TLC, means all four terabytes can be stuffed on one side of this SSD. That's often better for keeping a drive running cool in motherboards that don't offer an NVMe slot heatsink or only make contact to the SSD with a thermal pad on one side.
✅ It's cool and efficient. This drive doesn't really struggle with heat and even during my extended write tests kept a steady temperature.
✅ Four terabytes of storage makes for a large SLC write cache, so large that most gamers really shouldn't worry about ever going outside of it.
For anyone with a slimmer appetite for Steam storage, there's also the 2TB version on sale for an awesome price.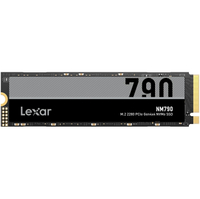 Lexar NM790 | 2TB | PCIe 4.0 | 7,400MB/s read | 6,500MB/s write | $124.99 $86.95 at Amazon (save $38.04)
Lexar has put together a superb SSD in the NM790, and this 2TB is a little more affordable than the 4TB version up above. Thanks to high layer NAND and a low-power controller, you can get tons of storage here on an energy-efficient drive for not much cash. Often much less cash than the competition, even.
I'll wrap it up with a chunk of my review's conclusion, as it just seems daft to repeat myself again in different words:
"I had thought we'd really hit the maximum potential for PCIe Gen4 drives with the last wave of SSDs. Considering the first wave of Gen5 drives are here, most exciting new developments in controllers and NAND are being leveraged for that speedier interface. Yet the Lexar proves otherwise. A high capacity SSD that performs just as well as many of today's top Gen4 NVMe SSDs, for less cash."
If you still want to check out the other drives on offer today—good for you, being all discerning—we've plucked the finest on sale in our Amazon Fall Prime Day SSD deals page. That event ends today, however, so either look sooner rather than later or wait until Black Friday deals start to roll around.
We're sure to see tons of Black Friday SSD deals, and they may be even better than these Prime ones, so no rush if you want to research your next drive a little longer.