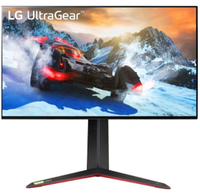 LG UltraGear 27GP950-B | 27-inch | 4K | 144Hz | Nano IPS | $899.99 $646.99 at Amazon (save $253)
LG makes a mean 4K panel, and this is a prime example of what you can expect in 2023: High refresh rate, sharp IPS, FreeSync + G-Sync Compatible. Yeah, the lot. It's also good for console gaming with HDMI 2.1 support.
Amazon has a pretty good deal on one of my favorite 4K gaming monitors for only $649.
The LG UltraGear 27GP950-B is a killer 27-inch 4K gaming monitor with a 144Hz refresh rate Nano IPS panel. This makes it both fast with excellent picture quality.
The LG UltraGear 27GP950-B is an updated version of the LG UltraGear 27GN950; its specs are identical, except that the GP950 has two HDMI 2.1 ports (instead of HDMI 2.0) and a slightly better color range.
We like refresh rates of 144Hz and up for competitive games, so if you play shooters like Fortnite, Valorant, or Call of Duty: Warzone, this is a good choice, assuming you've got some beefy hardware in your PC. Otherwise, it's a gorgeous screen where colors pop, so it's good for more cinematic games, too.
This UltraGear usually sells between $800-900, though the last time it was this cheap was back in February. At $646, it now becomes one of the best cheap gaming monitor deals we've seen all month on a 4K display.
If you own a PS5 or Xbox Series X, there are two HDMI 2.1 ports to plug your console into for 120Hz gaming at 4K. It also has two USB 3.0 ports and a neat RGB ring on the back of the display.
There is an older version of the UltraGear that is $100 cheaper on the same Amazon page, but you should probably avoid it. It lacks some features of the newer monitor, and only it has a single HDMI 2.0 and VGA (remember those?) port. It might be tempting because it's cheaper, but I'd go with the new version, which is way more versatile.
The only downside of UltraGear is that the colors tend to be slightly oversaturated, especially with HDR tuned up. We recommend leaving it off since its HDR implementation and underwhelming dimming zones aren't doing the monitor any favors. This also means you won't have the best black levels, either.
Aside from that, you're getting a speedy, great looking 4K gaming monitor at a good price. The Amazon price for this display was $897 just the other day.