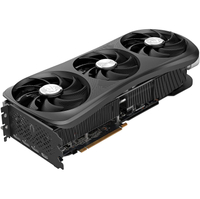 The GeForce RTX 4080 is Nvidia's second most powerful model in its Ada Lovelace range, with 9728 shaders running at up 2,520MHz, and topped off with 16GB of GDDR6X. Underneath that massive heatsink and trio of fans is an AD103 GPU and at 378.6mm² in size, it's significantly smaller than the chips used in the previous generation of RTX 3080-class GeForce cards.
That small chip doesn't run especially hot, even though the maximum consumption is a hefty 320W. That's because the heatsink really is huge and the fans do a great job of keeping it cool, but the sheer bulk of the card means it's not an ideal choice for those with small form factor (SFF) cases. And potentially not an option at all.
But if you're looking for something that has lots of rendering performance, then know this: The RTX 4080 easily bests the RTX 3090 and RTX 3080 Ti, neither of which could be classed as being slow. Just take a look at the RTX 4080 benchmark results to see what I mean.
The standout features of the RTX 4080 are how well it handles ray tracing in games that heavily use it and the full support of DLSS 3.5, Nvidia's proprietary technology that uses machine learning for image upscaling, frame generation, and ray tracing denoisers.
It will, of course, also run AMD's FSR 3, a hardware agnostic, shader-based version of DLSS (minus the denoiser thing). That means you're getting the best of both worlds, as every game that uses this tech will generally either offer DLSS, FSR, or both.
At its MSRP, the GeForce RTX 4080 faces still competition from the Radeon RX 7900 XTX, which is not only a lot cheaper, but often beats the RTX 4080 in terms of out-right rendering speed. However, depending on the game, AMD's fastest GPU is sometimes quite a bit slower, especially if any ray tracing is enabled.
With this deal, the price difference is down to $100 (depending on which RX 7900 XTX model and retailer you choose) and for me, that's enough to swing it in favor of the RTX 4080. Though it's worth noting you'll need an Amazon Prime membership to bag for this price, 30-day free trials are easily found.