Looking for a strong Genshin Impact Xiangling build? Liyue's most experimental chef may be a character that you unlock for free, but that doesn't mean she isn't strong. Besides Noelle, Xiangling is arguably the best free character you get just from playing the game, providing powerful abilities that can be comboed with other characters.
More top Genshin Impact builds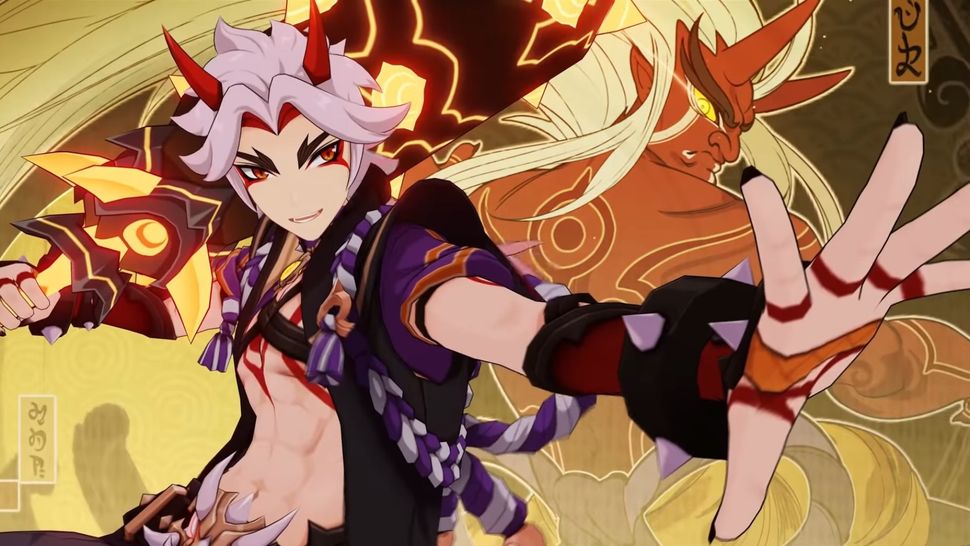 Genshin Impact Itto build: The one and Oni
Genshin Impact Gorou build: Canine commander
Genshin Impact Eula build: Spindrift Knight
Genshin Impact Albedo build: Chief Alchemist
Genshin Impact Thoma build: Pyro retainer
Genshin Impact Hu Tao build: Unusual undertaker


In particular, Xiangling's burst is very strong, creating a Pyronado that constantly hits enemies in an AoE, and continues to do so even if she isn't the active character. This means it can be used alongside other character's bursts and skills to create some pretty devastating combinations. The same is true of her Guoba Attack skill, which provides a Pyro turret in the form of the cuddly stove-god, Guoba.
While she's free, you can always get Xiangling with the Wanderlust Invocation, and she recently appeared alongside Itto and Gorou on the Oni's Royale banner. That said, in this Genshin Impact Xiangling build guide, we'll go through her best setup, as well as her abilities and constellations.
Builds
The best Genshin Impact Xiangling build
Xiangling's strength is that both her elemental skill and burst can be used with other characters to create powerful elemental reactions and ability combos. In this sense, it's important to both strengthen her burst damage, and her energy recharge so she can use it more.
Pyro DPS
Weapon: Engulfing Lightning
The Raiden Shogun's five-star polearm is great for Xiangling, since it strengthens energy recharge and increases attack by 28% of energy recharge over 100%. You can get a max bonus of 80% attack this way, and you also gain 30% increased energy recharge for twelve seconds when you use a burst. This both strengthens Xiangling's damage output, and the consistency with which she can use her burst.
A good four-star alternative is The Catch, which you can claim from the Inazuma fishing association. It also boosts energy recharge, as well as increasing burst damage by 16% and burst crit rate by 6%.
Artifact: (4) Emblem of Severed Fate
This artifact set was made to go alongside Engulfing Lightning, since it also offers damage buffs based around energy recharge. For two pieces, you gain 20% more energy recharge, while four-pieces increases burst damage by 25% of energy recharge, with a max boost of 75% damage. You can get this set at the Momiji-Dyed Court domain in Inazuma.
How to unlock
How to get Xiangling in Genshin Impact
Xiangling can be obtained for free, although you'll have to reach Adventure Rank 20 before you can get her. At this point, you'll unlock the Spiral Abyss, a dungeon where you fight through progressively tougher floors to collect rewards. At Floor 3, Chamber 3, this reward is Xiangling. You can also get her on the Wanderlust Invocation banner, and she is a featured four-star on the Oni's Royale banner.
Abilities
Xiangling's abilities
These are Xiangling's abilities, passives, and Constellations:
Normal attack: Dough-Fu
Normal Attack: Xiangling takes five quick strikes at enemies around her.
Charged Attack: Xiangling lunges forward with a hard strike.
Plunging Attack: Xiangling slams down, dealing AoE damage.
Elemental Skill: Guoba Attack
Xiangling summons Guoba, a mini panda who would be adorable if it wasn't for the fact he breathes fire. Guoba's attack deals continuous AoE Pyro damage, and he will aim his breath at the nearest enemy.
Elemental Burst: Pyronado
As you'd expect from the name, a Pyronado is a tornado that does Pyro damage. It continuously spins around Xiangling, moving as she does and damaging all enemies who come into contact with it.
Passives
Crossfire: Increases Guoba's range by 20 percent.
Beware, It's Super Hot: Guoba leaves a chilli pepper when he leaves the field. Picking it up increases Xiangling's attack stat by 10 percent for ten seconds.
Chef De Cuisine: When cooking an attack boosting dish, Xiangling has a 12 percent chance of getting double returns when making it perfectly.
Constellations
Crispy Outside, Tender Inside: Enemies hit by Guoba has their Pyro Resistance reduced by 15 percent for six seconds.
Oil Meets Fire: The last attack in a Normal Attack chain damages the last enemy hit with Implode. After two seconds, this enemy with explode, causing 75 percent of Xiangling's attack stat as AoE Pyro damage.
Deep Fry: Increases Pyronado's level by 3.
Slowbake: Increases Pyronado's duration by 40 percent.
Guoba Mad: Increases Guoba Attack's level by 3.
Condensed Pyronado: All party members receive a 15 percent Pyro damage boost during Pyronado.