The guns are back in town in Borderlands 3 and, as always, you can get more and better loot with the Shift code system. Borderlands 3 Shift codes grant you Golden Keys used to unlock special chests full of rare guns, class mods and other loot. Think of Golden Keys as a shortcut to getting something particularly powerful out of Borderlands 3's billion-odd arsenal.
That's not all Borderlands 3 Shift codes can unlock—in past games they've also unlocked special cosmetics for characters, and that's likely in store for Borderlands 3's future, too.
Gearbox is regularly releasing new Borderlands 3 Shift Codes, but unfortunately many of them expire a few hours or days after being posted. We'll keep this page up-to-date with all the Borderlands 3 Shift Codes that don't expire. See our reference list below for how to keep an eagle eye out for those short-term Shift Codes, so you can grab them before they expire.
Here's how to redeem Borderlands 3's Shift codes, and how to get eight Golden Keys right now.
For Borderlands 3 VIP codes, which are a whole different set of unlockables, hit the link. And if you're still playing Borderlands 2, head over to our collection of Borderlands 2 Shift Codes.
First things first: Here are the Golden Key Shift codes that never expire.
Borderlands 3 Golden Key Shift codes
ZFKJ3-TT3BB-JTBJT-T3JJT-JWX9H - 3 Golden Keys
9XCBT-WBXFR-5TRWJ-JJJ33-TX53Z - 1 Golden Key
ZRWBJ-ST6XR-CBFKT-JT3J3-FRXJ5 - 1 Golden Key
Z65B3-JCXX6-5JXW3-3B33J-9SWT6 - 1 Golden Key
HXKBT-XJ6FR-WBRKJ-J3TTB-RSBHR - 1 Golden Key
ZFKJ3-TT6FF-KTFKT-T3JJT-JWX36 - 1 Golden Key
How to find the newest Shift codes before they expire
So far, many of Borderlands 3's Shift codes have expired after only a few hours, and are posted exclusively on Randy Pitchford's Twitter account. Following him is the best way to catch Shift codes that expire within 24 hours.
Alternatively, the fan-run dgShiftCodes Twitter account posts every new Shift code after Randy tweets them out and also catches new time-limited Borderlands 3 VIP codes as they appear.
Borderlands 3 Shift codes and Golden Keys: How they work
Borderlands 3 Shift codes come in two forms, although only the Golden Keys above have been dished out so far. Here's the gist:
More lootin' shootin' Borderlands guides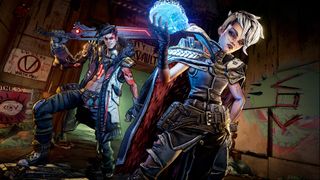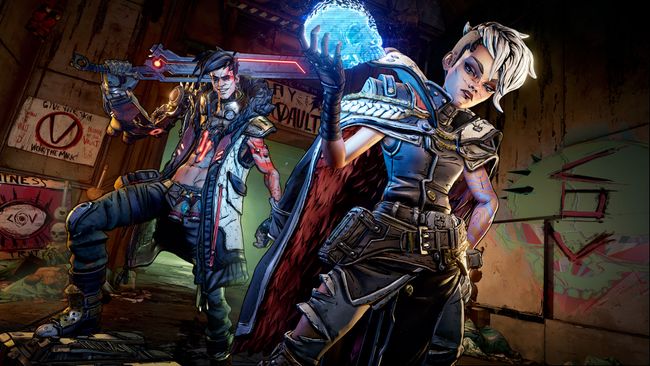 (Image credit: Gearbox Software)
Borderlands 3 - everything we know
Borderlands 3 tips - your guide to conquering the Vault
Borderlands 3 review - our definitive verdict
Borderlands 3 roadmap - the DLC you can expect
Borderlands 3 system requirements - can you run it?
Borderlands 3 best guns - the best boomsticks
Borderlands 3 skill trees - create your builds
Borderlands 3 builds - some effective skill combos
Golden Keys will unlock a special chest that is guaranteed to give you an item (usually a gun) of a high rarity. Shift codes often grant a batch of a few golden keys to use. It's sort of like playing a free slot machine, except you're guaranteed to get a rare item—just not necessarily one that you want.
Cosmetics: Some Shift codes will likely unlock special skins for Borderlands 3's vault hunters. In Borderlands 2, these were often tied to special events, and getting a Shift code was the only way to unlock the skin.
Gearbox may even have more plans for what you unlock with Shift codes in the future, but the redemption process is the same no matter what, and it's pretty straightforward—the easiest way is to use the website Shift.GearboxSoftware.com, after you've linked up your Epic Games Store (or console) account.
Here's how to redeem Shift codes:
In-game through the menu. You'll copy the 25-digit Shift code, tab into your game and paste it in. Voila, guns or cosmetics for you!
Online via Shift.GearboxSoftware.com. Create an account or login, and make sure you've linked up your Epic account so you can redeem codes for PC. From the menu, click "Rewards" and then paste your Shift code and click "check" to register it. Important note: if you use a multiplatform code and it doesn't work, try redeeming in-game before giving up.
Or online via the new Borderlands VIP site. Create an account or login with your old Shift account; from the Shift menu, choose "Redeem code" to go to the Shift page. On this page you can paste in a Shift code or a different code type (Borderlands 3 has several others) by clicking the appropriate icon. Important note: Multiplatform Shift codes don't currently work properly on the website, and will tell you they're good for only one platform (e.g. Xbox). But if you redeem them in-game instead, they'll work on PC as well.
How to use your Golden Keys
In-game, your golden keys should be delivered to you via Borderlands mail. But how do you use 'em? That's simple: Head to the big golden chest in Sanctuary, near the fast travel point. Here's where to find it, and what it looks like:
Image 1 of 2
Image 2 of 2
Pop your key into the chest, cross your fingers, and ask the gun gods for a legendary. Good luck!