Borderlands 3 is one of the worst-kept secrets in videogames. It's almost certainly in development—even Gearbox has said another Borderlands is definitely coming. More and more evidence has piled up that Borderlands 3 is being made since 2016, when Gearbox released its last game, Battleborn. But when will it arrive? When will it be revealed?
We don't have a release date yet, or even an official confirmation Gearbox's next game is Borderlands 3. But that's likely changing very soon. Gearbox is hosting a panel at PAX East, and is hinting heavily at a game reveal that's probably Borderlands 3. We'll know for sure on March 28.
Here's every scrap of info we've gathered about Borderlands 3: Rumors about characters and setting, release date, and what else you should expect.
What is the Borderlands 3 release date?
There's no official release date (or even an official announcement) for Borderlands 3, but an earnings call from publisher Take-Two points to a possible release before Fall 2019.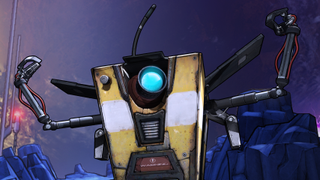 Because Borderlands 3 hasn't been officially announced yet, Gearbox has kept silent on a specific date, even though it was entertaining ideas as far back as 2012. Publisher Take-Two seems keen on a potential 2018-2019 launch window, as suggested by an investors call report from March 2017. In it, CEO Strauss Zelnick included a "highly anticipated new title from one of 2K's biggest franchises" as part of the publisher's fiscal 2019 outlook, a span of months ranging between October 2018 and September 2019.
Zelnick's comments appeared again in subsequent reports in August, November, and February 2018, increasing the likelihood of a solidified timeframe. But keep in mind Borderlands 3 wasn't named specifically, so Zelnick could've been referring to another game. And those plans could've changed in the past year.
Still, Borderlands 3 is a strong contender for Take-Two's plans, especially considering the known quantities of the studio's annual sports releases, the juggernaut omnipresence of Grand Theft Auto 5, and the radio silence from Steam sale darlings XCOM, Civilization, and BioShock (the latter's recent stirrings notwithstanding). It has until fall 2019 to make that window.
What are the latest Borderlands 3 rumors?
Borderlands Reddit posters have rounded up a few slips that could indicate Borderlands 3 previews and livestream partnerships are coming in spring 2019, which could point to an impending reveal.
Borderlands: Game of the Year Edition was rated in Taiwan in January 2019 (and in Korea earlier in 2018) by a developer that's done port work and contributed to Borderlands development in the past, suggesting the possibility of an HD remaster this year. That's not directly connected to Borderlands 3, but may be something to hype up players for the new game. There haven't been any recent hints about Borderlands 3 itself.
Where does Borderlands 3 take place?
Not Pandora, hopefully. While the plundered planet could make a threepeat (or fivepeat if you count Borderlands: The Pre-Sequel and Tales from the Borderlands) to our collective boredom, it's far more feasible that we'll visit one of the many other Vaults dotting space, a welcome change of scenery teased during Borderlands 2's conclusion. Hints of a new world named Promethea were discovered by Battleborn sleuths, including hidden graffiti of a Vault symbol and peculiar audio patterns heard from portal anomalies beckoning listeners to Promethea and warning of Patricia Tannis, the unhinged scientist researching the Vaults' mysterious origins. Promethea's candidacy was strengthened most recently by a tweet from the official Borderlands account that restated the Battleborn Easter eggs in clearer form.
In the Borderlands canon, Promethea is where the gargantuan Atlas Corporation first harnessed the alien Eridian technology to manufacture advanced weaponry and starships. The Crimson Lance, Atlas' private military and playable character Roland's former employer, would return to prominence as it keeps a major base planetside. Promethea also houses the first Vault discovered by Atlas which would eventually kickstart the rush of hunters and rival corporations plying the stars in search of riches.
With all clues pointing to Promethea's importance, there would be little reason to pass up the chance to understand the true nature of the Vaults, perhaps bridge the connection with the magical Sirens, and, of course, loot one of the juiciest motherlodes in the galaxy.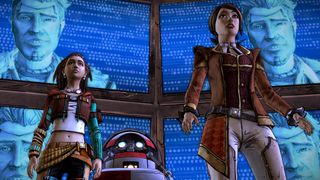 What has Gearbox said about Borderlands 3?
The studio is certainly withholding major announcements, but that hasn't stopped CEO Randy Pitchford from drip-feeding progress updates on Borderlands 3. During PAX South 2015's Gearbox panel, Pitchford opened recruitment for Borderlands 3's development team, saying, "We want to think about the future, and we want to think about what the next Borderlands is, and we're going to need some help."
Later, at PAX East 2016's panel, Pitchford noted that "obviously there's going to be another Borderlands." He also mentioned the transfer of Battleborn art director Scott Kester onto the team in a similar role. Staff changes are common for large projects, but this aligns with Gearbox's plans to refocus manpower onto Borderlands 3 after Battleborn was finished.
During the same panel, Pitchford pondered whether the next Borderlands would use a number or a more exotic designation. "We don't even know if we're going to call it that," he said. "We could call it Borderlands 4 for all we know." The tongue-in-cheek style of Borderlands' comedy might involve a box cover poking fun at colons and buzzwords. More clear cut is Gearbox's intent for delivering a "really big, worthy" continuation instead of an offshoot like the Pre-Sequel, as Pitchford explained in an September 2017 IGN interview.
Another major Pitchford preview surfaced in April 2017 with a tweeted photo of the man himself wearing a motion capture rig. The getup was for a shoot that "may or may not be a psycho bandit in a video game we may or may not be working on." Seeing as psychos are the babbling poster-mobs of Borderlands' wastes, it's almost assured a Borderlands 3 is on the way teeming with more masked madmen.
What sort of loot will be in Borderlands 3?
Expect the usual bevy of wacky weapons and bizarre effects—and a fire-spitting gun straight out of Tesla CEO Elon Musk's laboratory. No, really: In January, Musk attracted Pitchford's attention when he debuted a novelty flamethrower available to the public from his Boring Company, joking on Twitter that the flamethrower was sentient and came with a free cryptocurrency blockchain. Pitchford then declared the flamethrower's inclusion in the next Borderlands game, requesting Musk to write the flavor text. Surprisingly, Musk agreed. "Boring Flamethrower" already smacks of a cheekily named legendary drop, and sentient guns aren't anything new—this is the same series that gave us a yelling SMG—so keep an eye out for a flavored firestarter blessed by Musk.
Other Borderlands 3 details
Around 90 percent of Gearbox is working on Borderlands 3. Pitchford told a PAX West panel audience that the studio was full steam ahead on a project "most of you guys want us to be working on." Since no one was brave enough to shout out "Colonial Marines 2," that project is most definitely Borderlands-related.
An Unreal Engine 4 talk at GDC 2017 included a very Borderlands-looking sequence. Pitchford presented the engine's features of improved lighting and shadow effects that would "power the next Borderlands game" but was quick to disclaim the footage as just a "technology demonstration" and not a snippet of actual gameplay. The previous Borderlands games ran on the Unreal Engine, so it makes sense if the next entry kept tradition with snazzier tech.
Gearbox saw a few notable departures, including writer and Scooter voice actor Mikey Neumann. Borderlands 2 lead writer Anthony Burch also left the studio in 2015. Claptrap voice actor David Eddings moved on to Rooster Teeth last year.