Deals come and go, but if you're fortunate, the good ones come back. That is the case today—after temporarily falling to its lowest price ever several weeks ago, AMD's Ryzen 5 3600 can again be bought for just $164.99 today.
It's on sale at Newegg for $174.99, which is pretty much the going rate these days (down from $199.99). However, using coupon code EMCDEFN22 knocks $10 off the tally, making this an even sweeter buy.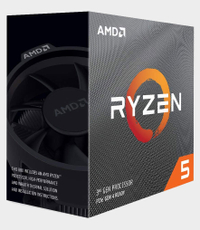 The Ryzen 5 3600 is one of the best gaming CPUs for a mid-range build. It serves up 6 cores and 12 threads, has a 3.6GHz base clock and up to a 4.2GHz boost clock, and wields 32MB of L3 cache.
Beyond the raw specs, the 3600 is only slight slightly behind the 3900X when it comes to gaming and other tasks—typically 5 percent or less. Paired with a reasonably priced GPU (read: mid-range graphics card), you can build yourself a peppy gaming PC without spending a fortune.