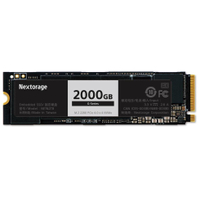 (opens in new tab)
Nextorage Japan | 2TB | NVMe | PCIe 4.0 | 7,300MB/s read | 6900MB/s write | $249.99 $159.99 at Newegg (save $90) (opens in new tab)
This is a high-end PCIe 4.0 drive for a little over the price of much more mainstream drives. The read/write speeds here are rather phenomenal: the Nextorage can reach the upper echelons of PCIe 4.0 bandwidth at 7,300MB/s read and 6,900MB/s write. If you can spare the cash, I'd make the leap to the Nextorage.
Update: Since writing this post this Nextorage drive has dropped even cheaper over at Newegg. It's $160 (opens in new tab) now, and even more desirable.
---
Original story: Way back in 2019, it was expected that SSD prices were going to drop below $0.10 per gigabyte. That happened, and then some. Nowadays, you can pick up slower SSD storage for $0.06/GB, or you can go all out on some of the speediest drives around for $0.08/GB. Like this 2TB Nextorage for $168 at Newegg (opens in new tab).
This isn't a cheap SSD, or a slow one. We just awarded the Nextorage NEM-PA 2TB (opens in new tab) a 90% score in our review for its blend of read speeds and impressive IOPS performance. It offers 7300MB/s write speeds and 6900MB/s reads, which is right up there with the best that PCIe 4.0 can offer.
"It's up there with the big boys in all key areas—specs, performance, and endurance," our reviewer Jeremy writes.
This deal over at Newegg is for the model without a heatsink, whereas we reviewed one with a heatsink. We were impressed with the heatsink's thermal performance, however, and it's also on sale and just $15 more (opens in new tab) if that's what you're after.
Nextorage has allocated one third of the drive's flash storage as potential SLC cache, meaning its high performance can be sustained even for large file transfers. In our testing, performance was sustained for roughly 625GB of writes before it dipped slightly. After 800GB it fell off a cliff, but that's a really impressive spec. The Samsung 990 Pro only managed 230GB of writes at its top performance.
Essentially, we don't see much wrong with this drive in our experience with it, or at the price Newegg's asking for one. Get in while the going's good, people. Or check out our SSD deals (opens in new tab) page to find a wider selection.