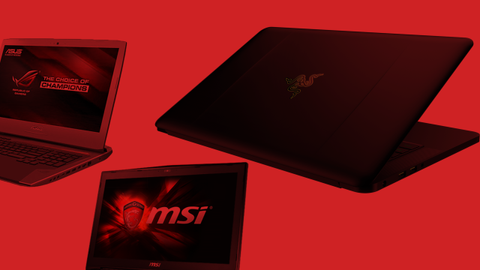 Gaming laptops finally have the power to deliver great gaming experiences, and recent hardware advances like Intel's Skylake and Nvidia's GTX 980 (a desktop GPU now capable of running on notebooks) make this a good time to buy. But the endless variety of gaming laptop models makes shopping tough. We've spent months researching and testing them to sort out the best. Here they are.
Update 4/19/2016: We previously incorrectly stated the wrong model number on Sager's gaming laptop. The correct model is NP9870. In the benchmark charts, it's still referred to as P870DM, which isn't entirely incorrect, as the laptop uses a Clevo P870DM chassis but with Sager branding.
Update 1/20/2016: We've completely overhauled our best gaming laptops guide with three new models for 2016. Our new favorite is the descendant of last year's best gaming laptop.

The best gaming laptop
Well-balanced combination of hardware
G-Sync IPS display
Impressive price tag
If you're accustomed to seeing the most expensive product finishing in first place, our top choice is going to be a shocker. Asus' G752VT-DH72 isn't the quickest notebook in our round-up. Frankly, it's not even the best-built. But it demonstrates a genius in component balance that'd be easy to overlook, if not for the seven other machines we're comparing it to.
Let's start with that GeForce GTX 970M under the G752VT-DH72's hood. Though obviously not the fastest discrete module available, Asus connects it to a 17.3" IPS panel with G-Sync support and a 75Hz refresh rate. So, even when the GPU can't maintain 75 FPS, synchronization in the display subsystem keeps the output smooth. Once you spend time in front of G-Sync (or FreeSync), it's hard not to notice the artifacts associated with turning v-sync on or off. Particularly at 1920x1080, the technology lets you get away with a less powerful graphics module, ultimately saving some money.
Read

More

The best desktop replacement gaming laptop
Overclockable enthusiast platform
G-Sync IPS display
Plenty of peripheral connectivity
Degree of expandability
MSI's dragon motif highly subjective
SSDs in RAID 0 riskier than single drive
Given the efficiency of today's CPUs and GPUs, it's easy to build a gaming notebook capable of displacing high-end desktops. Alright, "easy" marginalizes the task a bit. But enterprising OEMs certainly fit gobs of performance into the power budget of a mobile platform. The bigger challenge is crafting a laptop that's so comfortable to use, enthusiasts don't mind kissing their desktop PCs goodbye. Of the systems in our round-up, MSI's GT72S Dominator Pro G 29th Anniversary Edition comes closest to compelling us.
Make no mistake, the competition in this segment is stiff. Alienware sent in its 17 R3 with a 4K panel and Graphics Amplifier—an external housing that takes an add-in graphics card for unmatched performance. Sager shipped its NP9870-S (effectively the same as a Clevo P870DM) sporting Intel's desktop Core i7-6700K processor and a GeForce GTX 980 with 8GB of memory. MSI differentiates with stylish looks, solid audio, expandability, and a keyboard we wouldn't mind using for extended gaming sessions, plus its own selection of high-end hardware.
Read

More

The best thin and light gaming laptop
Well-built aluminum chassis
Impressive battery life from thin-and-light form factor
Surprisingly strong game performance at 1920x1080
Touch-capable 3200x1800 IGZO display
Aging Haswell-based platform
Steep price compared to more modern competition
Although we have an affinity for value, there's also something to be said for craftsmanship. By modern standards, Razer's Blade is, well, outdated. Its Core i7-4720HQ processor was eclipsed not one, but two generations ago. And as a result, there is no provision for PCIe-based storage—the compact system utilizes a SATA-based SSD, suffering the performance ceiling that interface imposes. You don't get power-saving DDR4 memory either. Razer plans to rectify all of that with its upcoming Razer Blade Stealth, though that's a very different sort of notebook.
So why continue fawning over this thing? In a word, it's beautiful. As superficial as that sounds, when you line the Blade up against seven purpose-built gaming notebooks, its .7" height and 2.05kg weight really come into perspective. Razer leans on the same black anodized aluminum body it used a generation earlier. It's absolutely solid. There's no flex. The lid's hinge moves and holds position confidently. Age aside, it's an elegant-looking platform you wouldn't expect could game.
Read

More
How we test gaming laptops and others we tested
What makes one laptop more attractive than another in the eyes of a gamer? Is it light weight, for portability in between LAN parties? How about high-end hardware to facilitate the fastest frame rates? Surely connectivity matters. External displays, gaming peripherals and direct-attached storage can make you forget you're even using a notebook. Or maybe value is what matters most. For a low-enough price, we're all willing to compromise on graphics quality, right? Right?
Of course not, which is why the best builders cram in as much processing muscle as possible, even when money is tight. And at the top of the range, desktop-class components in mobile enclosures set new performance records with every generation.
The last time we rounded up gaming notebooks, Intel was touting its Haswell architecture and Nvidia had the market locked down with Maxwell-based GeForce GPUs. So much has changed. We've skipped right over fifth-generation Core CPUs, landing among Core i7s built on the Skylake design. Nvidia's Maxwell remains prevalent, though there's a new sheriff in town: the GeForce GTX 980…for notebooks. And you'll notice a lot less emphasis on SATA 6Gb/s SSDs. Today's gaming laptops increasingly come equipped with PCIe-attached storage, supercharged through the low-latency NVMe interface.
When you add a year's worth of mobile display innovations (like G-sync and 4K panels) to those go-fast components, it's no wonder that choosing a favorite configuration is so difficult. We ran a battery of tests on eight attractive models to help you pick the best.
Best gaming laptop benchmarks






The competition
Although we tapped three solid winners, all of the laptops we looked at have strengths that warrant consideration.
Sager NP9870
Take Sager's NP9870, for example. Unquestionably the most desktop-like of our desktop replacements, it wields a 91W Core i7-6700K processor, the unfettered GeForce GTX 980 with 8GB of GDDR5, 32GB of DDR4-2133 memory, and Samsung's 256GB 950 Pro SSD. That list reads like an actual high-end gaming desktop's specs. It then goes so far as to incorporate the same 17.3" IPS panel as MSI's GT72S, enabling G-Sync for stutterless and tear-free gaming. It only costs about $100 more than the MSI, too. Dual GbE ports and a second mini-DP output sweeten the deal. The NP9870 is just so heavy, though. Surprisingly, the big bruiser doesn't have an optical drive bay, and its beveled keyboard isn't as comfortable to use. Then again, if the true desktop-class CPU is important to you, Sager could be the way to go.
Alienware 17 R3
Alienware deserves special recognition, if only for a bit of innovation unmatched elsewhere in the field. Its Graphics Amplifier hooks in through the back of the 17 R3, letting you add your own PCIe-based card to supersede the laptop's GPU. Of course, the graphics card is purchased separately, and given the GeForce GTX 980M inside of the 17 R3, a GeForce GTX 980 Ti is really the only sensible step up, so add $650 to the laptop's $3,300 price tag.
In Unigine Valley and at 1920x1080, the upgrade yields 55%-higher average frame rates. In Metro Last Light, the jump is 42%. More important, stepping up to Nvidia's fastest GPU makes it possible to game at the 17.3" panel's native 3840x2160 resolution. We're not sure that fact alone is worth a big price premium, particularly when you don't get G-Sync support. But if you want a desktop replacement on the road and an even sweeter gaming experience when you get back home, Alienware's 17 R3 is in a league of its own.
Acer Predator 15
Enthusiasts unwilling to compromise performance but still concerned about mobility should give Acer's Predator 15 a look. It retains the potent GeForce GTX 980M with an ample 4GB of GDDR5, pairing it to a Core i7-6700HQ processor and 32GB of DDR4-2133 memory. The platform's monster specs are rounded out by a 512GB Samsung SM951 SSD and 1TB HGST Travelstar—the most generously-sized storage subsystem in our round-up. Aesthetically, this is 100% a gaming notebook. Its W, A, S, D, and arrow keys sport red bezels; everything else is backlit in red; and the 10-key pad off to the right is backlit in blue. A gaming mode button next to the touchpad turns the control surface on and off, simultaneously toggling Windows key functionality. Its LED is green by default, so you end up with a somewhat discordant color scheme. More egregious is the Nvidia G-Sync monitor support sticker on the palm rest. The Predator's 15.6" FHD panel isn't G-Sync-capable. Rather, if you connect an external screen imbued with the technology to the DisplayPort output, G-Sync will work. Gotta be careful with that marketing…
Gigabyte P34W v5
Smaller still is Gigabyte's P34W v5, which valiantly does battle against the Razer Blade. In many ways, the P34W v5 is actually a better platform. It benefits from a more modern Core i7-6700HQ processor, an NVMe-attached 128GB Samsung SSD plus a 1TB disk drive, and 16GB of DDR4 memory. You even get a USB 3.1 Type C port, three USB 3.0 ports, GbE, HDMI 2.0 out, and a card reader. And Gigabyte's platform sells for $600 less, landing right around $1,800 for the configuration we reviewed. But its chassis isn't as sturdy, you lose touch functionality, and the panel "only" offers QHD resolution (that's sarcasm—2560x1440 is plenty, verging on retina-class pixel density from 16 inches away). We did discover that Nvidia's own Game Ready notebook driver woouldn't install, though. Updates need to come from Gigabyte instead. Lastly, the trackpad's right- and left-click buttons are fashioned from a single piece of plastic that rocks on one side or the other. Varying travel across the buttons makes for an inconsistent experience.
Lenovo Y700 Touch
Shave $500 off of the P34W v5's price and you get Lenovo's Y700 Touch. There are actually several different configurations ranging from $1,100 to $1,700, but our review unit lands at $1,300. It's armed with a Core i7-6700HQ, GeForce GTX 960M, 16GB of DDR4 memory, a 128GB Samsung SSD, a 1TB hard drive, and a touch-enabled FHD display. Naturally, that GPU is the Y700's biggest bottleneck, so don't expect smooth frame rates in the latest titles at 1920x1080. Dial back the detail settings, though, and you should be able to strike a balance between performance and graphics quality. Outside of games, Lenovo's Y700 Touch is an exceptional general-purpose machine. The 15.6" form factor and 2.88kg weight are mobile enough, while the red-backlit keyboard is a pleasure to type on. Lenovo's fit and finish is consistently solid. And although there's a bit of flex in the lid, you'd never guess that this is a value-oriented laptop by looking at it.
How we tested
Many of the conclusions drawn in laptop reviews are subjective. They depend on a reviewer's preferences, and it's unavoidable that we'll have differences in opinion. Wherever possible, though, we rely on benchmark data to evaluate the quantifiable aspects of performance.
Each of the samples in this round-up was loaded with a gaming suite, including Unigine Valley, 3DMark, Metro Last Light, Tomb Raider, GRID 2, and Thief (all of which have a benchmark function). Each test runs three times, and their results are averaged. Plugged in to the wall, we disable G-Sync before generating frame rate data. Away from it, we leave Nvidia's Battery Boost technology set to its default 30 FPS ceiling, if only to gauge whether a graphics system can maintain that frame rate.
Our battery life test involves calibrating every notebook's screen to 120 cd/m² brightness and running Unigine Valley at 1920x1080 in a loop until the power source is depleted. Each system is set to its Balanced power profile with sleep mode disabled.
Where necessary, the notebooks are also disassembled to confirm configuration and expansion options.
A note on affiliates: some of our stories, like this one, include affiliate links to stores like Amazon. These online stores share a small amount of revenue with us if you buy something through one of these links, which helps support our work evaluating PC components.
Topics