As recently as a year or two ago, it was easy to pick a free antivirus package. Almost any of a half dozen free virus scanners did an acceptable job, and largely stayed out of the way of the OS when configured properly. Times change, however.
A combination of increased malware and virus activity along with lax updates and regression on free antivirus suites has narrowed the field down to a handful of worthy packages. Older chart toppers like AVG have fallen hard and fast, while outside-the-PC solutions such as router-based antivirus scanning (some routers offer full-service antivirus solutions built right into the firmware, blocking threats before they ever touch your PC) have become new preliminary lines of defense. It's a whole new world out there, with more threats and vectors of attack but fewer worthwhile defenders.
We looked at the remaining free antivirus packages of note, examined their security, stability and performance in various independent test reports and compared them in a series of usability tests on our own PC to arrive at the results below. While there is a rough ranking here, these products are largely separated by usage profile and personal style. All have made the cut, but some are better in certain areas than others.
Avira – Number one isn't always the best
When it comes to the charts, no free antivirus software comes close to Avira. Number one in real-world performance and ahead of the other free packages in almost every independent antivirus research ranking, Avira holds a commanding laboratory lead over the other free packages.
Avira is also impressive when it comes to features. A healthy suite of antivirus tools is provided, with link scanning, malware and rootkit protection present and accounted for, although Avira isn't alone in this generosity; AVG offers even more at the same goose-egg price tag.
Charts and checkboxes don't tell the whole story however, and Avira's top-of-class status is blemished by a few small but notable flaws. First among these is speed.
While plenty quick in Win 8 and 8.1, Avira struggles to keep up on Windows 7 systems, which remain popular, especially for gaming. Another, more serious problem is the lack of behavioral virus blocking. Avira may have excellent threat definition files that get updated with the best in the industry, but if the virus isn't on file, you're pretty much out of luck.
Avira also has a spotty record with adware, phishing and malware. Independent testing shows hit-and-miss results, producing scores that barely beat Microsoft's built-in Security Essentials protection, AKA the antivirus world's counterpart to Notepad.
Avira

Avira is quite speedy on Windows 8
Avira's malware protection has improved somewhat in recent versions, but there's a better way to deal with low- and mid-level threats to your PC than all-in-one antivirus packages. More on that in a bit.
Despite these quibbles and the occasional nag screen, Avira narrowly takes the top slot of the three free antivirus programs looked at here, assuming the user faces normal to moderate threat levels. Only a few competitors come close, paid or otherwise, to its mix of protection and performance. Nevertheless, if Avira doesn't appeal, or you need better 0-day protection than static definitions provide, don't pull out your credit card yet; there are other free options.
Avast – Light and focused, but not all there.
Light-footed Avast shadows Avira in protection scores and generally outpaces it with swift performance in the real world, giving it the highest performance of the three packages here, although subjective experiences in the lab didn't always bear out these results.
More single-minded than other antivirus software, Avast sticks to the basics and that pays off handsomely in independent performance and protection tests. It also means Avast is a better system citizen, readily partnering with other security software and sharing duties without creating conflicts between similar services.
Avast users also rarely suffer the bluescreen indignities Avira has been known to inflict via the occasional troublesome update, and that kind of stability is appreciated in a security product.
Avast!
Avast feels light in less-flattering ways as well. Malware and adware pose some problems for Avast, although this is an area none of the free antivirus packages handles well.
Avast also has a problem with false alarms, issuing far more than either AVG or Avira, which not only gets old fast but also teaches users to ignore warnings, which isn't a smart route for security software to take.
While there's no custom firewall or other exclusive high-end features, the package does provide link protection, browser cleanup and a handy network vulnerability scanner along with a few other basic tools alongside the primary antivirus component. For high-risk users, the scanning engine supports behavior-based virus activity detection and can stop unknown exploits before they are coded into definition updates.
Avast's combination of speed and features isn't enough to unseat Avira for general use, but Avast tends to perform better in mid- to high-threat situations, especially when paired with good malware software.
AVG 2015 – Into the doghouse with a favorite pooch
Once a top contender, AVG has fallen to the bottom of pick list but remain a viable recommendation. While AVG has always lagged a little behind in the others in outright protection and performance, it more than compensated by providing an excellent overall set of features and the slickest user experience of the bunch. There are matters other than software to consider, however.
While others in the antivirus marketplace spent the last few years adding features, upping performance and polishing user interfaces, the folks at AVG Technologies followed another route. They've been busy pioneering an array of annoying pop-ups that try to install "security" browser add-ons, urge you to upgrade to paid versions or resort to other strong-arm tactics that annoy as much as malware itself.
The variety over the years has been impressive. It's like living across the street from a used-car lot. These people know how to hustle.
AVG on Windows 7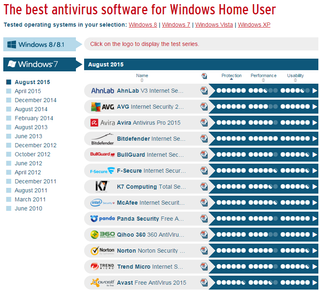 AVG takes top marks for free Windows 7 protection, keeping it a viable pick despite a few problems with the package. Avira isn't far behind, though. (av-test.org)
The latest chapter has the company collecting "cleansed" customer data for possible sale to advertisers, a decision they have decided to stick with over protestations from the userbase, privacy advocates and security experts.
Despite these unfortunate self-inflicted wounds, AVG remain a compelling free package with many great features and some workarounds for its shortcomings.
Some of the annoying notifications can be turned off till the next update via buried options in the settings menus, and AVG features the best free Windows 7 antivirus protection around and behavioral antivirus protection is included, a testament to legacy code and better days.
AVG also provides the smoothest interface on the free side of the business, with pleasing color palettes and clearly laid out functions for each of the various modules, although navigating advanced settings can get a little murky.
Nevertheless, think carefully before installing this one. AVG is trending downward lately.
On the next page: The free malware and adware tools you should be using alongside antivirus.