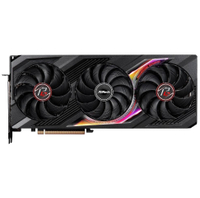 ASRock Radeon RX 7900 XT Phantom Gaming | 20GB GDDR6 | 5,376 shaders | 2,450MHz boost | $927.09 $719.99 at Walmart (save $207.10)
Seeing a bunch of RX 7900 XTs selling for well less than MSRP is a welcome sight. While the 'before' price on this specific card is a little inflated, it's excellent value right now at that sale price. What we like about ASRock Phantom is that it should run quieter than your average RX 7900 XT. We all could do with a little noise from our PC.
Price Check: Newegg $719.99
The AMD Radeon RX 7900 XT is a good graphics card but one that's been mostly overshadowed by the both the RX 7900 XTX and RTX 4070 Ti. That said, with a good enough deal it's right back into contention, and that's exactly what we've got for you today. This stunning AMD graphics card deal does a lot to bring this graphics card out of the shadows and into the spotlight.
You can pick up ASRock's RX 7900 XT Phantom Gaming for just $720 at Walmart, or if you prefer you can grab it for the same price over at Newegg. That's a saving of around $90 if you take Newegg's pre-sale pricing as read, or around $179 off AMD's launch day MSRP for this card.
That's significantly cheaper than any RTX 4070 Ti I've spotted so far this Amazon Prime Day, and makes this Radeon card worthy of consideration for a high-end gaming PC build in 2023.
One very good reason why you might want to pick up an RX 7900 XT over an RTX 4070 Ti is video memory (VRAM). The Radeon card has a lot of it.
The RX 7900 XT comes with 20GB of GDDR6, which is pretty generous when compared to the RTX 4070 Ti's 12GB GDDR6X. Despite GDDR6X being moderately quicker at 21Gbps to the 20Gbps GDDR6 on AMD's card, that doesn't make up for the lack of capacity when it comes to these cards' overall memory bandwidth.
Base memory bandwidth:
RX 7900 XT: 800 GB/s
RTX 4070 Ti: 504.2 GB/s
Now memory bandwidth is a bit of a hot topic in gaming right now, as it appears that some games aren't playing too nicely with 8GB graphics cards. That's less of an issue as you get to the high-end cards, as we're talking 20GB versus 12GB, but memory is still of massive importance if you're looking to game at 4K.
The AMD card definitely has the leg up in memory, however, it does miss out on one Nvidia-specific feature worth having. That's DLSS 3. AMD has its own upscaling technology, and it's very good, but so far AMD has no answer to Nvidia's Frame Generation technology that can massively bump frame rates in supported games. That feature is coming, so sayeth AMD, but no sign of it yet beyond a rough release date "later in 2023".
If you can wait it out, there's a lot to like about this RX 7900 XT for $720. It's a high-end card that's perfectly capable of 4K gaming. As I said in my RX 7900 XT review: "it's safe to assume you could max out a 4K 60Hz gaming monitor with this card installed in your machine."
If you really have to stick with team green, then the next best deal has to be this PNY RTX 4070 Ti for $800, maybe a touch lower if you're lucky.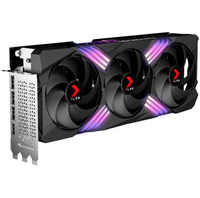 PNY RTX 4070 Ti | 12GB | 7,680 shaders | 2,610MHz boost | $839.99 $799.99 at Best Buy (save $40)
This is a straightforward reference-spec card from PNY and comes with the same cooler we've checked out on the company's RTX 4080. And it worked well on the beefier chip, so I'm not concerned about how effective it'll be with an RTX 4070 Ti. It's only a modest discount and still only at the base $799 reference price, but is still a great alternative if you couldn't pick up a Founders Edition card.
Price Check: Amazon $789.99 (sold out)