Graphics cards can be one of the biggest points of price pain when building a new PC. The higher end models are viciously expensive beasts, and it can be easy to be swept up in the idea that anything less is an insult to your gaming needs. While great business for card makers, this is in no way true.
Lower-end GPUs like Intel's Arc A750, which only released last year, can still deliver a great 1080p and often even 1440p gaming experience at far more reasonable prices. If you can get them on sale, even better, and right now NewEgg has a few tasty sales on these Arc GPUs.
Before we get into the deals, it's always important to make sure your PC parts are going to be compatible, but with Arc GPUs it's worth doing one more piece of due diligence. While they'll still work without it, to get the best performance out of these cards you'll need to make sure your CPU and motherboard support Resize BAR. Most newer ones should, but it's definitely worth checking first as we've found as much as a 22% drop in performance without it for these cards.
The ASRock store on NewEgg has the Challenger Arc A750 8GB GPU going for $230. This A750 is the little brother to the ASRock Arc A770's which recently saw a nice price drop. The A750s followed suit, leading to this cheaper offering right now, and at this price it's hard to recommend the A770s over it. There's not a ton of difference between the two cards when it comes to performance, and an A750 GPU with 8GB of RAM is more than enough to handle some really nice 1080p gaming sessions.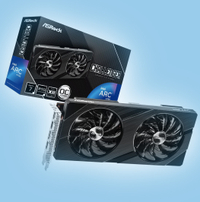 ASRock Challenger | Arc A750 GPU | 8GB | Intel bundle | $289.99 $229.99 at NewEgg (save $60)
The Meta Quest 2 is the tried and true VR headset to suit most users. It runs stand alone, or with the power of your sick gaming computer, without any wires required. The price recently went up by $US100, this is the best value offer we've seen since.
The cheapest deal on offer is on backorder now thanks to demand, but it's still well worth a look if you can wait. It features the Intel Arc A750 Limited Edition 8GB GPU at $250, which then gets brought down to $225 with the use of the PAX323B promo code on the site. It's shipping from the Intel store on NewEgg rather than a China third party.
The Intel Arc A750 Limited Edition 8GB GPU is the same card we reviewed and we found it to have great ray tracing performance. The limited edition cooling system packed in is nice and quiet. For 1080p gaming, it's about on par with AMD's RX 6600, which can often be the cheaper choice, but $225 is definitely a fair price to pay for this card.
Both of these cards also come with an Intel Gift bundle which is valued at $490 but doesn't really seem worth the trouble. It offers a few subscriptions to various software as well as downloads for Nightingale & The Settlers: New Allies. You can check out the full list included here.
Intel GPUs are still pretty new in the grand scheme of things but the Arc releases are proving to be decent if modest gaming cards. They're far cheaper than Nvidia's closest offerings, like the RTX 3050 and incredibly popular RTX 3060 units, and are currently going head-to-head with AMD's comparable cards in the price battle.
But being new, it's worth doing a bit of research before jumping in, especially for seasoned PC builders. As mentioned before you're going to want to make sure you're running a machine than can support Resize BAR for top performance, but you may also want to do a quick check on the games you want to play. While purpose built for newer APIs, these cards may have difficulties with things like DX11 and older games, so a quick google never goes astray.