Everyone's favourite PSP-lookin' PC gaming handheld just got upgraded with AMD's newest APU. Yup, the same Ryzen 7000 hardware as seen in the Asus RoG Ally. But the GPD Win 4 has those Sony PlayStation Portable looks right down the lanyard hole on the bottom left, plus a keyboard hidden beneath its slide-up screen.
The other difference with the GPD Win 4 is the price. The existing GPD Win 4 model running last gen AMD Ryzen 6000 APUs kicks off at $800 for the base model with 16GB of RAM and a 512GB SSD. Meanwhile, an Asus RoG Ally with the AMD Z1 Extreme APU, which is essentially the same chip as the Ryzen 7 7840U which will be offered in the GPD Win 4, starts at $700.
GPD hasn't released pricing, and the device doesn't go on sale until August. But it's hard to imagine the upgraded GPD Win 4 actually getting cheaper. So, it's going to be one pricey handheld. But will it be worth it?
Screen-wise, you get a 6-inch 1080p IPS panel with fairly slim bezels. It's a very compact unit overall, too. At 220mm wide, it's much more narrow than the 280mm Ally and 298mm Steam Deck. Height wise you're looking at 92mm versus the 113mm Ally and 117mm Deck.
At 28mm thick, it's much slimmer than the 39mm Ally and 49mm Deck. All told, those dimensions are enough to have GPD claiming that this is the world's smallest AMD handheld device.
That's particularly impressive given the full QWERTY keyboard hidden under the screen. If there is an obvious spec shortcoming, it's the 60Hz refresh limitation. But then achieving triple-digit frame rates on a handheld with relatively limited GPU power is, shall we say, a bit hopeful.
Steam in your hands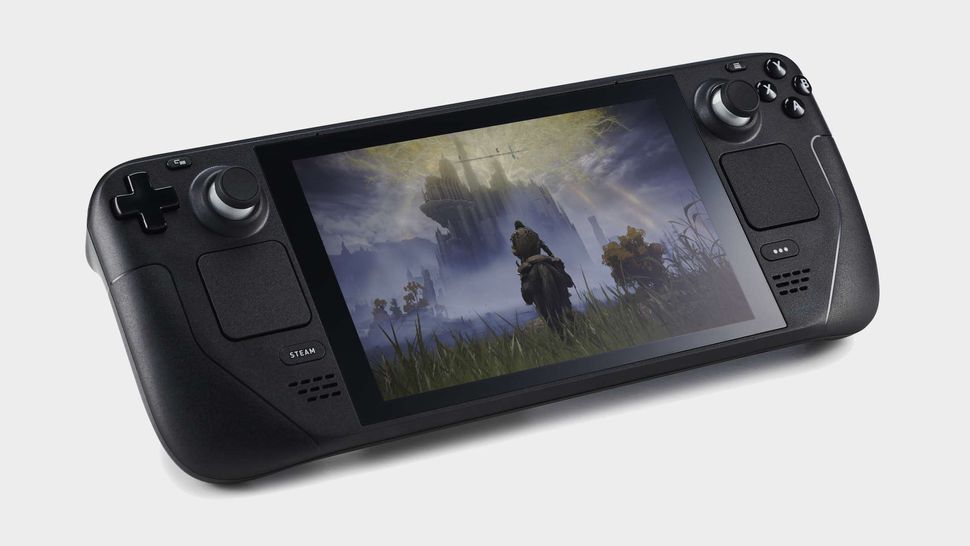 Steam Deck review: Our verdict on Valve's handheld PC.
Accessories for the Steam Deck: Get decked out
Steam Deck availability: How to get one.
Steam Deck battery life: What's the real battery life of the new device?
Steam Deck - The emulation dream machine: Using Valve's handheld hardware as the ultimate emulator.
The GPD Win 4 will be available in a wide array of specs, including with a cheaper AMD Ryzen 5 7640U APU, though that chip is cut down from the 12 graphics CUs in the Ryzen 7 7840U to 8 CUs, which doesn't seem like a great idea for gaming performance.
You can also go for either 2TB and 4TB SSDs instead of the base 512GB drive and likewise bump the RAM to 32GB or 64GB, though we dread to think what the total sticker price of a loaded Win4 with the Ryzen 7 7840U chip, 64GB of RAM and 4TB would be. Yikes.
Exactly how polished the software side of the package is we can't say, and that's a big part of the overall experience with these handheld rigs. Simply whacking on Windows 11 won't cut it.