Like many, I winced at Redfall's original announcement trailer from 2021. An open world co-op vampire FPS sounded like a strange direction for Arkane, the modern champion of the immersive sim. But co-op shooters are fun, and there were certainly glimpses of Arkane's creative flair in the trailer—its weird weapons, magical movement abilities, and expressive art style had me tentatively onboard. I thought it could surprise me.
It didn't. Our Redfall review describes it as a "maddeningly incoherent and unfun shooter that looks bizarre next to the liveliness of 2017's Prey or the Dishonored games." Its Steam user rating is currently "Mostly Negative" with 1,500 reviews. My friend played Redfall with me for a total of 90 minutes before audibly sighing over Discord, pressing Alt+F4, and uninstalling.
Since Redfall was announced, Bethesda was out there assuring us it would deliver on the immersive sim qualities we love in Arkane games. "You're going to feel that Arkane DNA as you're playing through the game," said Bethesda SVP Pete Hines in a GameSpot interview in 2021. Meanwhile, the Steam page promised that Redfall was "continuing Arkane's legacy of carefully crafted worlds and immersive sims."
Arkane's uncharacteristic slipup and Xbox boss Phil Spencer's response to Redfall's disappointing reception—"It's not what I expect, not what I want"—has made the mystery of how it came to be more interesting to me than the game itself. We don't know the internal details of Redfall's development, but here's what we know about the project's origins, the state of Microsoft publishing, and everything that's changed Arkane over the past six years.
Arkane's founder left the studio in 2017
Raphaël Colantonio
Arkane founder, co-creative director of Dishonored and creative director for Prey (2017)
Soon after the launch of the Prey reboot in 2017, Arkane founder Raphaël Colantonio left the studio he'd started in 1999. He was the creative director on Prey at Arkane's Austin studio, which had been developed in parallel with Dishonored 2 at Arkane Lyon.
At the time, Colantonio said he wanted to step back from game development to spend more time with family, but left Arkane and Bethesda on good terms.
In 2020, though, Colantonio told PC Gamer that making smaller games at his new studio, which released the very good Weird West last year, has allowed him to "take more risks" and worry less about the market.
"Because the numbers to recoup a triple-A game," he said, "you're talking about numbers that are so high that, then you're not making a game anymore, you're making a product."
Redfall wasn't announced until 2021, so Colantionio probably wasn't referencing it specifically. But his comment rings true. The glaring flaws in Redfall feel like the result of a conflicted creative vision within Arkane—as if the desire to infuse Redfall with Arkane's trademark ingenuity has been drowned out by an obligation to add things that more lucrative games have, like tiered loot, granular stats, big open worlds, and multiplayer.
Although it was more successful, the beginning of that change can be seen in Deathloop.
Arkane's games changed post-Prey
After Prey's release in 2017 and Colantonio's departure, Arkane seems to have started on a new course. Despite plentiful critical praise, soft sales in Prey's debut week started discussions about whether it still made sense for big publishers to fund intricate singleplayer games with live service on the rise.
Post-Prey Arkane started to branch out. The studio announced Deathloop in 2019, a new immersive sim with multiplayer hooks that promised to be more replayable than Dishonored. Fans didn't quite know what to make of Deathloop in the leadup to its release—Arkane's descriptions made it sound somewhat like a new Dishonored game (stealth focus, powers, multiple routes through levels), but it also gave the impression of a smaller, quicker followup to Dishonored 2 than fans wanted.
Deathloop took place on a small handful of maps that players returned to over and over again. It had a looser structure, fewer powers than Dishonored, and featured roguelite progression that didn't gel with some players' idea of an Arkane immersive sim. But the departure worked, and Deathloop was a critical success. Still, it represented the beginning of a move away from Arkane's roots, and we've seen repeatedly how studios can struggle when they chase current trends—Valve flunked its attempt at a card game, and BioWare its attempt at a Destiny-like shooter.
Arkane's first co-op shooter was under a lot of pressure as one of Microsoft's only big Xbox exclusives this year.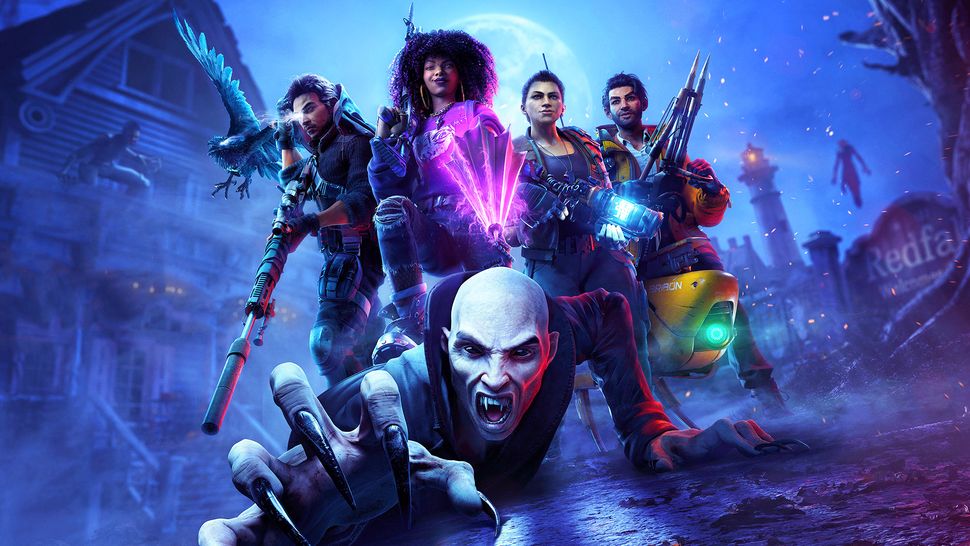 We changed, too
Around the time Arkane started on Redfall, making a loot game probably sounded like a great idea. Developers took notice that people were playing fewer games for longer, and that the most successful games let you play with friends. It worked for Destiny, right?
Tiered loot is now being crammed into all kinds of games where it feels out of place, contributing to high-profile flops like Marvel's Avengers and Gotham Knights.
So Redfall's Diablo-style loot didn't make a great first impression with some players, especially those who value Arkane's usual approach of distinct weapons and tools with multiple uses. Prey's Gloo Cannon or Corvo's crossbow wouldn't feel as special if you found a new one every 10 minutes that did "+5 damage."
Such is the inherent tension of Redfall: a game that kinda sorta looks like co-op Dishonored but constantly reminds you that it's really Borderlands.
Other factors
Microsoft acquired Bethesda in 2021 for just under $8 billion, which included both Arkane studios.
Deathloop was in its final stages of development by that time (close enough to release that Microsoft decided to honor its PS5 exclusivity window), so it's safe to assume that Microsoft had little impact in its creative direction. Redfall was already in development well before the acquisition too, but Microsoft appeared to be more hands-on with Redfall than Deathloop—it was announced at Microsoft's E3 showcase, was promoted as a day one Game Pass gem, and talked about in interviews like a first-party Xbox game just like a new Halo or Gears. If Deathloop was Arkane's cost-conscious transitional game, Redfall had the image of its blank check Xbox debut.
Harvey Smith
Co-creative director of Dishonored, creative director of Dishonored 2 and Redfall
The pandemic affected everyone making games, though Arkane did also finish Deathloop during the surprise 2020 lockdowns. Creative director Harvey Smith talked a bit about Arkane Austin's pandemic experience during Redfall's preview period in April, including this passage from the Iron Lords podcast:
"This team has been through so much along the way. We started this project before Covid. We've had the pandemic, everybody went work-from-home, we had the Great Resignation. In Austin, we had multiple ice storms that shut the electrical grid down for weeks at a time. We had to boil our water for a while."
Smith says Arkane "didn't work people too hard" during that time, and even gave everyone Fridays off during the "worst" part of the pandemic. "The company was kind enough to extend the date so we didn't crunch ourselves to death."
And maybe making good co-op shooters is just really hard?
Making any game is hard, but making a successful co-op shooter seems really hard today. High-profile attempts like BioWare's Anthem have totally flopped, Ghost Recon Breakpoint took several major patches to overhaul, Halo Infinite's co-op was delayed a year, and Rocksteady's long-awaited Suicide Squad game got bullied so hard it was delayed into who knows when.
That's not to say that no one is doing it. The FPS world is all about battle royale and extraction shooters right now, but there are old fashioned co-op FPSes succeeding. Back 4 Blood wasn't a runaway success, but we liked it a lot. Same for Warhammer 40,000: Darktide, which got off to a rough start but is improving. Deep Rock Galactic is still going strong too, with an unusually happy community.
But if they're not making a Left-4-Dead style mission game, developers are having a tough time finding the fun. Overwatch 2's co-op campaign was taking so long that Blizzard decided to release its PvP and worry about PvE later (we still have no idea when that's coming).
Some good news
If you're an Arkane fan who misses the games they used to make, the good news is we're in an indie immersive sim golden age. I've already brought up ex-Arkane founder Colantionio's Weird West. Shadows of Doubt and Gloomwood are both fantastic new early access immersive sims, a System Shock remake is around the corner, and Blendo Games' first game since 2017's Quadrilateral Cowboy, Skin Deep, looks promising. Also on the horizon are Fortune's Run and Selaco, two particularly ambitious systems-driven games.
Even though we didn't like this Arkane game—a first, but it happens—the studio could still have more bangers in it. Fans are finding tidbits of Arkane to love in Redfall. Everything about the stake launchers, from their conception down to their meticulous reloads, rules. This guy loved its theme of the one percent's greed and unchecked ambition essentially ruining the world. PC Gamer contributor Jeremy Peel enjoyed this moment of environmental storytelling.
I wanted to share my favourite bit of writing in Redfall. It's a Sunday school sermon of sorts. It's about living through hard times and the human capacity to convert pain into wisdom. To carry that wisdom into a happier future. It broke me a bit. pic.twitter.com/8ou7xKIddVMay 3, 2023
Now a week after release, I'm past being upset with Redfall itself. Sometimes great developers make bad games. Like most people, I installed it on Game Pass and will get around to deleting it shortly (and then probably cancel Game Pass for a while).
Whatever the studio makes next will be its first full project under Microsoft ownership—and if Spencer runs things like we'd hope, that will allow Arkane to not worry about money and focus on making the kind of game it does better than anyone else.