Last week, Ubisoft opened up about its financial troubles (opens in new tab), citing disappointing sales for recent games, the cancellation of three unannounced projects (for a total of seven canned games in the last six months), and yet another Skull and Bones delay (opens in new tab). In response, the worldwide publisher is tightening its purse strings in 2023.
Ubisoft did what it was supposed to do on paper. When our hobby zigzagged away from isolated, one-and-done experiences and started betting big on live service games, Ubisoft followed along with every major game maker. Not only did it have the resources and diverse teams to chase emerging trends like battle royale, looter shooters, and hero games, it already had a foot in the door. The one game that's done consistently well for Ubisoft is Rainbow Six Siege, an unexpected hit FPS from a long-dormant series.
Siege is known today for excellent gunplay and impressive destruction tech, but back when it launched in 2015, fans and critics declared that the 5v5 tactical shooter was fated to fail. To longtime Rainbow Six fans, Siege was an affront to a beloved series that'd always been singleplayer first. To multiplayer FPS fans, it was a buggy, sloppily-monetized mess. Over the next year, Ubisoft followed through on its planned seasonal "Operation" updates, squashing bugs and delivering new operators, guns, and maps at a comfortable pace. By late 2017, Siege had gone from a launch flop to a celebrated, if still pretty buggy, comeback story.
Now seven years on, Siege is still making money for Ubisoft. It's the closest thing the company has to a "money-printing (opens in new tab)" service game, but it's also not all that big of a game compared to the top competition. It isn't Apex Legends big, and it certainly isn't Call of Duty: Warzone 2 big. That's left Ubisoft in a precarious place.
It makes sense that Ubisoft wants more games like Siege and would look toward proven genres like battle royale for inspiration, but so far, it hasn't worked. Why?
Why Ubisoft games keep failing
Ubisoft's vast network of worldwide studios allows it the flexibility to cast a wide net and see what snags. I've always appreciated this about Ubi, because say what you will about its recent output, at least it's taking risks. I can't think of another big publisher that'd greenlight a competitive roller derby game, or a pirate RPG, or try to singlehandedly revive the extreme sports videogame craze of the early '00s.
Now, that strength is becoming a weakness. It's no longer good enough (opens in new tab) to put out a mildly successful big-budget game. In the service game game, you have to already be better than the other guys on day one, or risk getting written off by players who are just as happy sticking with a similar game that came out five years ago. The last six years of Ubisoft's live service game attempts read like a case study in too little, too late:
"Let's make Destiny"
The Division 2 (2019): Destiny, but Tom Clancy. Fun, but too simple to keep Destiny fans busy. The modern setting and Clancy aesthetic also made for really boring loot (yipee, another sweatshirt and an ultra rare AK-47).
Skull and Bones (2023): The boat game of many delays that, I think, is sorta like Destiny but with Assassin's Creed naval combat. Finally coming out soon.
Ghost Recon Breakpoint (2019): Ubisoft wanted Ghost Recon to be as replayble and grindy as The Division, resulting in a sloppy marriage of tactical shooter and bullet-spongey RPG. Received so poorly that Ubi spent a year undoing these changes in a series of updates that actually made Breakpoint pretty good.
"Let's make Apex Legends"
Hyper Scape (2020-2022): A free-to-play battle royale FPS with a dense urban map and character-agnostic abilities. Released one year after Apex Legends and (even more unfortunately) a few months after Call of Duty: Warzone. In the face of a dwindling player count, the devs pivoted to team deathmatch. Shut down in April 2022.
Ghost Recon Frontline (cancelled): Another battle royale. The reaction to its announcement in 2021 was so negative that Ubisoft cancelled plans for a playtest, then unceremoniously killed the whole project.
"Let's make Forza Horizon"
The Crew 2 (2018-now): An open world racing game that seems perfectly fine, but unfortunately shares a lane with the beloved Forza Horizon series. I do not know a single person that plays it, but it's still getting regular updates

(opens in new tab)

.
Riders Republic (2021): A darn good extreme sports smorgasbord in a giant open world that's basically Forza Horizon, but with snowboards and BMX bikes. Released one week before Forza Horizon 5.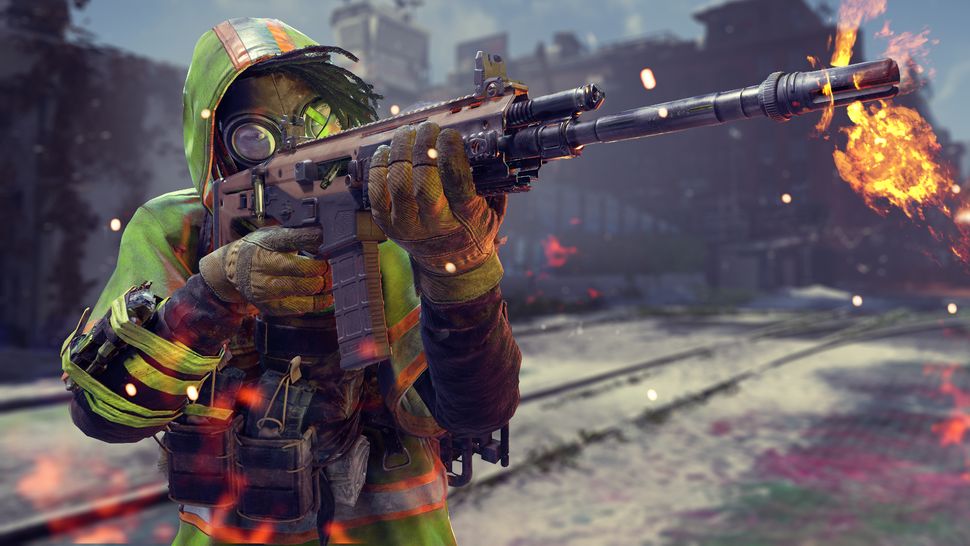 "Let's make Call of Duty"
XDefiant (202?): Ubisoft's shot at traditiaonal 6v6 Call of Duty multiplayer featuring factions from the Clancyverse. This was another bad announcement—the internet had a fun few hours dunking on the terrible name and the cringey attitude of its reveal trailer ("it's fast-paced firefights… meets punk rock moshpits"). Ubi has largely gone dark on XDefiant for the last year and a half, though playtests are apparently still happening.
"Let's make Rocket League"
Roller Champions (2022): Ubisoft's contribution to a growing pile of neglected, unusual sports games that aren't Rocket League. When it finally came out, my coworkers kept confusing it with dodgeball game Knockout City (another forgotten banger).
"Let's make... Skylanders?"
Starlink: Battle For Atlas (2019): A toys-to-life game launched years after Activision, Disney, and Lego had already squeezed all the life out of the genre. Everybody I know that played this game likes it.
"Let's make co-op Rainbow Six Siege"
Rainbow Six Extraction (2022): A miscalculated co-op Siege spinoff that, four years and two name changes later, didn't resemble the beloved Left 4 Dead-like Siege mode that inspired it. Released three months after Back 4 Blood.
In retrospect, maybe all those updates weren't what brought Rainbow Six Siege back from the dead. Maybe it only worked out because Siege is actually original.
"Ubisoft Originals" have to actually be original
Unlike the publisher's latest crop of multiplayer games, Ubisoft didn't develop Siege with the goal of making the next Fortnite or Rocket League. Back in 2014, Siege was an intriguing FPS that journalists didn't exactly know how to classify: it was kinda like CS:GO, but that comparison crumbled as easily as Siege's destructible walls. It had pieces of other games that Ubisoft knew works, like a bomb mode and hero characters, but also a lot of stuff that's usually a hard no for competitive shooters, like one-shot-kills and walls that can suddenly not be walls anymore. Siege was A weird and adventurous idea conceived at a transitional moment for shooters—the last era of Call of Duty was dying, CS:GO was exploding, Titanfall was exciting, and battle royale wasn't anything.
Siege's biggest advantage is that there is no "other" Siege. There are other round-based competitive shooters, but there isn't a real Siege alternative. If I get tired of CS:GO one day, Valorant is largely the same game. If I give up on Apex Legends, Warzone 2 is there with open arms. New Escape From Tarkov clones are popping up every year. Even Overwatch 2 still has a worthy imitator in Paladins. Siege is a bit different—if I want to play an FPS with destructible environments, lethal close quarters firefights, and complex character abilities, there's only one.
It also helps Siege's core fundamentals are excellent. Even at the game's buggiest states (a bar that keeps raising as years of updates overwhelm an aging engine), Siege's constantly expanding web of gadget interactions and a high skill ceiling has kept things interesting over the years. Sometimes new operators don't really pan out (opens in new tab), but they often bring imaginative tools that deepen its meta. A favorite in recent years is Zero (codename for an old, grizzled Sam Fisher) and his sticky cameras that can pierce through walls and see what's on the other side. You won't find anything else like that in competitive shooters.
I think this is why I can't seem to get excited by any of Ubi's upcoming multiplayer stuff. Do I really think XDefiant is going to be the 6v6 arena FPS to put traditional Call of Duty out of business? Heck no, have you played Modern Warfare 2 (opens in new tab)? It rocks. It's hard to imagine that the next great battle royale was ever going to be a PvP spinoff of Ghost Recon Breakpoint. And after the disappointment of Rainbow Six Extraction, it's easy to believe that other spinoffs like The Division Heartland aren't happening because it's the natural evolution for the series, but because Ubisoft wants a game like Escape From Tarkov and it already made those expensive third-person shooter bones in The Division 2.
That said, originality hasn't been an automatic win for Ubi either. There is no other For Honor (though you could consider Chivalry 2 a distant cousin), Rainbow Six Extraction was surprisingly distinct for a co-op zombie game, and Riders Republic certainly has no equal. It obviously pays to lean into genres that millions of people are into right now, but you have to bring something new to them: Hyper Scape was Apex Legends with taller buildings and fewer things to do. Siege really was the sweet spot. A shooter so original that no game has successfully replicated it, but one that many others have cribbed off for ideas (Apex Legends and Valorant's rosters would look a lot different if there was never a Siege).
For me, it was the hardcore, tacticool, surprisingly expressive competitive FPS I didn't know I wanted. It's still my most-played game ever, and the only game in danger of dethroning it, Hunt: Showdown, feels inspired by it. It's exactly the kind of inventive, quirky game that Ubisoft used to be good at making, and will hopefully learn how to make again someday.