Where to buy an Nvidia RTX 3060 graphics card - live updates
The RTX 3060 goes on sale today, February 25, at 9am PT (12pm ET / 5pm UK).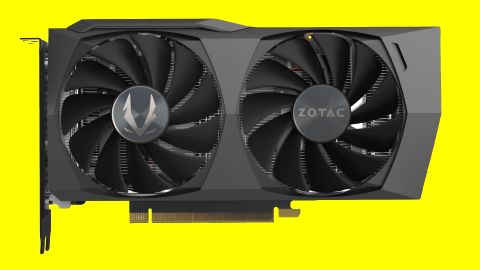 Today we get the first new graphics card of 2021, namely the Nvidia GeForce RTX 3060. This is the fifth consumer graphics card to use Nvidia's Ampere architecture, following on from the RTX 3080, RTX 3070, RTX 3090 and most recently the RTX 3060 Ti. Unlike the cards that have come before it though, there is no Founders Edition of this card, it's purely down to the likes of Asus, Gigabyte, MSI, and Zotac et al. to see what they can do with this latest Ampere GPU. The cards will go on sale at 9am PT (12pm ET / 5pm UK). As ever, make sure you're ready to go when the sales embargo drops because once again we're expecting these new cards to see out in minutes, if not seconds.
Nvidia has yet again upped the performance over the previous generation, and if you've been holding off for a few years, then there's a nice performance jump on offer if you can actually get your hands on one. Pricing starts at $329 (£299), which is very tempting, although it's worth noting that the RTX 3060 Ti offers a significant performance boost for what is only $70 more.
There is an obvious problem here of course, and that is no one can get their hands on the RTX 3060 Ti either, so your options are either try and pick up one of these new cards or wait until the others cards come back in stock. And we don't expect that to happen in any serious volume until April or even May at this point.
So if you are interested in picking up a GeForce RTX 3060, what is the best way of actually getting your virtual hands on one? Start by setting up accounts for any of the major retailers that you want to buy from. Doing this at the time of purchase pretty much guarantees that your card will disappear out of your virtual basket by the time you get to the checkout. Newegg recommends using its mobile app for faster checkout. Some retailers have also warned against refreshing too often, as we're all wont to do during this time, as that may cause the server to put you in a brief timeout.
Check the boxout to the side of this article for links to retailers we expect to have stock today, and as ever keep an eye out for our live blog below, where we'll be watching over stock levels from across the web.
Refresh
The RTX 3060 review embargo has already lifted, so be sure to check out our review of the Zotac GeForce RTX 3060 12GB Twin Edge. You can't buy the cards just yet, that embargo lifts at 9am PT (12pm ET / 5pm UK).
Note that there is no Founders Edition for the GeForce RTX 3060, so you won't be able to buy these cards directly from Nvidia or from a site that it's set up to look after such things.
These RTX 3060s are coming in a bit more expensive than the recommended retail price would suggest. The cheapest we've seen so far on Best Buy is this EVGA card that will set you back $389: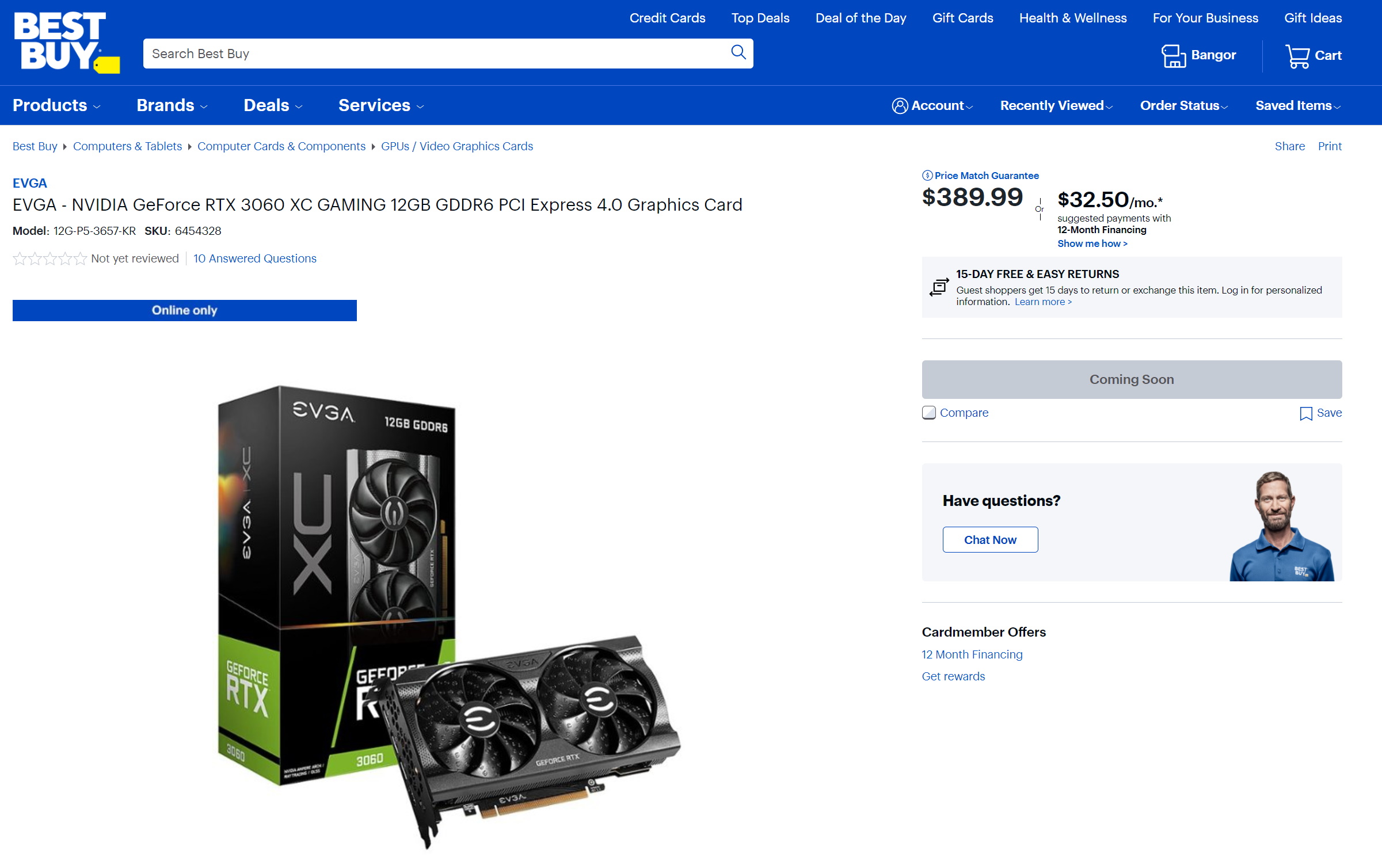 If you like to add a bit more luck to proceedings, you can always try your hand at the Newegg shuffle (what a time to be alive)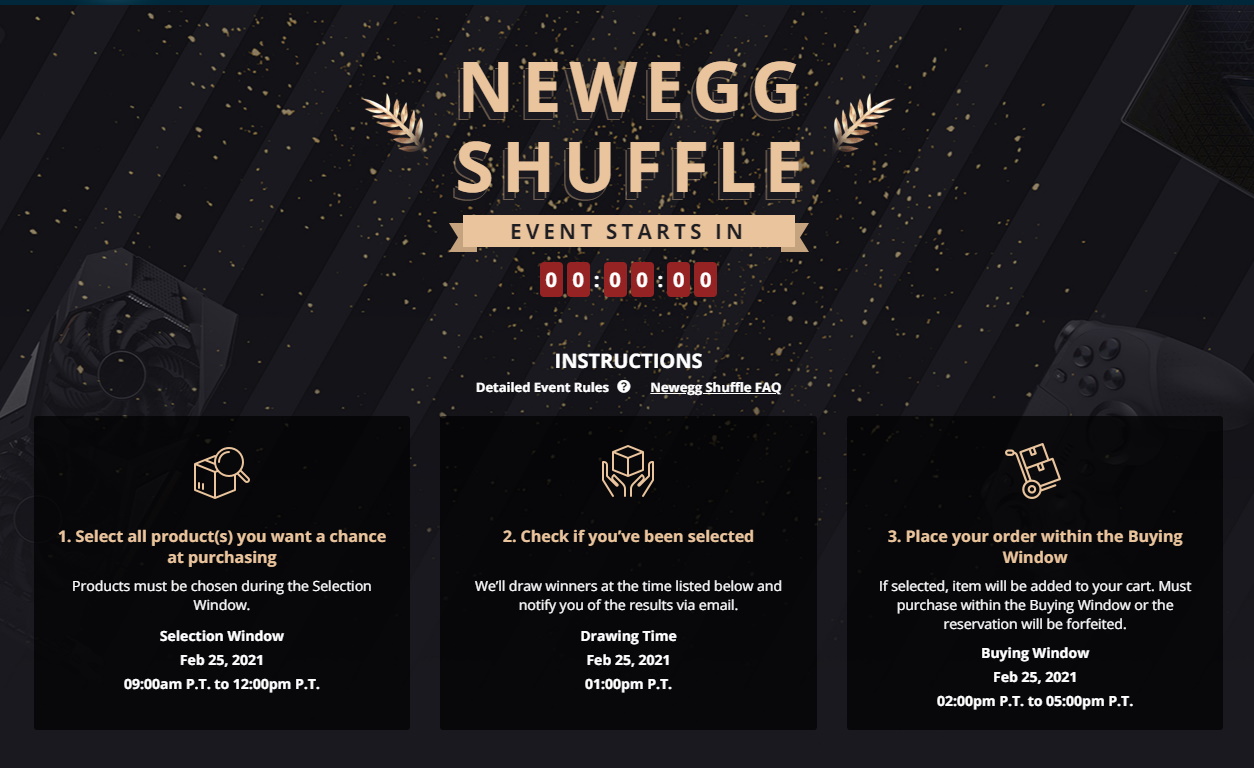 It looks like the pressure is getting to the Ebuyer hamster.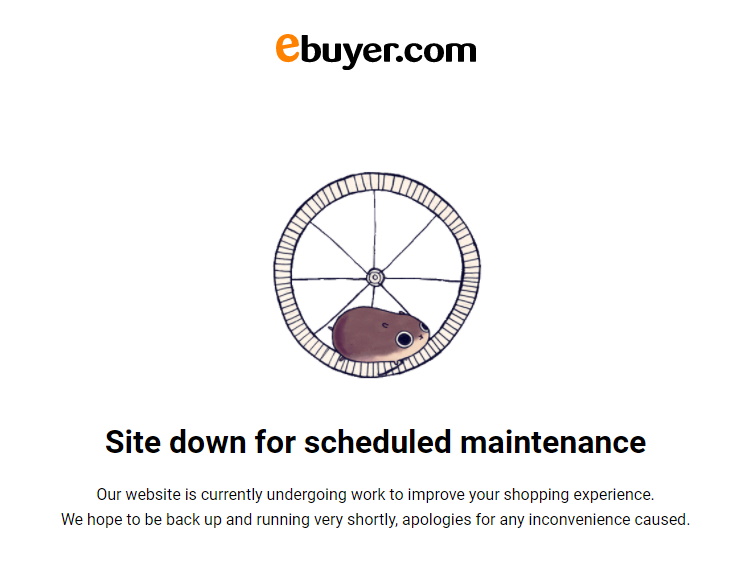 The cards that were briefly out were rocking some alarming price tags. We know graphics cards are in high demand right now, but £399.99 for this card doesn't make a lot of sense. Well they wouldn't make sense if it wasn't for the fact that you can't get anything else right now.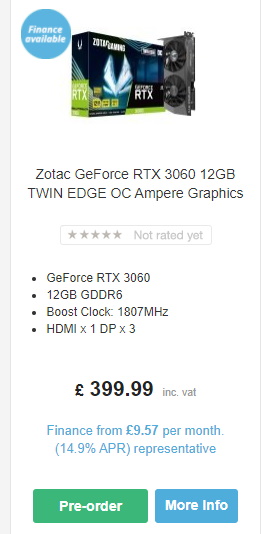 Scan looks like they have three different models in stock, but once you click through on them, you end up searching for the buy button in vain.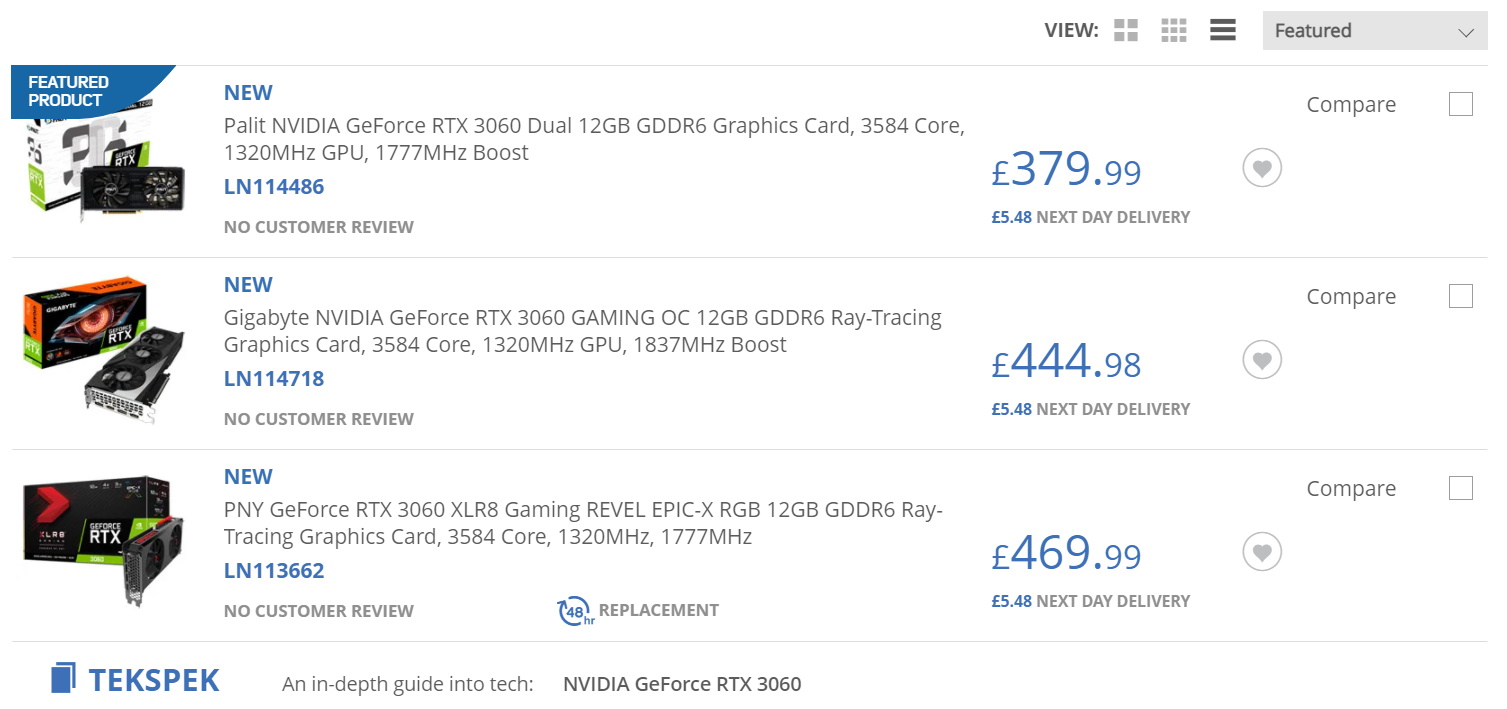 Micro Center seems to have stock, but only for in-store customers. We've just called through to see what the deal is and it's purely on a first-come, first-served basis.
Amazon US more or less telling us what you're going to expect trying to track down an RTX 3060 this afternoon.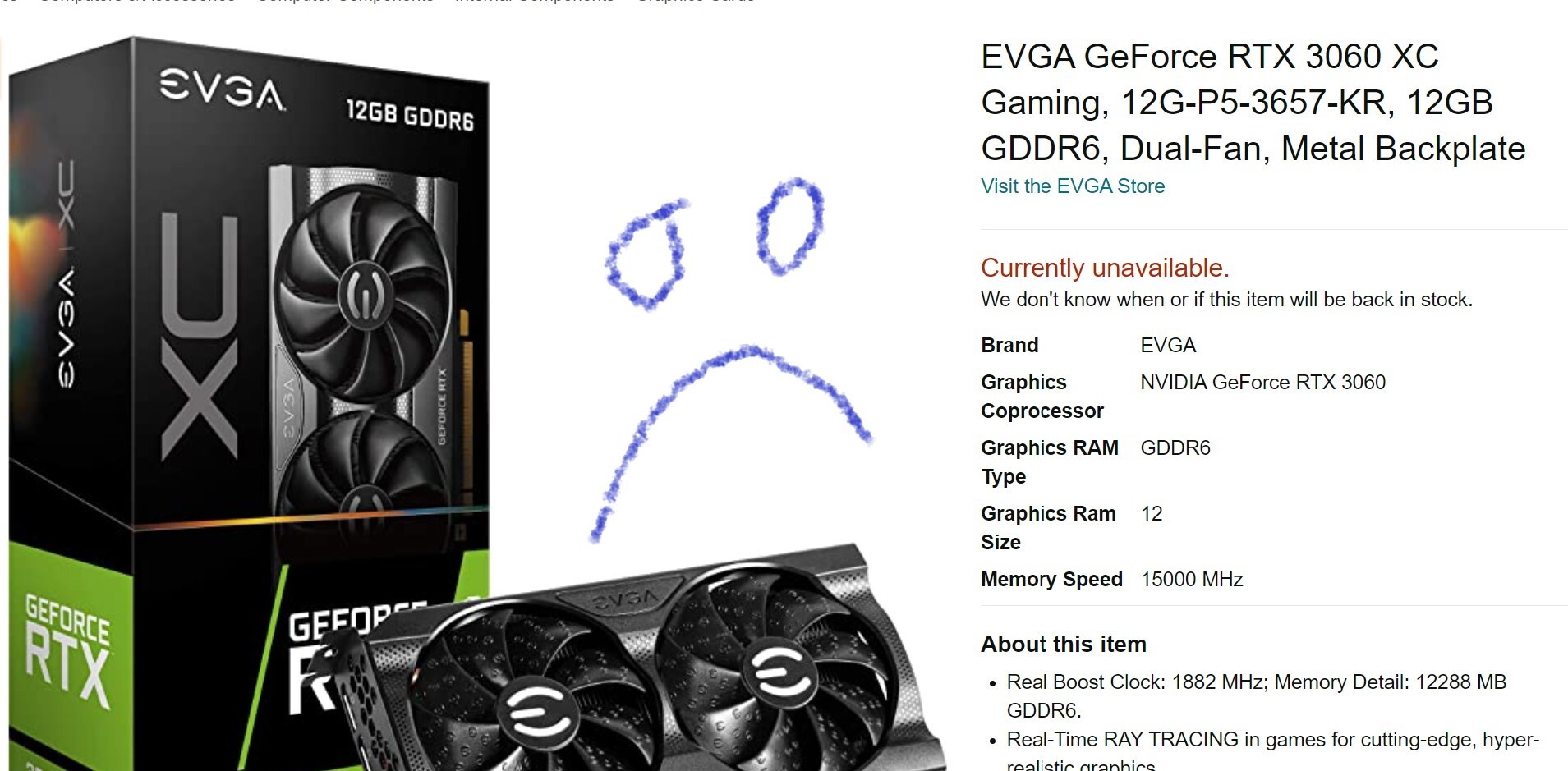 Has anyone had any luck getting an RTX 3060 for themselves? We've seen precious few out there. Here we are 30 mins after the official launch and I'm guessing that if you don't have one by now, you probably won't find one now.
Can we just take a moment to appreciate how brilliant this Overclockers screen is? I mean it's not a page you want to find yourself on when trying to buy a graphics card, but we couldn't help but smile a little.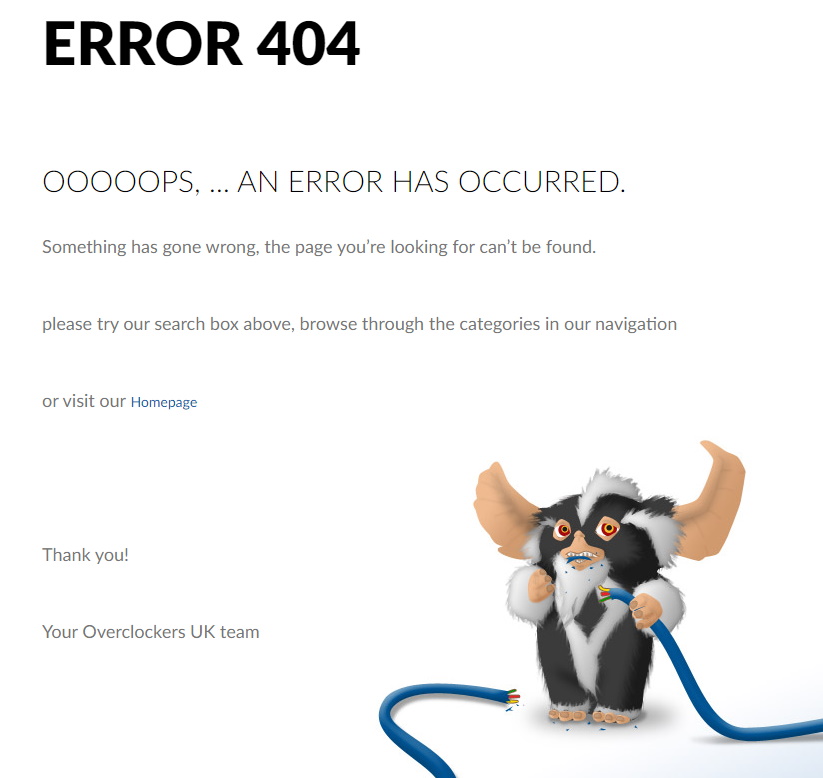 It's a waiting game at B&H Photo as more and more GPUs are slowly becoming available for sale (selling out) throughout the hour. Here's the list of RTX 3060s currently available on the site.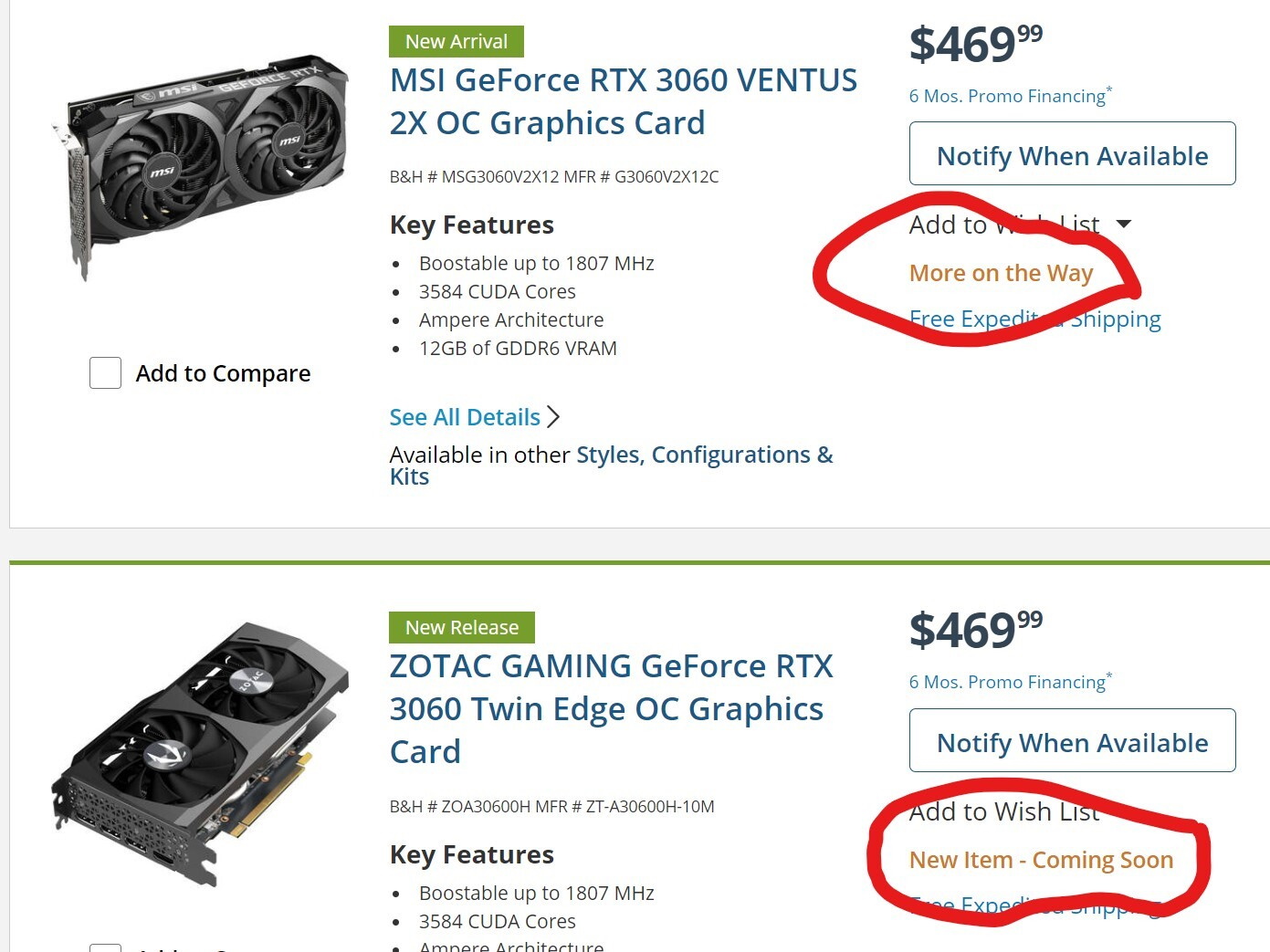 There's a load of RTX 3060s listed over on Box.co.uk but the pricing for all of them is down as £TBC now, which probably means you're out of luck for grabbing one.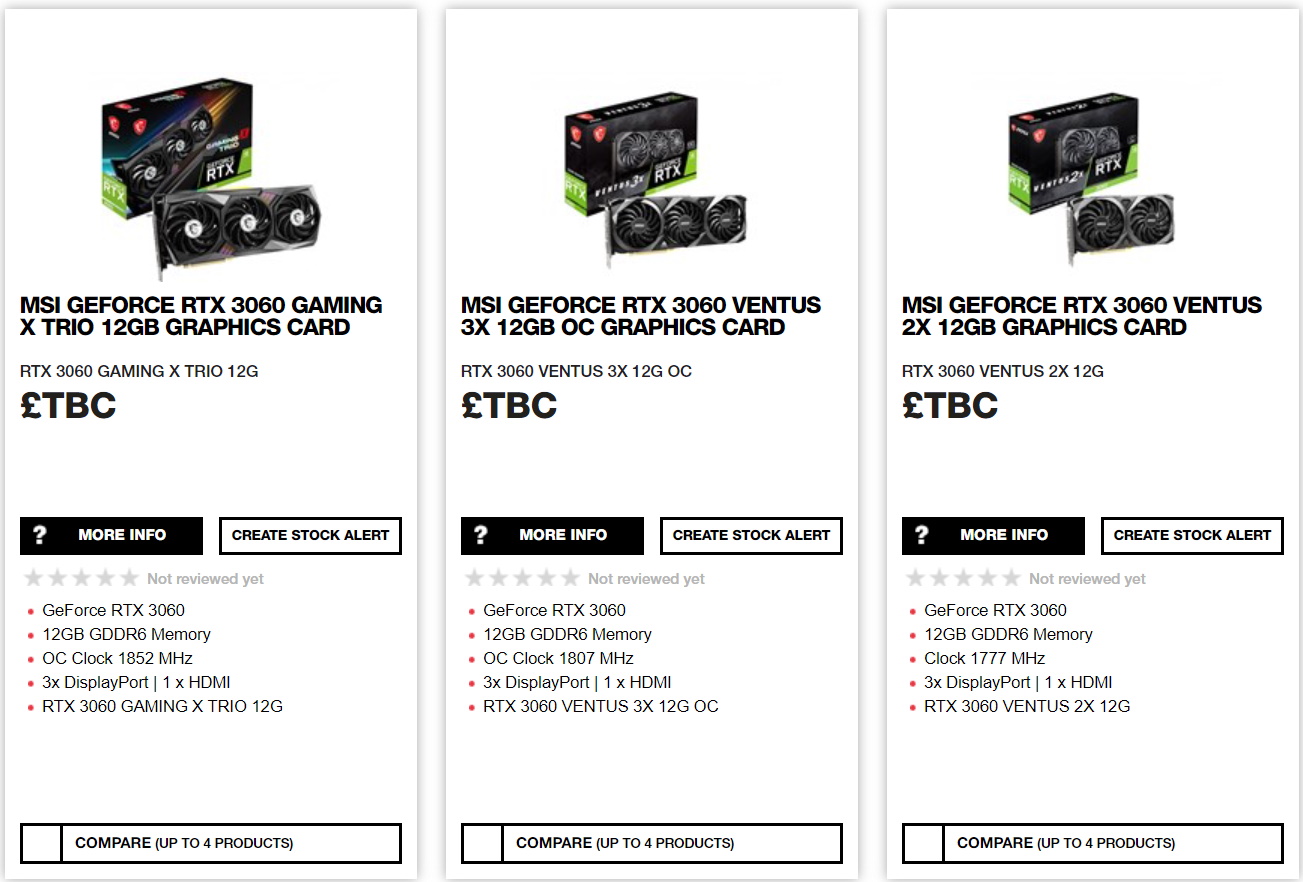 There's no Founders Edition of the RTX 3060, so the Nvidia shop is just linking through to online retailers that may have had stock at some point. There's something about the Nvidia green on those Check Availability buttons that gives you a sense of hope that maybe, just maybe, there is stock.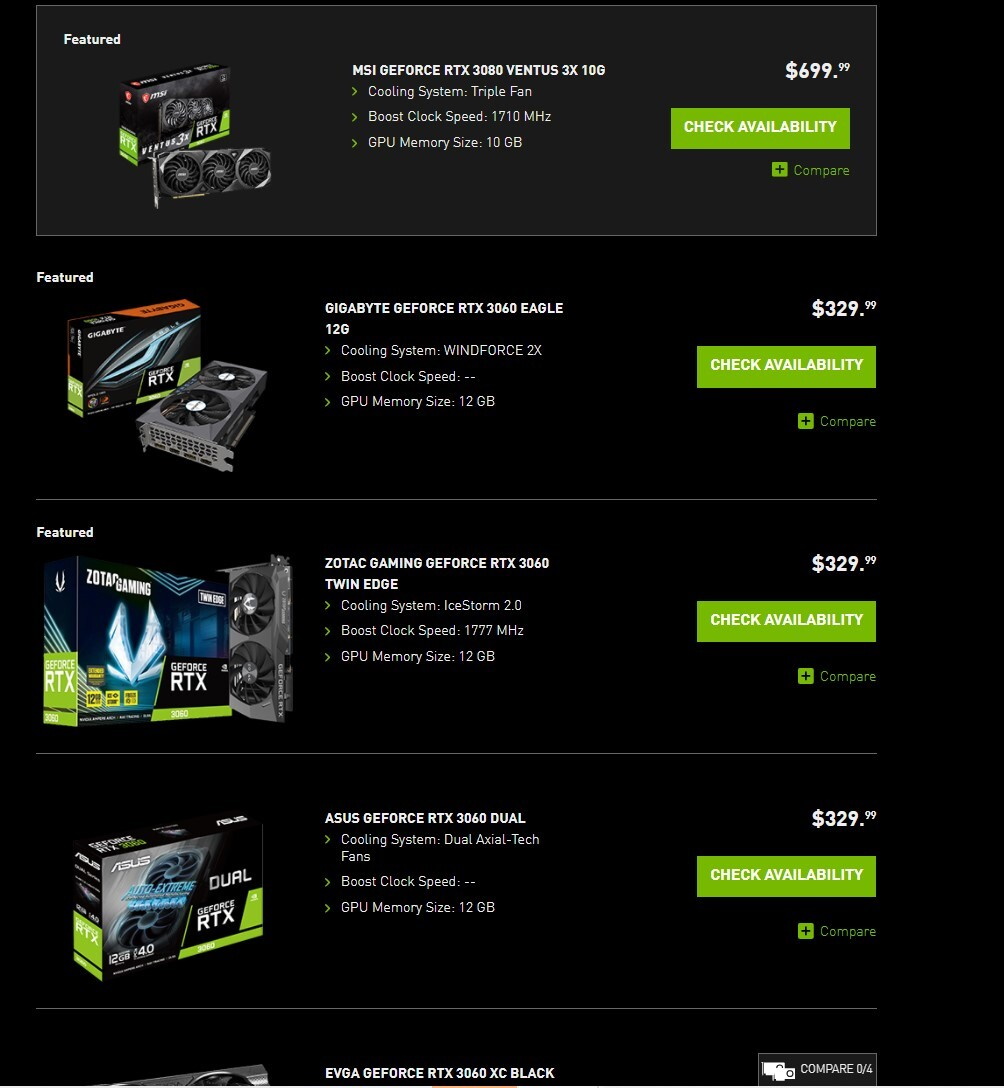 As Jorge rightly asks, why are some of these cards so expensive? The RTX 3060 should be a 'budget' offering, if $329 can really be considered budget.
Well, much like every other graphics card launch we've seen recently, this looks like another disappointing moment for anyone looking to upgrade or build a new gaming PC. I'd recommend picking up lesser alternatives, but there are next to no cards out there no matter how low you are prepared to go.
One option would be to go for a pre-built system, although here we'd definitely recommend upgrading to the GeForce RTX 3060 Ti, which simply has a bit more oomph behind it.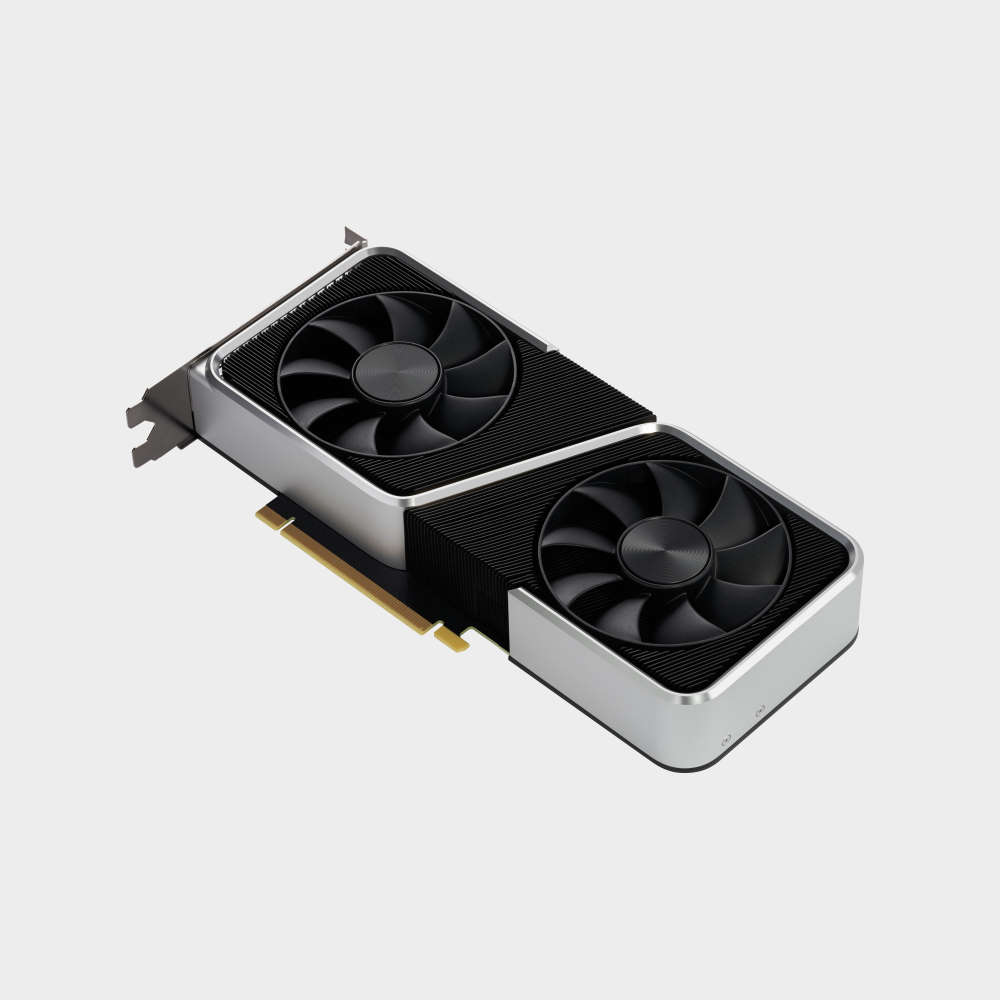 If you're still dead set on securing an RTX 3060, Origin is one of the few system builders taking orders on systems that can be customized with the hard to get GPU. Keep in mind that these PCs are looking at about a three-week lead time for deliveries.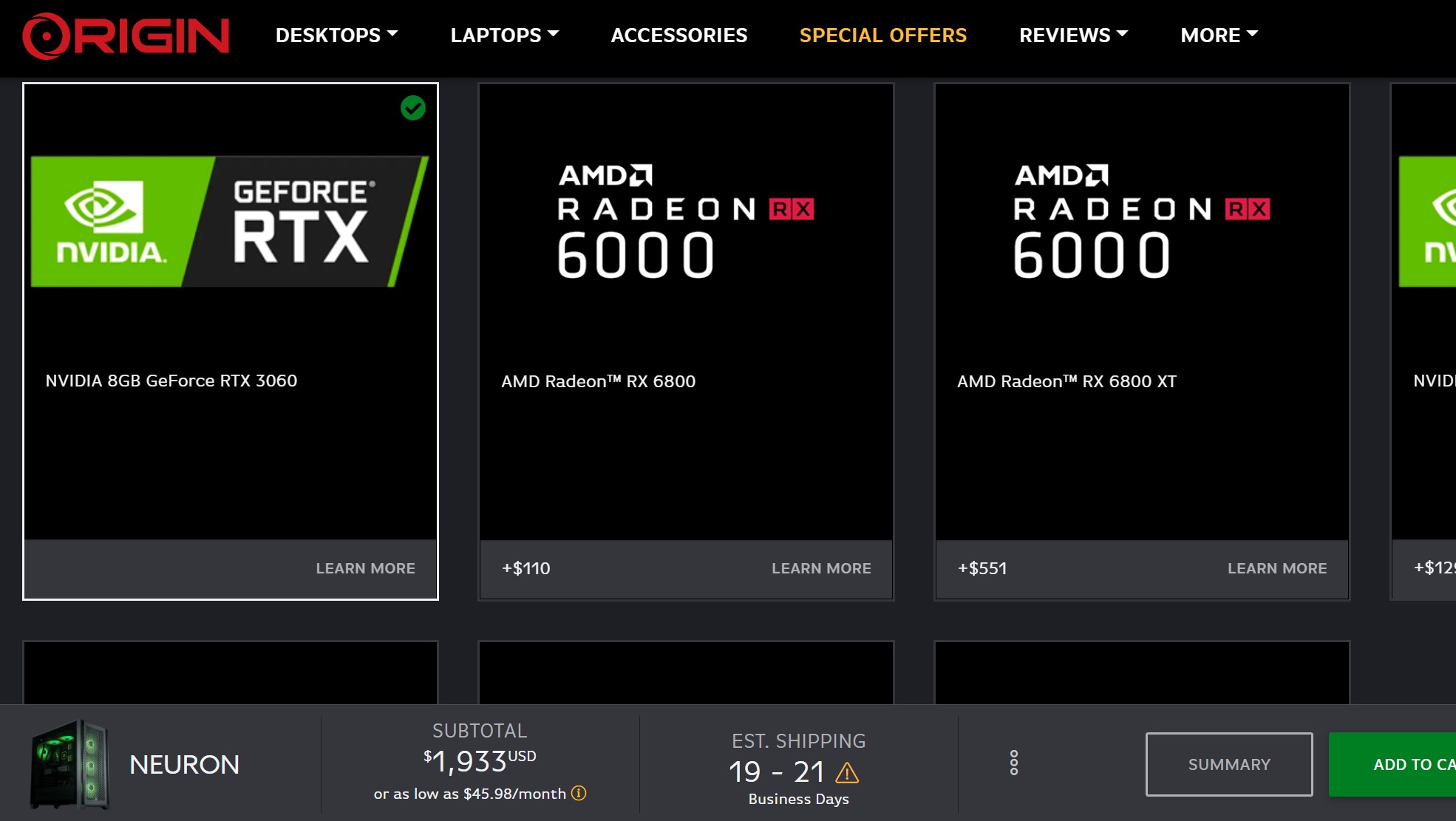 Sign up to get the best content of the week, and great gaming deals, as picked by the editors.
Thank you for signing up to PC Gamer. You will receive a verification email shortly.
There was a problem. Please refresh the page and try again.