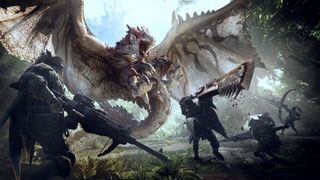 When is Monster Hunter: World's PC release?
Monster Hunter: World doesn't have a specific PC release date yet, but should be out in autumn 2018. Capcom explains why below.
Monster Hunter: World is out on consoles, but we have awhile to wait for the PC version. Developer Capcom is "aiming for an autumn 2018 release"—and the game's producer Ryozo Tsujimoto has explained why.
In conversation with our sister site GamesRadar, Tsujimoto explained that Monster Hunter: World is the development team's first PC game, and that considerations tied to PC servers and matchmaking have caused the game to be pushed back.
"For the main Monster Hunter game, this is our first PC title and it's something we want to make sure we get right," Tsujimoto tells GR. "So rather than have it taking up resources during the console development and not it not being able to have our full attention on it. We want to get console out the door and then we're going to take some extra time and try and get the PC version as good as possible.
"There's extra work you need for PC as well. On console you use first party matchmaking, you just kind of plug into it, whether it's PSN or Xbox Live, but on PC we're going to have to work more to get our own matchmaking working. So, hopefully, PC users won't mind waiting a little bit longer for us to bring you a really great optimised PC experience."
After going hands-on with the recent PS4 beta, Monster Hunter: World aficionados Steven and Austin declared it "exactly the evolution [they] hoped for." Capcom hasn't revealed how the PC version will differ (if at all) from its console counterpart, but that hasn't stopped Austin from outlining what he'd like to see.
Additional reporting by GamesRadar's Leon Hurley.