30. Time Zone
(1982)
This was a big deal at the time simply because of the sheer scope of the game, which featured 1,500 explorable screens across multiple continents and timelines. It was Sierra's first stab at making a game with an actual "studio team." You could also check things out for fun (like using the time machine to see a dinosaur)—sort of like proto-Easter eggs that had no discernible impact on the actual gameplay. The graphics were a big step up from its 1981 brethren, too.
29. The Dark Crystal
(1982)
Don't get me wrong, I loved The Dark Crystal movie. And the game was way better than it had any right to be. There was, however, a whole lot of dying, and the landstriders looked delightfully like very angry, long-legged rodents. (This also includes the 1984 Gelfling Adventure release, which was pretty much the same thing but easier.)
28. Lighthouse: The Dark Being
(1996)
There's a lot to say about Lighthouse if you like Myst, but Jon Bock's debut (as a game designer) is more of an anthropological curiosity than a game you'd play for fun. If you're new to this sort of Mystlike puzzle-based genre, Lighthouse is not for you. The puzzles were draining and appealed to a very slim demographic of people who enjoyed banging their head against a wall for hours trying to figure out buttons and levers. The maze is hands-down the most ballbreaking part of the game, but even straightforward things like operating the submarine were needlessly difficult. Besides the unique graphics, the game's main appeal is being purposefully opaque and completely indifferent to the player's needs. You will not get help here. And to a degree, that delights me.
27. King's Quest: Mask of Eternity
(1998)
I remember hating every second of Mask of Eternity when it was first released. Revisiting it in 2020 was different—the game has its charms if you're nostalgic for the acquired taste of early 3D. You really have to respect the fervent intensity of S. Scott Bullock as Connor's voice actor, and the decision for him to adopt a wholeheartedly archaic speaking style (the previous KQs were fond of "Zounds!" as an exclamation, but Connor goes straight-up medieval and it's great). Combined with the RPG elements Mask of Eternity is nothing like its predecessors, injecting new life into the King's Quest bloodline. The janky gameplay and Sierra's awkward approach to 3D adventuring made for a bewildering but entertaining experience.
26. Eco Quest 2: Lost Secret of the Rainforest
(1993)
A huge improvement on the first Eco Quest in terms of scope and design. Playing it as a kid ruled—the EcoCorder was the coolest gadget ever and predated my childhood love of Microsoft Encarta. But the romanticized trope of a white boy saving the natives hits differently when you play it again as an adult, armed with a better understanding of why this angle might be harmful. In terms of "edutainment," it's got a lot packed into it—information about rainforest flora and fauna, and of course, important lessons about ecology and preservation. You can also hear a musical callback to the Al-Sirat scene in Conquests of Camelot.
25. Leisure Suit Larry 6: Shape Up or Slip Out
(1993/1994)
Hands-down the most visually indulgent of the LSL series, and it really works. I actually love the art—it's remorselessly tacky and channels big Whitesnake video energy. Finally, a Leisure Suit Larry game dispenses with "story" and cuts straight to the chase: Larry is a sad little man with one purpose—to hit on every woman in sight, in the worst ways possible. Humor level remains painful, though there are delicious moments of schadenfreude, like watching Larry get a surprise colonic. One merciless running gag is the narrator's description of every single door in the La Costa Lotta resort, which you can't click through. LSL6 just might be the most honest Larry game to exist, and the puzzles are substantially more interesting than previous games. (This entry also includes the 1994 CD-ROM version.)
24. Pepper's Adventures in Time
(1993)
Playing Pepper's Adventures in Time is a) extremely cringe in 2020 and b) strange and hilarious for a non-American who doesn't know the minutiae of US history (I learned about the Liberty Bell through It's Always Sunny in Philadelphia). The game takes a page out of Maniac Mansion/Day of the Tentacle and turns it into edutainment—like DOTT, there's even a bit of Ben Franklin kite-flying. Aspiring young reporter Pepper and her dog Lockjaw are sent back to the year 1764 by Pepper's psychotic inventor uncle Fred. Fred screws up the past by sending a huge dose of the 1960s "Age of Aquarius" philosophy to afflict one Benjamin Franklin. Franklin, now a hippie bum who preaches a "Doctrine of Mellowness," has abandoned reason and left Philadelphia in the clutches of the evil colonial Pughs, who levy unfair taxes and steal dogs and generally suck. Pepper must help Franklin and the people of Philadelphia to get back on the right track, for the sake of America (cue flag-waving).
At the end of each chapter is a short history quiz, and there's also a "truth" button that helps you learn historical facts as you move around. The game is admittedly a lot to take in, especially when you consider how the humor, parody, and facetiousness almost certainly fly right over younger heads. But it's also a really interesting experiment in edutainment that pushes the envelope much harder and farther than its Sierra Discovery siblings in terms of writing, puzzles, and gameplay.
23. King's Quest 3: To Heir is Human
(1986, original)
Ranking this was tough because on one hand, it was a game of several firsts in the KQ series—a protagonist who wasn't Graham, and possibly the first instance of a fast-travel map in a graphical adventure. The latter was a milestone, but ultimately KQ3 is more of an elaborate fetchquest that lacks genuinely good puzzles. The pacing is erratic, and a lot of its thrills came from the fear of Mannanan popping up out of nowhere to merc you rather than from some narrative development. If there was ever a game that captured the essence of constant surveillance at the workplace with risk of death, KQ3 is it.
Still, for all its advances in the graphical adventure world, it was needlessly, sadistically difficult. That mountain path can go to hell.
22. Space Quest 3: Pirates of Pestulon
(1989)
The third Space Quest game is an improvement on the first two—Roger is more fleshed out as the imbecile we all know and love, and environments get a little more interesting. There's a lot of self-referential material, this being a Two Guys From Andromeda production, even more so than the normal Space Quest game.
21. King's Quest 3: To Heir Is Human
(2011 AGD Interactive remake)
A solid official fan remake in full VGA glory. Unlike the original, the intro immediately connects Gwydion to Daventry, which appeals to fans who were upset that this seemingly random boy was the protagonist (or as we know it in 2020, the Rey problem) of their favorite series. I could absolutely leave that. The redux adds more content to the world, prompting Gwydion to do a bit more legwork (like the addition of the Library, where he finds a prompt to examine Manannan's bookshelves—in the original, you could just look at the bookshelves to get going). Eminently more playable than the original, with lovely background art in the style and spirit of Sierra's signature '90s look. Big ups to AGDI for keeping the timer on the menu strap (unlike the Infamous Adventures remake, where it was hidden, rather unhelpfully, in the settings pane).
20. Space Quest 1: The Sarien Encounter
(1986, 1987)
Planetfall walked so that the galaxy's worst janitor could fly. And fly he did. This was Sierra's first full stab at screwball-type comedy, especially since up until this point, its games were relatively serious. Scott Murphy and Mark Crowe's baby would become known for its spacefaring idiocy, goofy sci-fi references, and excessive nerd indulgence; of course, the whole point of Space Quest was to let the Two Guys from Andromeda be weird and mouthy, which became a hit strategy for an entire generation of Computer Men. (Since there were pretty minor differences in sound and graphics, we're combining the two AGI versions into this one entry.)
19. Space Quest 1: The Sarien Encounter
(1990)
The point-and-click VGA version preserved the original clownery from 1986, but now with so much less typing.
18. Laura Bow: The Colonel's Bequest
(1989)
Laura Bow's first game set the tone for a new kind of atmospheric adventure. With a darker theme and refined detective structure that played on mood and character development (OK, so a sexy French maid isn't exactly deep, but this is, after all, a Sierra game), The Colonel's Bequest is one for the books. Nonetheless, it wasn't until The Dagger of Amon Ra that Sierra perfected this particular recipe for mystery.
17. Space Quest 2: Vohaul's Revenge
(1987)
We get to meet a major recurring villain in the SQ series, Slash Vohaul. Big improvement on the first game—a better text parser, for starters, and much more engaging environments. But also: Screw that alien plant maze.
16. Gabriel Knight: Sins of the Fathers: 20th Anniversary Edition
(2014)
I went into this ready to hate the new updated graphics, but the narrative changes were more than enough to compensate for my nostalgia for the "olden times." Developed by Jane Jensen's Pinkerton Road Studios, it featured new content, a remastered soundtrack, and a totally new voice cast (everyone did heroically, but when you're building on something that began with Tim Curry and Michael Dorn, that's a high bar to beat). It did lack the charm of the original, but it does a lot more narrative beefing up to connect the dots to The Beast Within. Not a must, though, unless you're a dedicated fan.
15. Space Quest 5: The Next Mutation
(1993)
A cut above most of the other Space Quest entries. It's liberating to see our boy finally get his own command, and have a resentful crew to win over… and actually make friends, sort of.
14. Quest for Glory: So You Want to Be a Hero
(1989, 1990)
The first Quest for Glory, originally called Hero's Quest, was a great introduction of RPG elements to the standard linear story of the point-and-click genre. It made the often-intimidating scope of RPG gameplay accessible to a wider audience, and it was actually fun, too. Does it get tedious grinding in the forest especially when you're a half-assed thief? Yes. Does the text parser get hella old real fast? Yes. Still, this was the first realistic hybrid game of its kind and so earned a fond place in aging millennials' hearts, especially with its tendency to break the fourth wall and crack light jokes. Even with the basic graphics, you could still get a palpable sense of adventure around Spielburg.
13. Conquests of Camelot
(1990)
I don't know about you, but I've always wanted to experience the Matter of Britain in the form of an adventure game. Christy Marx's debut is a marvel, especially for history and folklore nerds—there are some beautifully thought-out scenes and bits of dialogue, with Merlin serving as King Arthur's "guide" as he roams around the isle. The graphic rendition of Merlin in the intro—a heavy metal vision in magenta and turquoise—absolutely slays. It's a little rough around the edges, and the graphics aren't as polished as some of its brethren, but it's brimming with ambition.
If you're there for the schadenfreude of watching Arthur bumble around the Launcelot-Gwenhyver (Guinevere) situation ("we're just good friends," says Gwen—sure, Jan), there's plenty of that to soak up, too. Combat is pretty clunky, especially at the end with the Saracen, so that's kind of a downer after dragging your armor all the way to the Holy Land. Still, Marx brings a whole new kind of depth to the Sierra adventure, to great effect.
12. Quest for Glory 1: So You Want to Be a Hero
(1992)
The VGA version was much easier to play, which made leveling things like climbing and throwing so much more bearable. Here you had easy laundry lists of dialogue (something that would become a robotic fixture in subsequent games) and the blessed option of pointing and clicking your way through a lot of the grind, which is a big factor in ranking it above the original text parser. But it also lacked the first version's charm of blundering around Spielburg with less direction. I guess there really was something to be said about using your imagination to fill in the pixels.
11. King's Quest 5: Absence Makes The Heart Go Yonder
(1990)
The first proper VGA in the KQ series is an easy favorite—it's familiar, it's friendly, and for old people who played Wizard and the Princess, it's a return to the land of Serenia. It's also the only KQ game where you get a companion—the talking owl Cedric who can be a real pain in the ass, but over time becomes a comfort to Graham. KQ5 doesn't reinvent the wheel in terms of narrative or gameplay. The obnoxious desert and the labyrinth in Mordack's castle are some of the most annoying segments to play (I remember mapping it out on paper as a kid), but the background art is some of the finest work in the '90s Sierra catalogue.
10. King's Quest 4: The Perils of Rosella
(1988)
Rosella's first outing may have been more impactful back in 1988, but today, it's definitely the lesser of the two Rosella stories. She was the first known woman protagonist in an adventure video game, and for all this and more, she was pretty damn good at it! It was also a nice added challenge to have the "real-time" element introduced, especially since the developers dialed down the difficulty from the obnoxious levels of King's Quest 3. This was also the beginning of Rosella's long love affair with shovels. Curiously, King's Quest 4 is the only KQ game not to have received the VGA point-and-click treatment… yet. (This entry includes both the Apple and IBM versions that came out in the same year. We know, the Apple II version had marginally better sound.)
9. King's Quest: Quest for the Crown
(1987)
The best-known version of King's Quest 1 followed a few years after King's Quest Classic, which was developed for the IBM PCjr. It's not exceptional as far as narratives go, but where would we be without Graham's "local knight does good" origin story? The designers beefed-up the story following the 1983 King's Quest Classic release to include a bit more backstory. That miserable stairway to the clouds was definitely the progenitor of subsequent KQ paths, though (particularly Alexander's journey through the Realm of the Dead in KQ6).
8. Torin's Passage
(1995)
Torin's Passage is a delightful treasure in its own scrappy Frankenstein's monster kind of way. The mid-90s was a bizarre time for Sierra as it experimented with new graphics, and Torin was built on the same (unfairly maligned) engine as King's Quest 7. The UI was charmingly obtuse and the animation was even rougher than KQ7. But the overall experience was just so damn special, especially the kooky bits ("The Bitternuts" NPC family is shown in a black-and-white sitcom format with a laugh track, and it actually works in a very Al Lowe way).
Like most other Sierra games, it's a grown-up romp disguised as a kid's adventure—Torin relies on his faithful companion Boogle to copy the shapes of objects to solve puzzles and get out of scrapes, including one where Boogle turns into a lantern that looks exactly like a butt plug. Thank you, Al Lowe. Story-wise, it's fine—Torin is a young man in a magical world, setting off to save his parents and discover his true identity. But you're not really here for the story, even with its goofy characters and hammy dialogue—you're here for the art. It's beautiful, from the cross-sectioned planet menu to the sublime environment backgrounds and color palettes.
Beware: excruciating dad jokes that hew to the Lowe line of humor. Keep your ears peeled for the voice of Half-Life's Michael Shapiro (G-Man and Barney) in the starring role.
7. King's Quest 7: The Princeless Bride
(1994)
Perhaps the most "controversial" King's Quest game (in some ways, more so than KQ8) because of its radically different art style. But King's Quest has never denied its cartoony inspirations and children's fairytale references, from the gingerbread house in KQ1, to Rosella cleaning up after the seven dwarves in KQ4. The Princeless Bride's hand-drawn backgrounds and sprites dramatically enhanced the fairytale flavor of the narrative, with some neat little 3D touches (the crystal dragon is particularly lovely). It also features a great mother-daughter power pairing, and remains the only KQ game that features multiple playable characters. Combined with the excellent voice acting, pithy dialogue, and serious themes, The Princeless Bride is one of the finest entries in the series.
6. Quest for Glory 4: Shadows of Darkness
(1993/1994)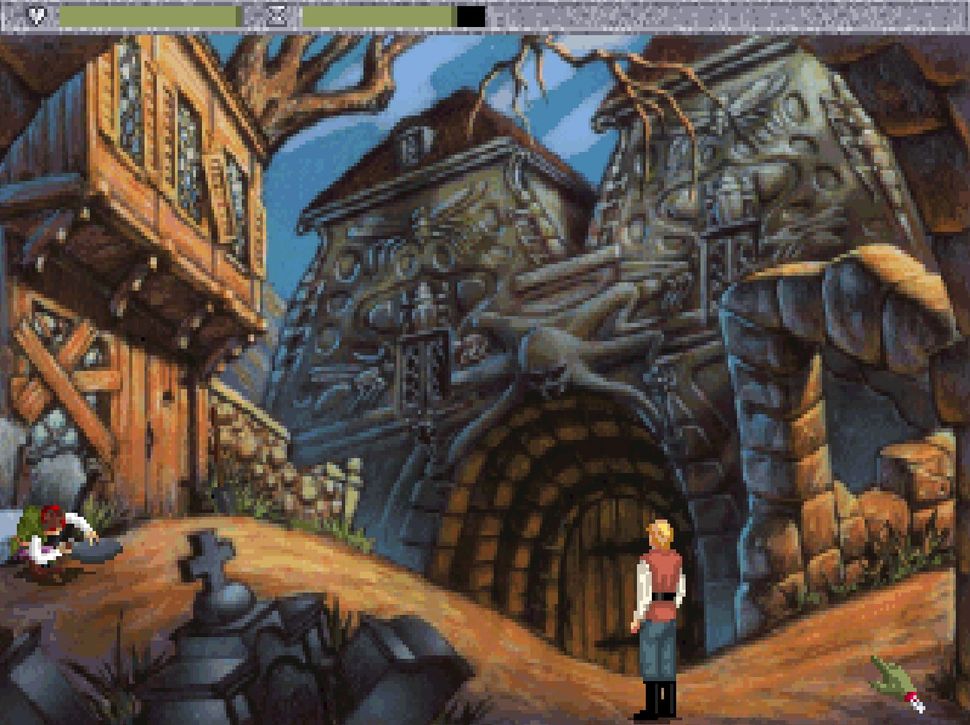 Some hardcore fans of QFG4 might say the series exists just to bring you to this point, and they're not wrong. Shadows of Darkness is the most thematically cohesive QFG game. Your new journey begins in a H.R. Giger-style cave with organic sphincter-like doors, as all great adventures should. And the focus on Cthulhu-meets-Eastern European folklore provides a fresh backdrop for your advanced adventuring skills—unknowable horror is a very welcome tonal shift from the previous three games.
Bonus: Cask of Amontillado jokes, a skittish Thieves' Guild master modeled on Peter Lorre, and, unlike QFG3, actual stuff for thieves to do.
The Top 5
5. Laura Bow and the Dagger of Amon Ra
(1992)
One of Sierra's most memorable adventures, The Dagger of Amon Ra is a terrific expansion on the original Laura Bow premise. It has its dated moments (no, not just the part about it being in 1926—the racial stereotyping choices were clearly made in the '90s), but the iconic museum deaths! The soap opera levels of drama! The unmitigated campy dialogue! This was an experience that had a lasting impact on an entire generation of adventure gamers, and continues to stand out with its 1920s Egyptology setting and gorgeous art—from the enormous pharaoh bust in the museum's rotunda to the skylight in Carrington's office, the whole experience is an architectural dream. Little details like the "made in Pittsburgh" stamps on the gift shop daggers were a neat way to highlight just how mad people were about Egypt at the time, and how manufacturing that culture became an industry unto itself.
4. Conquests of the Longbow: The Legend of Robin Hood
(1991)
Christy Marx already raised the bar for meticulously researched narratives with the previous year's Conquests of Camelot. But Conquests of the Longbow goes above and beyond. Here's a game packed with heart, natural writing, and much greater polish than its predecessor. It's also gorgeous. Marx builds on the myth/folk history theme established in Camelot but with a much greater sense of itself, coupled with fun, straightforward combat sequences (being able to adjust the Arcade setting is a great option, especially during the archery contest). The Nine Men's Morris mini-game in the pub is a lovely historical touch—the tabletop strategy game dates back to Ancient Rome and would have certainly been played by people in the Middle Ages.
For players who love flavor text and literary Easter eggs, Marx really makes it rain—from a surprise Geoffrey of Monmouth scroll in the monastery to delightful pop culture references (enterprising mess officer Milo Minderbinder from Joseph Heller's satirical masterpiece Catch-22 makes a cheeky "appearance" in the form of a merchant). The fairground event is an onslaught of Sierra's famous in-jokes and in-game cameos—clicking on many characters is like a who's-who roster of developers and designers in the company. The most noticeable downside of Longbow is that the game's "days" are quite unevenly paced, but overall, it features a fantastic balance of puzzles, action, and Marx's earthy, original twist on the Robin Hood legend.
3. King's Quest 6: Heir Today Gone Tomorrow
(1992)
The sixth instalment of Sierra's flagship adventure series sees Jane Jensen and Roberta Williams nailing a perfect blend of memorable storytelling and thoughtful (and often wonderfully goofy) design. Perhaps due to Jensen's more grounded writing style, there's much less cheese in the "romantic" portions of the game, at least in relation to the other King's Quest games (this is, mercifully, a good thing). There's also the stellar voice acting: Robby Benson's expressive Alexander, Tony Jay's gruff but noble Captain Saladin, Dave Fennoy's kindly pawnshop owner, and the crotchety banter between Bump-on-a-log, Stick-in-the-mud, and Rotten Tomato are just a few highlights. How does everyone enunciate so damn well in the Land of the Green Isles?
There's also the sublime background art. Alexander's journey into the Land of the Dead shows off one of the series' most striking environments, culminating in the emotional scene where Alexander confronts the Lord of the Dead on his Giger-esque organic throne. It's also the only King's Quest game to have Bill Ratner as a narrator, and while ongoing narration can often go so wrong in other games, Ratner's presence is an iconic part of this story.
2. Space Quest 4: Roger Wilco and the Time Rippers
(1991)
My favorite of the Space Quest series is a masterclass in fun. Between the series' usual barrage of pop culture jokes (opening with a cantina scene, of course), corny bro humor, and Roger's two brain cells, SQ4 is one of the studio's best games of all time. Being able to roam around the mall, and even just the design and atmosphere of space suburbia contained in that one galleria with the Skate-O-Rama, blew my childhood brain into the next century. Not to mention the mini-games—making burgers at Monolith Burger (which also appeared in Sierra's life sim Jones in the Fast Lane) became a maniacal obsession for me. Ms. Astro Chicken, not so much—but god, who needs it when you've got time travel, pitch-perfect schmaltz, and all of space at your fingertips?
1. Gabriel Knight: Sins of the Fathers
(1993)
What can I say about our king of the hill? Jane Jensen's first solo outing as designer, writer, and director is a timeless classic. The spectacularly moody color palette. Beautifully shot cutscenes. Charming design details that showcase New Orleans' charm, from the performers in Jackson Square (that cursed mime) to the superstitious Madame Cazaunoux; the latter opens a brief window into the world of old French Creole culture and its ties to a particularly intense practice of Catholicism. The solid character development with just a sprinkle of cheese. And the most incredible voice cast of all the Sierra adventure games: Tim Curry's unforgettably bad (great) accent as Gabriel, Leah Remini as an extremely spicy Grace Nakimura, supported by Mark Hamill, Michael Dorn, Jim Cummings, Efrem Zimbalist Jr., Leilani Jones (of Monkey Island fame), and the legendary Virginia Capers (Grandma Hattie from The Fresh Prince, if you please) as narrator.
Everything comes together seamlessly for a riveting experience—even when you're visiting Grandma Knight. The puzzles are engaging, the story runs deep, and while most of it is an admittedly sensationalized take on popular perceptions of voodoo culture, it's clear that Jensen put a terrific amount of care and research into her work. Before you call it overhyped, give it another whirl—it hasn't aged a day.
Sierra: What to read next