The best PCIe 4.0 SSD also happens to be the best SSD in general. They're wildly fast, relatively cheap, and ready for future technologies like DirectStorage. For gaming, expect loading screens for some of your favorite games to zip by in mere moments. A speedy PCIe 4.0 SSD won't let you down until PCIe 5.0 drives start hitting the market soon.
We recommend 1TB as a bare minimum of storage capacity these days. Game sizes are only getting bigger, meaning you shouldn't even consider picking up 256GB and 512GB SSDs. It's better to have more storage than you need instead of constantly needing to prune your gaming library. Write performance improves with capacity, too, so that's another reason to go for a bigger drive.
To take advantage of these PCIe 4.0 SSDs, you'll need a PCIe 4.0 platform. That means having an AMD Ryzen 3000- or 5000-series CPU and X570 or B550 motherboard. Likewise, Intel CPUs have support for these SSDs with the Z690, H670, and B660 motherboards, as well as older 500-series motherboards. These SSDs will still work in the PCIe 3.0 platform but expect performance to take a hit due to interface limitations.
I've exhaustedly tested all the PCIe 4.0 SSDs listed below. I do this to ensure they're up to our standards and worthy of recommendation. Everything on this list is something I'd happily put into my gaming rig.
Best PCIe 4.0 SSD for gaming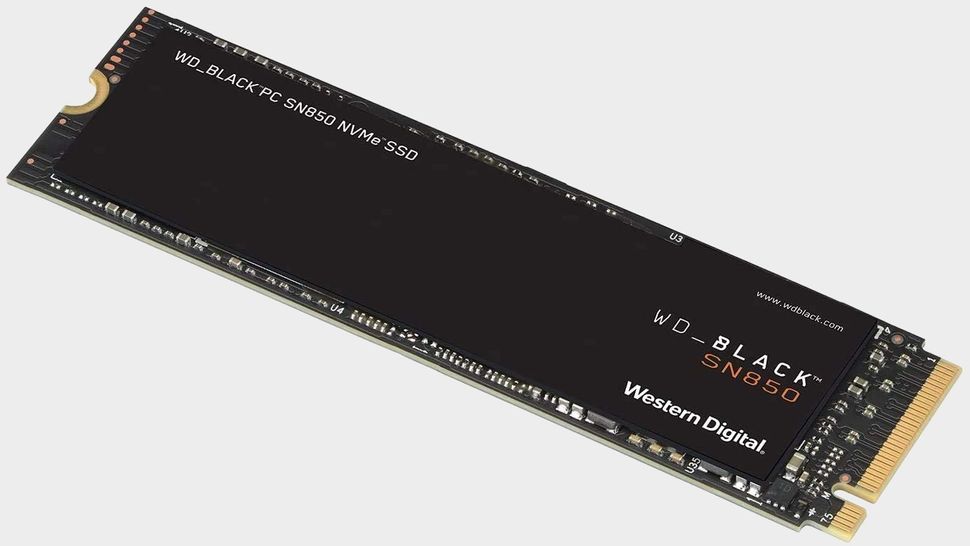 Our favorite WD Black SN850 config:
WD Black SN850 1TB | 7,000MB/s read | 5,300MB/s write (opens in new tab)
The 1TB version that would be our pick from the SN850 range. The 500GB drive lacks the full punchy pace that is the signature of 1TB PCIe 4.0 SSDs, and is pricier than most similarly capacious PCIe 3.0 drives, but the 1TB SN850 has a decent sticker price and stellar speed. And is just about the best you can buy today.
The WD Black SN850 1TB drive is the fastest PCIe 4.0 NVMe SSD you can buy right now. It may not top every test in every benchmark, but when it comes to real-world benchmarking, there's nothing else that can touch it. Don't get me wrong, it does well across the synthetic benchmarks, topping plenty of them, but there are a few places where the Sabrent Rocket 4 Plus or the Samsung 980 Pro have the edge, but overall that doesn't take away from the fact that this is the pinnacle of storage right now.
Any SSD is ultimately defined by its performance and it's here that the WD SN850 really stands out from the crowd. The synthetic benchmarks, spearheaded by ATTO and AS SSD, show that this is very much a second-generation PCIe 4.0 drive, with peak sequential read speeds knocking on 6,750MB/s and 5,920MB/s respectively. Writes are lower than the Sabrent Rocket 4 Plus, but still healthy, at either side of 5GB/s. The 4K write performance in AS SSD manage to flip this over as well, with the WD SN850 managing to outpace the Sabrent drive.
It's the real-world performance tests that impress the most though, with PCMark 10's Quick and Full storage tests putting the SN850 way ahead of the field. With an overall throughput of nearly 495MB/s in the Quick test and 550MB/s in the Full benchmark, this is a drive that just keeps powering on in day to day use.
The fact that this performance is echoed in the Final Fantasy XIV benchmark, which has the SN850 loading the five different scenes in a shade under seven seconds for the first time, impresses no end. When plenty of 'fast' SSDs still take 12 seconds to complete the same task, that proves what difference the latest technology can have on gaming performance.
The SN850 builds on Western Digital's previous SSDs to stand head and shoulders above the others to be the performance drive you want in your gaming PC. The Samsung 980 Pro, which had the edge for a few months, is left out in the cold, especially as it costs the same as the SN850, but loses out to the newer drive in every metric (apart from operating temperatures). Neither is a bad drive, obviously, but if we had to recommend a next-gen SSD right now, there's only one clear option, and that's the WD SN850. It's simply the best drive you can buy today.
Read our full Western Digital WD SN850 review (opens in new tab).
Our favorite WD Black SN770 config:
We've seen some incredible NVMe SSD releases recently, but they've tended to focus on top-end performance and come with prices to match. The WD_Black SN770 bucks this trend and like its predecessor, the SN750, is aimed at offering better value for money than outright performance.
The main way it achieves this is by being a DRAM-less SSD drive. This saves a big chunk of the manufacturer's bill of materials, and thanks to advances in the latest controllers, it can be surprising how little impact this has on performance. Such drives are slower, don't get me wrong, but this new SN770 still quotes read and writes of 5,150MB/s and 4,900MB/s respectively. Not bad.
The drive itself is a low-profile affair, with this 1TB model boasting a single NAND flash module at the back (actually a rebranded Kioxia BiCS5 112-Layer TLC chip) and the SanDisk controller towards the connector. Western Digital rarely reveals much about its controllers, and that's the case once again here.
The SN770 is available in four sizes—250GB, 500GB, 1TB, and 2TB, although there's no 4TB option, which is a bit of a shame. If you want a seriously capacious drive, you're going to want to track down the Sabrent Rocket offerings, which go all the way up to 8TB.
The synthetic performance shows the SN770 trails more expensive drives in terms of reads, although the writes are much closer. The 4K performance is relatively impressive and shows that the SN770 has something to offer in this crowded marketplace. It's not too surprising that this drive outperforms Samsung's DRAM-less offering, as that is a PCIe 3.0 drive, after all, but the extent to which it does is impressive.
It's worth noting that this drive can get hot when pushed, just like the SN850 in fact. It hit 76°C after a long day of testing, although that was without any direct cooling on it at all, not even a heatsink. It should be fine in most systems, especially if your motherboard does come with some cooling solution.
It's in the real-world tests where the SN770 really struts its stuff. Basically, you'd be hard pushed to tell the difference between this drive and much faster offerings in most day-to-day operations. Given this is the cheaper drive right now, that counts for a lot. If you need better performance, then the SN850 is clearly the better drive, but you will pay considerably more for it.
The only problem issue for this drive is that we don't know for sure how fast a drive needs to be for Microsoft's DirectStorage. We know some developers have been targeting 5,000MB/s, which is where the SN770 sits in our testing. So it should be good, and for the money, it's very tempting. If you're a serious gamer though, we'd recommend going a little bit higher up the product stack, and grabbing that WD_Black SN850.
Read our full WD Black SN770 1TB review (opens in new tab).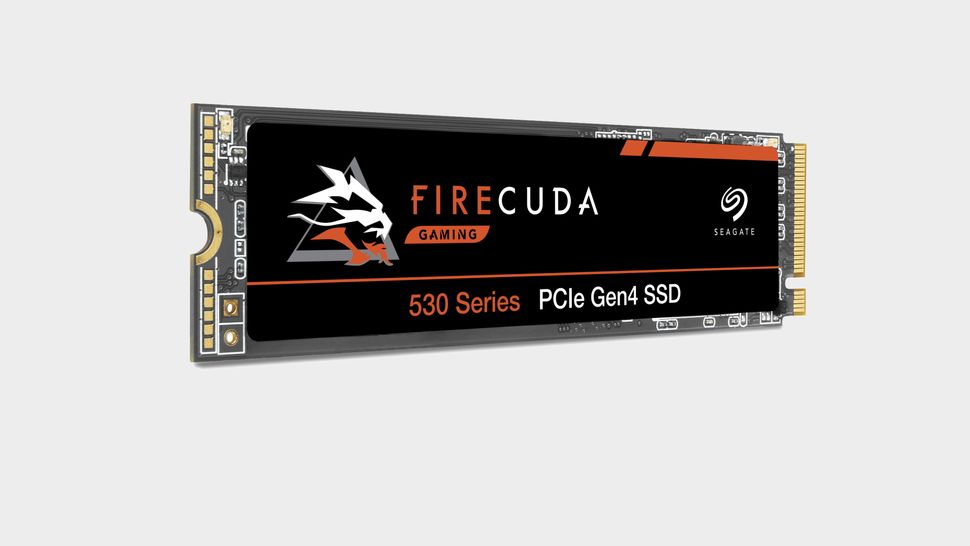 Our favorite Seagate Firecuda 530 config:
Seagate Firecuda 530 2TB | 7,300 MB/s read | 6,900 MB/s write (opens in new tab)
The 2TB version is the version to go for; it gives you the highest straight performance and an astounding endurance level. The version with the gorgeous EKWB heatsink is a little more expensive, but if you don't have integrated SSD cooling on your motherboard it's worth going for.
We've been waiting in anticipation for the release of Seagate's FireCuda 530 series of PCIe 4.0 NVMe drives. And we can happily state that It's definitely time to add Seagate to the list of manufacturers capable of making top tier SSDs. The Seagate FireCuda 530 is at least the equal of any SSD on the market.

The Seagate FireCuda 530 2TB is a 2280 (80mm length) M.2 drive. It combines brand-new Micron 176-Layer TLC NAND with a Phison PS5018-E18 controller. Micron claims that its 176L TLC NAND is the best in the industry with a 30% smaller die size and a 35% improvement in read and write latency over its previous generation 96L NAND.
The 2TB FireCuda 530's rated sequential read and write speed is 7300/6900 MB/s, and that's pushing the limits of a PCIe 4.0 x4 interface. For users looking at the other capacities, the 4TB drive has the same rating while the smaller 1TB and 500GB drives are rated for 7300/6000 MB/s and 7000/3000 MB/s respectively.

So, how does it perform? If Seagate hopes to sell a drive that costs more than the established SN850 and 980 Pro then it has to deliver, and it does. The latest Phison E18 drives typically excel at sequential read and write tasks, but tend to trail in random performance, and particularly random read tasks and IOPS, which is important for gaming performance.
Apart from the PCMark 10 storage tests, the FireCuda 530 either matches or beats the big bois of the storage world, and when you add its leading sequential performance and endurance rating, the Seagate 530 is at least the equal of any consumer SSD on the market.
We record temperatures throughout our testing making note of the peaks. The drive is left to run 'naked' with a Noctua fan over the area to keep things cool. The 2TB FireCuda 530 reached a peak of 71C, which makes it a pretty toasty drive, though we never saw any throttling during our extended testing. Though you will either want good airflow or an effective motherboard heatsink to keep things in check.

As a major player in the storage industry, I expect Seagate likely wrestled with the decision to hold back on releasing its best SSDs until it could include 176L NAND and steal the headlines. For me, the decision was absolutely worth it. Class leading sequential performance and a stunning endurance rating is joined by excellent random read and write performance.
All up this elevates the Seagate FireCuda 530 to the head of the pack. It will make a great C drive, it will hold a substantial game library or you could use it as a scratch disk for large data sets that need to be moved frequently. Feel free to thrash it with any kind of workload.
Read our full Seagate Firecuda 530 2TB review (opens in new tab).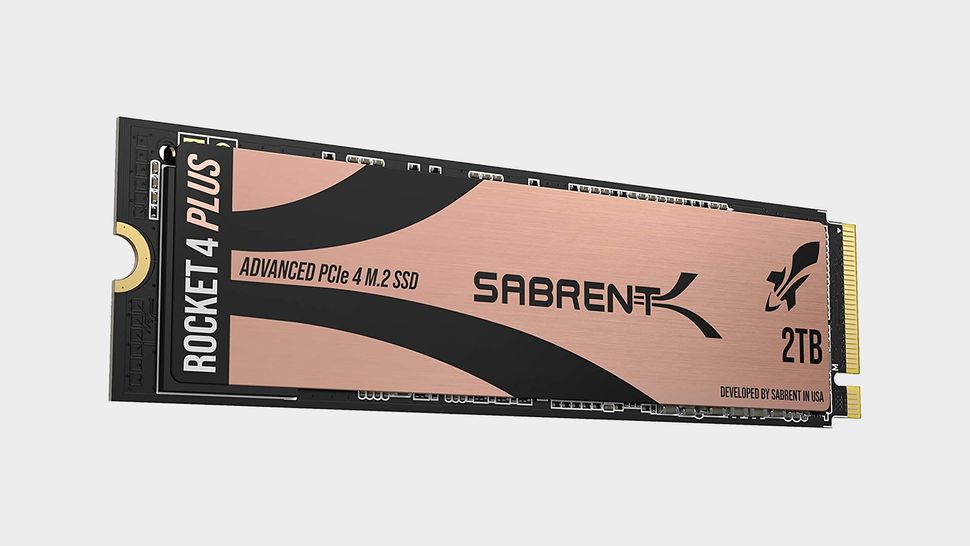 Sabrent Rocket 4 Plus 2TB | 7,100MB/s read | 6,600MB/s write (opens in new tab)
High capacity SSDs are expensive, particularly the latest PCIe 4.0 drives. But the Sabrent Rocket 4 Plus is one of the fastest around, and yet is still not a huge amount more expensive than an equivalent PCIe 3.0 2TB SSD.
The Sabrent Rocket 4 Plus is the first drive to use the new Phison E18 controller. This is the follow up to the immensely popular Phison E16 controller found in basically every first-gen PCIe 4.0 drive. No, seriously, that's the controller you'll find in everything from the Corsair MP600 to the Gigabyte Aorus to the Addlink S90 as well as plenty of Sabrent's drives.

This new Phison E18 controller ups the ante significantly, offering sequential throughput of up to 7,100MB/s reads and 6,600MB/s writes. The theoretical limits of the interface are 8GB/s for both, so those figures aren't far off how fast you can expect PCIe 4.0 to go. It's incredibly fast basically, and on paper at least, the fastest drive to be released so far.

Sabrent's latest drive impresses almost effortlessly, especially when it comes to the synthetic throughput. The sequential read and write figures in both benchmarks are impressive, but it's the write performance that stands out most, leaving the competition eating dust. The Samsung 980 Pro in particular really struggles to keep up with the Sabrent Rocket 4 Plus.
As we've seen with previous drives, this synthetic throughput doesn't always translate to the real world, and this is partly the case here. While the copying of 30GB of files (a Steam game install made up of lots of tiny files as well as a few chunky ones), comes in competitively at 2 minutes and 16 seconds (equating to 225MB/s).
The PCMark 10 storage tests are a bit more off the pace though, with both the Full and Quick benchmarks showing the Sabrent lagging behind the Samsung 980 Pro and the WD Black SN850. The Final Fantasy XIV: Shadowbringers benchmark loaded the levels in just over seven and a half seconds, which is notably quicker than the first generation drives, although behind the WD Black SN850.

This is still a fast drive, make no mistake, but the promise of those class-leading synthetic read and write speeds don't quite translate to class-leading real-world performance. It's not far off the pace, and your own usage cases may have this in the lead—especially if you need to write out a lot of large files—but for day-to-day gaming, it has to make do with fifth place.
Read our full Sabrent Rocket 4 Plus review (opens in new tab).
Best gaming keyboard (opens in new tab) | Best gaming mouse (opens in new tab) | Best SSD for gaming (opens in new tab)
Best VR headset (opens in new tab) | Best graphics cards (opens in new tab) | Best CPU for gaming (opens in new tab)
Our favorite Kingston Fury Renegade config:
It would be easy to look at the Kingston Fury Renegade SSD as just another Phison E18-based drive with another stupid name, but that would mean missing out on one of the outright fastest PCIe 4.0 SSDs in the business. The Renegade certainly cranks out the numbers. It also runs cool, has excellent rated write endurance, and a long warranty. But all that good stuff comes at a painful price.
Phison's PS5018-E18 is an eight-channel controller knocked out on none other than TSMC's 12nm process. It's loaded with five CPU cores in total, three based on generic ARM Cortex R5 IP and two cores with proprietary Phison designs. Phison claims the E18 can crank out 7.4GB/s read and 7GB/s write speeds, not to mention one million IOPS. We've previously seen the E18 classified as an NVMe 1.4 chip, but Kingston claims NVMe 2.0 support for the Fury Renegade.
We believe Kingston is using the same Micron 176-Layer 3D TLC chips as seen in the KC3000 sibling drive. All of which means you're looking at a thoroughly up-to-date drive. Obviously, the PCIe 5.0 standard is notionally upon us with the arrival of Intel's Alder Lake CPUs. But we're some way from PCIe 5.0 drives and platforms being mainstream and compatible drives being available in volume.
In terms of the subjective computing experience, we doubt you'd be able to pick it from the rest of the high-performance PCIe Gen 4 crop. This means the broader package and pricing are key differentiators. We feel good about this drive's long-term reliability thanks to those cool running temps and epic write endurance rating.

The value for money proposition is a lot less appealing. This is currently one of the most expensive PCIe Gen 4 drives out there right now, rolling in at $425 at the time of review. The Sabrent Rocket 4 Plus (opens in new tab), WD Black SN850 (opens in new tab), and Samsung 980 Pro (opens in new tab) can all be had for considerably less money. So, as undeniably good as this is, we find the Kingston Fury Renegade a little tough to justify at this lofty price point.
Read our full Kingston Fury Renegade review (opens in new tab).
Best PCIe 4.0 SSD FAQ
What's the difference between PCIe 3.0, 4.0 and 5.0 SSD?
Bandwidth, essentially. A PCIe 4.0 SSD can theoretically offer double the bandwidth that a PCIe 3.0 SSD can, and a PCIe 5.0 SSD double a PCIe 4.0 SSD.
Here's a comparison of bandwidth for a single lane (connection):
PCIe 3.0: ~1GB/s
PCIe 4.0: ~2GB/s
PCIe 5.0: ~4GB/s
Most motherboards run an SSD in a 4 lane slot, meaning a PCIe 4.0 drive would be theoretically able to run up to ~8GB/s.
In real-world terms, the exact read/write speed of an SSD is not exactly double a previous generation one, but that's down to the speed of the controller and NAND on the SSD itself. We tend to see later drives in the release cycle really max out the full capability of a PCIe x4 connection.
For gaming, some of that speed is wasted. The difference in loading times between top M.2 speeds on different PCIe generations isn't all that great. However, technologies such as DirectStorage could change that, making better use of speedy SSDs. A faster drive will be better for other non-gaming operations, for sure, like moving massive files.
Is PCIe 4.0 worth it for SSDs?
If you want the absolute fastest drives available, then PCIe 4.0 SSDs are the way to go. They're quicker than any PCIe 3.0 drive and will make large file transfers for such things as video editing lightning fast. They will also be prepared for the future of gaming. The DirectStorage feature is used to take the load off the CPU and fire data directly at the graphics card to improve performance and shorten, or even remove, load times in tomorrow's open-world games.
Which CPU/chipsets support PCIe 4.0 SSDs?
For AMD-based systems, you can plug in a PCIe 4.0 drive and have it run at top speeds on Ryzen 5000/3000 processors. Same goes for AMD's Ryzen Threadripper 3000-series.
For Intel-based systems, PCIe 4.0 support is included on 11th Gen Rocket Lake processors and 12th Gen Alder Lake processors. Just make sure to double check your chip and motherboard online to be sure, as there are always exceptions.
Can you put a PCIe 4.0 SSD in a PCIe 3.0 slot?
Yes, you can. The M.2 socket is identical between the two generations of interface, and so a PCIe 4.0 SSD will fit comfortably inside a PCIe 3.0 slot. They will also function perfectly well, except the Gen4 drive will be limited by the speed of the older interface.
That is is theoretically 4GB/s, but it is closer to 3,500MB/s due to various overheads. PCIe 4.0 SSDs do cost more than their PCIe 3.0 counterparts, though, so unless you're planning to upgrade to a supporting platform soon, it's probably worth sticking with a more affordable PCIe 3.0 drive.
How do we test PCIe 4.0 SSDs?
We put every SSD we get in the PC Gamer labs through their paces in various benchmarks made up of a mix of synthetic tests and real-world applications. To ascertain a drives sequential throughput, we use ATTO SSD Benchmark for compressible data (a best-case scenario) and AS SSD for incompressible data (more realistic). We also test random throughput with AS SSD and a combination of CrystalDiskMark 7.0 and Anvil Pro.
When it comes to real-world tests, we time how long it takes to copy a 30GB game install across the drive and use PCMark10 and Final Fantasy XIV: Shadowbringers, which includes a level load test. We also check operating temperatures to ensure that the drive isn't getting too hot and throttling.
How big a PCIe 4.0 SSD should I buy?
As big as you can afford. At the very least, you want the room to install Windows 10 and a few of your most played games. As games get bigger, we increasingly see 500GB as being a bit cramped, and if you're buying for the long term, then a 1TB makes more sense. Newer models appear to start at 500GB, so there are not many options below that much of the time anyway.